Sri. Sorna Thevar Of Tenkasi: Father of "4 slain Hindu Pandian sons is no more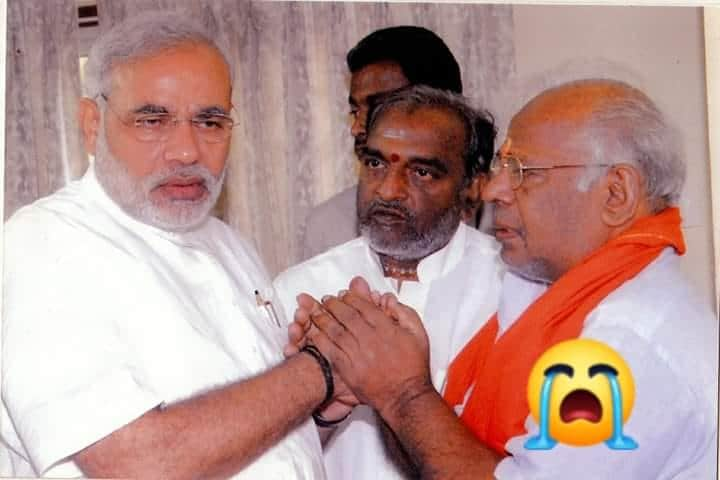 Sri.Sorna Thevar of Tenkasi. The Hindu dharmic Nonagenarian is no more.
The heartbeat of Tenkasi Hindus stopped today. Sri.Sorna Thevar, father of the slain Pandian brothers of Tenkasi breathed his last in the early hours today, the 25 July 2020.
Sri. Sorna Thevar who had fathered six brave sons is survived by only two of them today. He lost four of them -all murdered by Islamic extremists in their hometown Tenkasi, Tirunelveli district which is renowned for the valor and bravery of the natives. This family has added glory and strengthened this popular opinion.
The town of Tenkasi is famous for the Kasi Viswanathar Udanurai Ulagamai Ambal temple. This ancient temple was built by King Parakrama Pandian around 1454 BC. The main deity lord Vishwanatha is a Suyambu Lingam. Worshipping him here is as good as worshipping in the holy city of kashi. The word tenkasi means kashi of south. The Gopuram of this temple is one of the tallest structures. This temple was built in such a way that the main deity is visible from a distance of nearly a kilometer.
Hailing from such a divine place no wonder that Sri. Sorna Thevar was a devoted staunch believer in our Sanatana Dharma. This passion was in the genes which were passed on to his brave and valiant sons.
Sri.Sorna Thevar was a congress party member. He later joined the Hindu Munnani, the first Hindu movement started by Sri. Ramagopal Ji who himself survived a deadly attack by Muslims. He had openly voiced his concerns when a Ganesha temple was attacked and demolished partly by the local Muslims.
He had also lead protests against the attack on Hindu shopkeepers by the local Muslims once again during a temple festival. He openly objected to the hindrance caused by these Islamic groups against the Hindus and the temple festivals.
Kumar Pandian was the first son of Sri.Sorna Thevar to be murdered by the local Muslim heavyweights. Reason- kumarpandian objected to the construction of a mosque bang opposite the Kashi viswanathar temple. He brought to light the cunning plans of local Muslims in building a mosque in a land belonging to a local mutt by illegal deals. In addition he was also running a free ambulance service to the poor locals. All this angered the local Muslims.
Waiting for the right opportunity they attacked with dangerous weapons and killed kumarpandian on Dec 17 2006 late night. The murderers during the course of their cruel attack mentioned about him being a stumbling block in the construction of the mosque.
Sri.Sorna Thevar even on that tragic occasion declared boldly "i have lost my son for kashi vishwanath. But i will not stand by and watch kashi vishwanath losing his abode and gopuram".
There was a huge Hindu uprising thereafter. But the very next year Sri.Sorna Thevar and his wife had to face a huge tragedy that no other parent should undergo. Another of their three sons Senthil Pandian, Suresh Pandian and Sekar Pandian met a gruesome end in the main tenkasi bazaar, once again in the hands of the brutal Islamic fundamentalists.
Even at this most difficult and trying times Sri.Sorna Thevar stood firm on his dharmic faith. He vowed that till his last breath even at the cost of his entire family being wiped out he will not let goons destroy his temple. He lived to this declaration as a strong dharmic warrior true to his soil till the last. Today he has mingled with the almighty kashi vishwanatha. He lost his four sons in a valiant struggle to safeguard our dharma. Still remained defiant and committed to the dharmic struggle.
Mind you he was not a man of means but just an ordinary struggling small tea shop owner. Today the surviving widows and the two sons lead a quiet life. Some of their children were infants and some in their mother's womb when this huge tragedy happened. Life is a big struggle for them today. They are going through difficult times.
Sri.Sorna Thevar and his sons have sown the seeds for us to continue with the cultivation of their lofty ideals. A successful harvest is the best reward we can give them.
Long live Sri.Sorna Thevar and his sons-the famous Pandian brothers of Tenkasi
I pray that the lord almighty Kasi Vishvanatha showers his divine blessings on remaining family members of Sri.Sorna Thevar. Cannot ask for anything more than this!
DISCLAIMER: The author is solely responsible for the views expressed in this article. The author carries the responsibility for citing and/or licensing of images utilized within the text.