Puran Krishan Bhat, another Kashmiri Hindu, murdered in the valley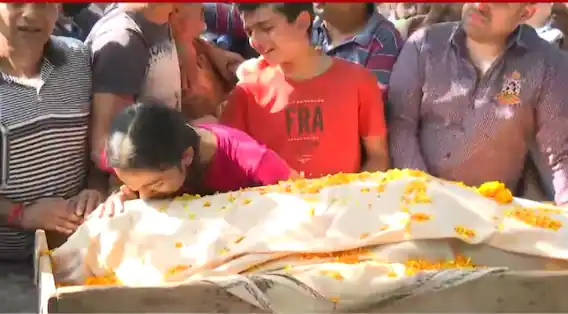 On Sunday, Jammu held the cremation of Puran Krishan Bhat, a Kashmiri Pandit who had been martyred in the Valley. From Chaudrigund village in the Shopian district, Bhat's body was transported to his Jammu residence on Saturday night.
Outside his ancestors' home in Chaudrigund village on Saturday morning, he was killed by terrorists of the Resistance Front (TRF), a new proxy terror organization supported by Pakistan. Meanwhile, Kashmir Freedom Fighters (KFF) claimed responsibility.
Following the Covid-19 outbreak in 2020, Bhat reportedly moved his wife and their two kids—a girl in class seven and a son in class five—to Jammu. They were all residing in Shopian before that.
Following Bhat's murder, Kashmiri Pandits employed as part of the Prime Minister's package in the Valley protested and reaffirmed their demand to be transferred to the Jammu division. At Bhat's funeral rites, a sizable crowd of people, including Kashmiri Pandits and others, took part.
Bhat's brother-in-law stated, "He left behind two little children. He was the only breadwinner. Now, he's no more. Everything is finished. It is a targeted killing. They don't kill just anyone who comes before them but those whom they don't like. They don't want Kashmiri Pandits in Kashmir."
At the cremation, Puran Krishan Bhat's wife and two young children, son Shanu and daughter Shreya wept uncontrollably. According to Bhat's sister, Shreya begged her father not to visit Kashmir this time since she had a bad omen, but Bhat went because the apple trade was his family's main source of income. The family is now requesting Rs 50 lakhs in damages as well as a job for Bhat's wife in order to cover the costs of the kids' upbringing and future educational requirements.
"In the first investigation, eyewitnesses report that there was just one individual who had targeted him and was in front of him," said Deputy Inspector General (DIG) Sujit Kumar. Nobody else who might be hiding has been seen. Puran Bhat had left on a scooter and had come back on it. There were two more people with him. If the crime happened while the guard was stationed here, action will be taken against not only him but also any nearby concerned authorities.
A number of Islamist police officers and other residents were heavily involved in the murders and intimidation of Hindus during the 1990 religious purge of the valley. Even today, there is still strong brainwashing of everyday Muslims, and religious cleansing is ongoing.
Since the much-needed repeal of Article 370, dozens of Kashmiri Hindus, migrant laborers from other areas of the nation, and even some local Muslims dubbed "police informers" or "apostates" have been brutally murdered. While the regular cycle of violence that once engulfed Kashmir has somewhat decreased, the situation there is still very dangerous, and the rehabilitation of the evicted Kashmiri Hindu community is still only a pipe dream.
In order to demolish the Islamist indoctrination apparatus and permit people to live there, Kashmir needs a strong yet compassionate government for at least a couple of decades.
DISCLAIMER: The author is solely responsible for the views expressed in this article. The author carries the responsibility for citing and/or licensing of images utilized within the text.