BJP's Kapil Mishra Assures Security & Monetary Aid For Interfaith Couple And Dalit Hindu Basti At Sarai Kale Khan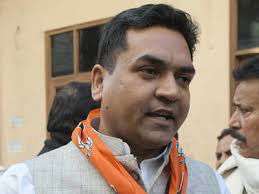 Kapil Mishra, prominent BJP leader and social activist has again risen to the occasion to come in aid of victims of communal violence and neglected by the mainstream media, so-called human rights activists and 'secular' parties because they are Hindus.
It is very appalling to see the complete silence of Delhi's Chief Minister and ruling Aam Aadmi Party's over the brutal violent Muslim mob attack on the Dalit Hindu basti at Sarai Kale Khan, punishing them for not preventing the marriage of local Dalit Hindu boy with a Muslim girl.
In the absence of any aid from the Delhi government for the Dalit Hindu victims of communal violence unleashed by the Muslim mob, BJP leader Kapil Mishra contacted the Dalit Hindu victim boy's family at Sarai Kale Khan, assured his father to provide full security to his son Sumit and his newly wed wife, Kushi, a Muslim.
Kapil Mishra also announced monetary assistance of Rs.5 lakhs to help Sumit and Kushi become financially strong. Kapil Mishra further assured to help rebuild the vandalized properties of residents of the Dalit Hindu basti and provide compensation of Rs. 21,000 each as assistance for destruction of 35 bikes by the violent Muslim mob on Saturday night.
For the left leaning "secular" media the dastardly communal attack never took place as the perpetrators of hate crime was Muslim mob and the victims are Hindus, even if they belong to poor marginalised Dalit community. That is as far as their activism for Dalits goes, it vanishes in thin air when Dalit Hindus are attacked by Muslim goons.
Notably, the Delhi Chief Minister's gross dereliction of duty to take care of Delhi residents' welfare and assure them aid during their distress when they are victims of Islamist violence is now becoming an established trend. This time, even when the victims of hate crime are from the poor Dalit community, neither Kejriwal nor did any member of his party bother to visit the victims.
While Kejriwal's priorities seem more to fight rights of Khalistani supporters as we saw in Disha Ravi case or his party member Nikita Jacob's case for their involvement in the Greta Thunberg Riot "Tool Kit" production.
Kapil Mishra true to his philanthropic social activism has come forward in aid of socially marginalised victims of communal violence perpetrated by the so-called minority community. It is not surprising that the pseudo-secularists and leftist cabal media love to hate Kapil Mishra for calling a spade, a spade and taking initiatives to help Hindu victims of hate crime and mob violence as he dares to help those whom the cabal consider as non-humans.
More power to Kapil Mishra!
DISCLAIMER: The author is solely responsible for the views expressed in this article. The author carries the responsibility for citing and/or licensing of images utilized within the text.