Bulldozer action cannot be banned across states, SC said on Jamiat's petition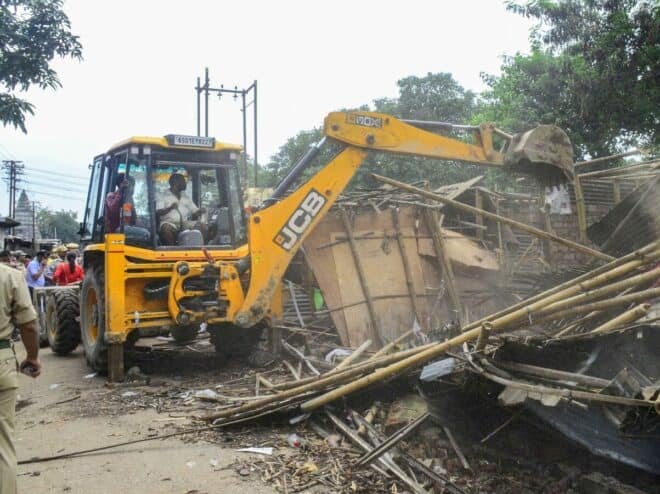 The Supreme Court on Wednesday refused to pass an interim direction staying demolitions across states, and said it cannot pass an omnibus order preventing authorities from taking action.
The Supreme Court on Wednesday refused to pass an interim direction banning bulldozers in the states. The Supreme Court said that it cannot pass any such order, which is applicable everywhere, to restrain the officers from taking action. The court was talking about an all-encompassing order here.
A bench of Justices BR Gavai and PS Narasimha asked the parties to complete the arguments in the matter. Also said that it will hear on August 10 the petition filed by Jamiat Ulama-e-Hind against the bulldozer action. The law should be followed in the whole process, there is no dispute on that.
However, during this the bench said that can we pass an all-encompassing order? If we pass such a universal order, will we not stop the authorities from taking action against the violators? While giving oral remarks, the bench said if the construction is unauthorized under the municipal law, can an all-encompassing order be passed to restrain the authorities?
To this, the petitioners have alleged that the government is taking "deliberate action" against the accused in the riots. Senior advocate Dushyant Dave, appearing for the petitioners, said that we are bound by the laws. If someone is accused of a crime, so his houses should be demolished, it is not acceptable in our society.
Quoting an Indian Express report, Dave said that a man's house in Assam was vandalized as he was an accused in some crime. The senior counsel argued that police officers cannot resort to demolishing houses to punish someone.
The top court was hearing petitions filed by the Muslim body seeking directions to the Uttar Pradesh government and other states to ensure that the properties of alleged accused in the recent violence cases are not bulldozed.
DISCLAIMER: The author is solely responsible for the views expressed in this article. The author carries the responsibility for citing and/or licensing of images utilized within the text.