CJ Werleman , columnist at "The Print" spreads fake news,claims hindu men destroyed a muslim graveyard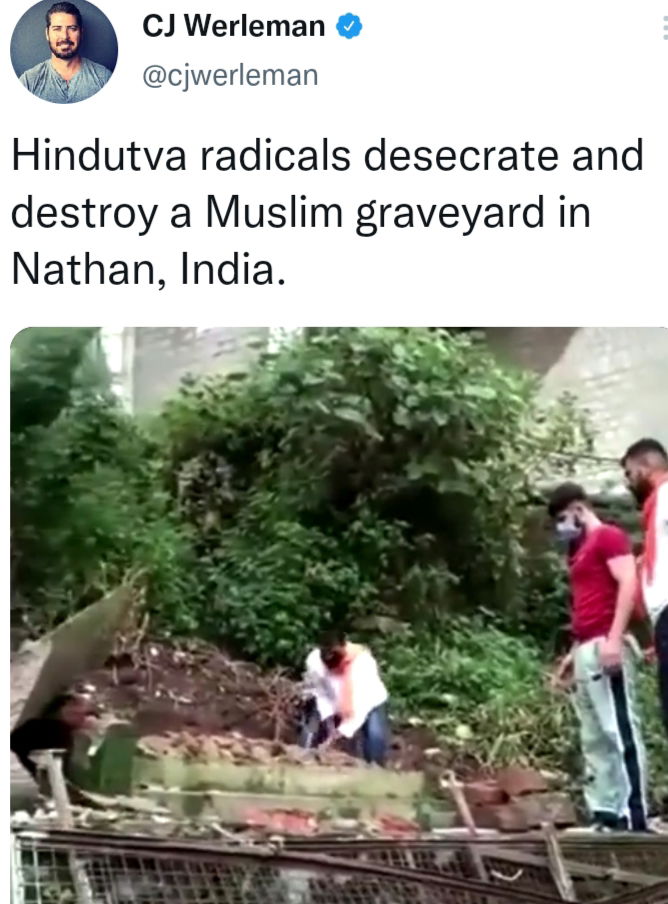 CJ Werleman who is a known Anti Hindu and Anti-India figure on 1st September falsely claimed that a group of Hindu men destroyed a muslim graveyard in order to malign the image of hindus. After his tweet, many in his comment section started uttering venom against Hindus and Hindutva, even film actress Richa Chadha couldn't hold herself. CJ Werleman is known for being a Pakistani and Jihadi sympathizer.Numerous times he is being found spreading venom against Hindus and India and spreading fake news.This is a fake claim made by CJ Werleman. Even before Werleman's claim ,Kamal Gautam who is the general secretary of Hindu Jagaran Manch tweeted in his twitter handle " HJM Sirmour Team today uprooted an illegal majar constructed by Islamic jihadis under their land jihad agenda at Nahan. Jihadis were trying to encroach this pricious prime land near medical college Nahan. Well done boys". HJM team demolished the illegal majar in supervision of municipal board. Even the news report by Punjab Kesari stated the majar as illegal and it was removed by the municipal board with the help of Hindu Jagaran Manch. This is not the first time CJ Werleman has spread a fake news to dig down the image of hindus and Hindutva. Cj Werleman's twitter handle is full of hatred towards Hindus and India.
DISCLAIMER: The author is solely responsible for the views expressed in this article. The author carries the responsibility for citing and/or licensing of images utilized within the text.