Indu Makkal Katchi – Ghar-Wapsi Movement.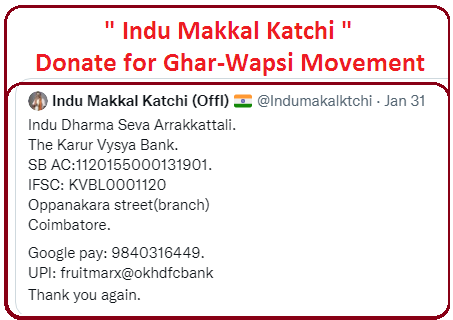 Not unknown are the facts on illegal conversion by Missionaries through duping, luring, intimidating. The weaker section and tribal society have been the worst sufferers of this despicable act by Conversion mafia.
Unfortunately a Tolerant Hindu Society in routine remained indifferent to this nefarious agenda. Conversion through dubious means have caused social animosity and promoted anti-national activity.
Worst is the status of converted Dalit tribal and weaker section. Media have been reporting about targeted discrimination and sexual exploitation of these Dalit and Tribal Christian. Such is the hate for these Dalit and Tribal converts that they are often denied right to bury in cremation ground.
https://www.thehindu.com/news/cities/chennai/dalit-christians-still-trapped-in-caste/article23485606.ece
Subjected to untouchability, denial of priesthood and opportunities: TNUEF report
https://www.ucanews.com/news/dalit-christians-accuse-indian-church-of-discrimination/93441#
https://indianexpress.com/article/opinion/even-in-death-we-are-apart-away-and-outcaste-a-dalit-christian-from-kerala-narrates-the-untold-story-of-discrimination-5198495/
Rampant abuse has been widely reported. In context to Truvannamalai district, Untouchability is faced by many Dalit brothers and Sister who have been converted to ​Chritian fold.
Indu Makkal Katchi and renowned and active Social political group has decided to relieve these weaker section of society from their daily discrimination. Sh Arjun Sampath is leading mass awareness and Social upliftment program throughout the Southern state. Tweeting on this subject, he has promised a drive to facilitate a Ghar wapsi of 5000 people in the next 100 days.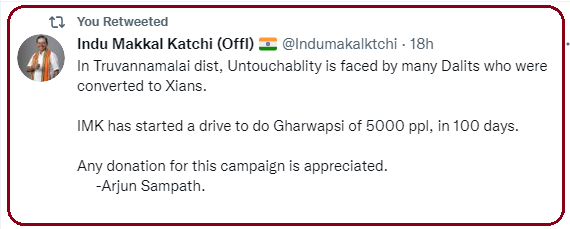 It is indeed a noble Work. He has appealed for a generous donation. Every Hindu should feel it their duty towards Society and protection of interest of Sanatan Religion. Willing so, one can contribute to the organization​`s ​official Bank account​​ following due process of law. It is a service to humanity and to Sanatan Dharma.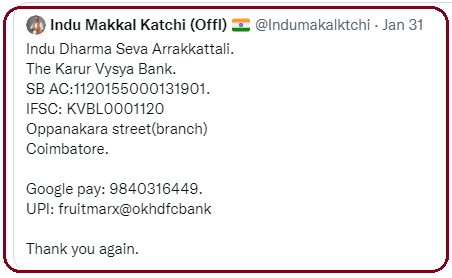 Sh Rama Gopalan jee who founded Hindu Munnani in early 1980s is the pioneer movement for Social and religious welfare of Hindu Society. By 1993, a renewed movement led by Sh S V Sridhar jee formed the Hindu Makkal Katchi. It has specially contributed for the protection of weaker section Social interest and religious faith of Hindu believers in TN and Sri Lanka.
It is time for the entire Sanatan Hindu to rewrite the History. Shed your inhibition and bring back your fellow brothers and sisters in your companionship. Sanatan Hinduism is a belief in a way of life. Acquire the Spiritual and Scholarly conscience and make a peaceful serene and brotherly world.
Come Join the Ghar Wapsi Movement and contribute for the Nobel cause generously​
DISCLAIMER: The author is solely responsible for the views expressed in this article. The author carries the responsibility for citing and/or licensing of images utilized within the text.