Congress & its Political Contradiction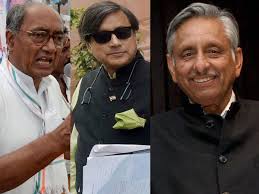 Wise people do not offer unsolicited advice. But very often bad habits are stronger motivation while writing.
The emergence of BJP and the decline of Congress is not a personality centric event around PM Shri Narendra Modi or Shri Rahul Gandhi. Organizations do project a face to set its narrative and iconize its communication, but the content of the communication rest with its philosophy and thinking.
Unending could be the length of analysis and internal reports of all the setback that Congress has faced in last six years. Two consecutive disgraceful performances in the Lok Sabha and zero assembly seats in Delhi Assembly elections tells the summary in one line.
Where lies the fault? Why have the voters of India rejected the Congress?
Even an armchair expert like me who only scans TV channels, Twitter and other Social media networks to assess the sentiment of the voters, does not find it difficult to correlate the various events.
Congress cobbling with National Conference and supporting Farooq Abdullah's rhetoric on JK issue has been grossly resented by the mainland voters. The nation first is the mood of Voter today. And NC rhetoric is bringing big disrepute to congress in entire main stream.
Congress aligning with Left in west Bengal and opposing them in Kerala is an even greater contradiction. While there had never been any electoral advantage to Congress in WB on account of Left alignment, it certainly has an electoral disadvantage with progressive voters who finds Left policy as stumbling block to growth and progress of nation.
Congress's recent decision to align with Shiv Sena is an even bigger ideological blunder. Imagine the faux-pass the congress Voter are having today in Kerala who profess the congress and Muslim and League as natural allies. The recent shift of Muslim vote from congress to Left in Kerala could be seen from this angle. You have Kerala assembly election and soon and this factor would be worth assessed then.
Congress as an organization had been maintaining a centrist approach for quite long and avoided taking strong public position on individual activist or ideologue. But there had been unprecedented involvement of Congress as a party or through its leader symbolically to align and support left leaning movements for example at JNU. It was a local agitation worth to be addressed by a local MLA or corporator, but allowing All India congress stage to be shared by student union leaders and unscrupulous element have almost eroded it`s preponderance of all these years. The new Generation voters have no reason to sympathize with the Anti- India Slogans and rhetoric. Congress think tank are absolutely disconnected and clueless.
There are a few sacrosanct institution which is always kept beyond the purview of ordinary discussion. Public scrutiny of Indian Armed forces, House of President, National Sovereignty, Spy agency like IB, RAW is resented by ordinary voters. And you examine the congress spokesperson speech and undertone of comment in media which is so apathetic and self-defeating. You cannot win election by shouting in TV studio. A small lesson should have been lectured to Spokesperson by congress to end this mess once for all. But nothing happened.
Congress was a centrist party. Post Late PM Rajiv Gandhi decision to open Lock of Ram Lalla Temple and starting his political campaign from Ayodhya, not a single outreach has been established with Hindu Society. Let us accept a fact India is the home has 85% Sanatan Population and is the oldest surviving civilization. Hindu ethos have to prevail as guiding force to nation. You cannot govern and connect to Voter unless you reach out to Hindu Samaj. Instead what is public perception today? There are open instances, when congress instead of outreaching to Hindu are ridiculing their customs and tradition. Time to immediately reverse.
Penultimate issue about Leadership in congress! Is Rahul a Liability for Congress? No and never. People have always short and selective memories. There have been towering leaders within the congress like Gulzari lal Nanda, Lal Bahadur Shatri, Kamraj, Morar jee Desai, Jagjivan Ram, Pranav Mukherjee and Shard Pawar. And none could able to stabilize or unite Congress. Only Nehru Gandhi Vadra family can keep congress united else it would spread, split and dissolve like pack of card. United you can struggle, fight and win also divided you are nothing but a slogan. So never doubt Rahul Gandhi for his ability, intention or engagement. Look at the unity that he offers and rest of you work hard in the field. Accept it, it is a semi-Kingdom.
And in the end, relieve congress of your frustrated failed and sulking politicians. One stupid quote of Mani Shankar Ayer, Shashi Tharoor, Digvijay Singh etc. had erased your entire political capital in past. It is time to tell them Good Bye.
The contradiction within the congress have been preserved and nurtured and is set to vex congress in all upcoming election in WB, Kerala and TN in 2021.
Good Luck.
DISCLAIMER: The author is solely responsible for the views expressed in this article. The author carries the responsibility for citing and/or licensing of images utilized within the text.