In an attempt to destroy Sanatan Dharma, Aam Aadmi Party dig its own grave in Gujarat.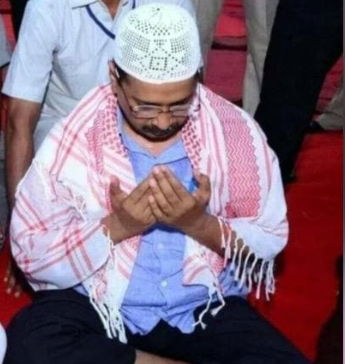 In an attempt to destroy Sanatan Dharma, Aam Aadmi Party dig its own grave in Gujarat. Assembly elections are going to be held in Gujarat this year and Aam Aadmi Party is playing to keep its strong feet in the state but the Asuric attempt to destroy Sanatan Dharma seems to have dig the grave of Aam Aadmi Party in Gujarat. In Gujarat hoarding have been placed It is written in the hoarding which have Arvind Kejriwal in muslim attire. The hoarding says "I do not consider Brahma, Vishnu, Mahesh, Ram and Krishna to be God." Another hoarding read, "I consider Hinduism as madness and these words belong to the Aam Aadmi Party." It must be noted that these hoardings have come to the fore in Gujarat at a time when Delhi Chief Minister is on a two-day visit to Gujarat along with Punjab CM Bhagwant Mann.
Recently 10,000 Hindus converted to Buddhism during the most auspicious days of Navratri. On 5th of October on the occasion of Dussehra at the Dr BR Ambedkar Bhavan in New Delhi. During the event, people were asked to pledge not to consider Hindu deities and gods and goddesses anymore and were asked to show full faith in Buddhism. The event was organised by Aam Aadmi Party's (AAP) Rajendra Pal Gautam, Minister of Social Welfare in Delhi, Bharatiya Boddh Mahasabha, and Buddhist Society of India, the program was attended by many Buddhist monks along with Rajratna Ambedkar, great-grandnephew of Dr BR Ambedkar and President of Buddhist Society of India.
In the Jai Bhim Mission program, 10 thousand Hindus were administered an oath that they would not worship Hindu gods and goddesses. During this the people attending the event was heard saying, "I will not consider or worship the Hindu deities Brahma, Vishnu, Mahesh, Shri Ram and Shri Krishna as God. I will have no faith in Rama and Krishna, who are believed to be incarnations of God." This oath was very similar to the controversial 22 pledges of BR Ambedkar.
The oath further added "I do not believe nor will I believe that Lord Buddha was an incarnation of Vishnu. I consider this to be mere madness and false propaganda. I will not perform Shradh nor will I perform Pind Daan. The man dressed in saffron continued the oath, "I will not allow any ceremony to be performed by Brahmins. I renounce Hinduism, which is harmful to humanity and hinders their development, because it is based on inequality. I accept Buddhism as my religion."
During the programme, AAP minister Rajendra Pal Gautam was seen reiterating these controversial lines and sharing the stage with the man. Later, in his speech, he urged Hindus to renounce their religion and follow the path of Dr. Ambedkar. Gautam said, "If you do not want to be called a traitor, then we need to spread this message of BR Ambedkar to every household. If the species is created by nature, then why is there no species in France, China, Korea, Australia, New Zealand? Who benefited from this caste system and who suffered the most? BR Ambedkar had found the medicine for this disease and now we are spreading it." Rajendra Pal Gautam also lamented how BR Ambedkar died within a month of converting to Buddhism and he could not change the whole country.
.
DISCLAIMER: The author is solely responsible for the views expressed in this article. The author carries the responsibility for citing and/or licensing of images utilized within the text.