What makes people hate their own country?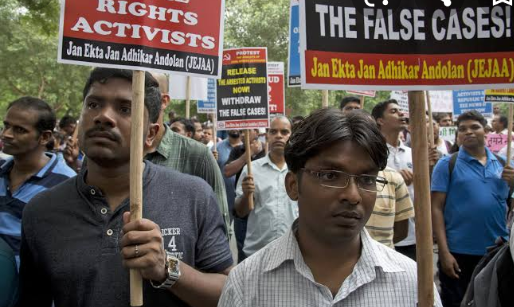 Loving one's home is a natural human trait. So is loving one's state and country of birth. It takes a special breed of people to nourish hatred towards their motherland. Who are these people? What makes them so bitterly opposed to everything associated with their country?
We have a bunch of people in academia who are in the news for all non-academic reasons. Professors use the universities as some launchpad to test-fire students on the society. They may have misfired completely in their academic pursuit. But chosen exclusively for the best care with which their minds have been shaped, they don't disappoint their Professors.
We find them at their vitriolic and vociferous best in JNU, Jadavpur university, Jamia millia islamia university, Aligarh Muslim university and in many such places of education.
Casualty to CRPF personnel in Dantewada was celebrated in JNU. Naxal terrorists find staunch support among the faculties and students. The so called men and women of learning bat passionately for them in debates, with their writeup in national and international newspapers. Campuses of education rise up in agitation in support of so called activists who get caught indulging in anti-national activities. Like-minded people from NGOS, legal fraternity, media and art and culture pitch in with help in the form of financial, psychological and physical support. It becomes an uphill task for law enforcement agencies to take the cases to a logical end. Government of the day is dragged into the matter by calling them all kinds of names: Hitler, dictatorial, anti-minority, anti-democratic, fascists etc.
For all kinds of terrorism sponsered by Pakistan against our country, these people are quick to make a case for having peace dialogue with them. A few innocents getting killed by terrorists is no issue for them. But a terrorist's life is sacrosanct and it needs to be upheld as a noble cause of human rights. Security forces are abused and dragged to courts for doing their duty of securing our country.
Our defence forces were bedevilled with so many problems. But it was ok for them as they prided themselves on flying peace doves as citizens of a peace-loving country. Now, they're agitated over, and strongly disapprove, the government going out of its way to equip our forces with hi-tech armaments, safety gears and fighter planes. They call it war hysteria. Misplaced priority and misguided pride are what they attribute to the government's plan of putting in place a most sophisticated force in the world.
Kashmir had over the years gone into Pakistani control. They had a well-entrenched setup of proxies working for them. On the one hand, terrorists and stone-throwers had been keeping the valley on the boil. Separatists and vultures of so called main-stream political parties ensured Pakistan had its say in the discourse on Kasmir at the highest level of power in New Delhi. They can't digest now a long-delayed surgery being carried out in Kashmir to remove the malignant tumour called Pakistan. There is an uproar being heard everywhere over what they call death of democracy and human rights violations.
The thing now to ponder over is why they behave the way they do. Is it for money? But the people we are talking about are all well-placed and are well-off as a whole. If it's for money, how much can a beggar country like Pakistan pay them? Is it a ploy to bring their favourite party, Congress, to power? But how secure the country would be in their hand? If the security of the country is put in jeopardy, how would the so called intellectual lot and their families be safe? Are they so suicidal to not assess the danger inherent in their moves? Or, are they part of some international herd of leftist comrades, who just think it's a joke flirting with fire? Whatever it is, the policymakers must make serious effort to analyse their behaviour and come up with a remedy.
DISCLAIMER: The author is solely responsible for the views expressed in this article. The author carries the responsibility for citing and/or licensing of images utilized within the text.