Covid has wrecked China, recordings show the terrible condition of the Communist nation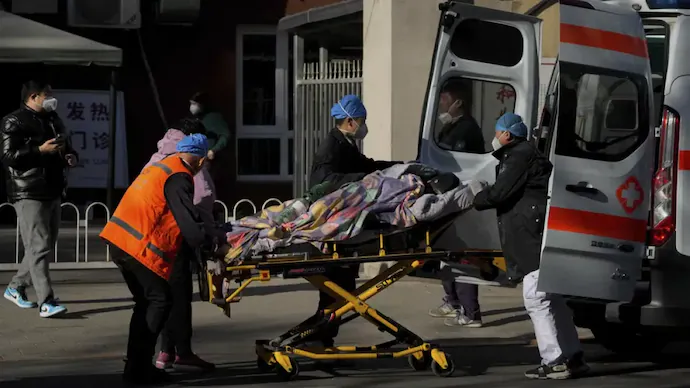 While the Covid epidemic appears to have mostly passed in the rest of the world, it is still present in China. The first Covid deaths since December 3 were reported in the nation on Monday, December 20, while the validity of the official tally is being questioned.
Over a million fatalities? The fact that epidemiologist Eric Feigl-Ding has made some bold claims has alarmed the rest of the world. According to him, there will probably be more than a million deaths as a result of the increase in Covid cases in China.
⚠️THERMONUCLEAR BAD—Hospitals completely overwhelmed in China ever since restrictions dropped. Epidemiologist estimate >60% of 🇨🇳 & 10% of Earth's population likely infected over next 90 days. Deaths likely in the millions—plural. This is just the start—🧵pic.twitter.com/VAEvF0ALg9

— Eric Feigl-Ding (@DrEricDing) December 19, 2022
He further predicted that over the next 90 days, 10% of the world's population and 60% of China will likely contract the disease.
According to a Hong Kong study, covid can kill one million people in China.
Hospitals are overloaded: Hospitals in China are reportedly completely overburdened as a result of the removal of the zero-Covid limitations, according to Eric Feigl-Ding.
A Twitter thread shows how a girl went to three hospitals but didn't get a bed and her father died. She tells in a video that many elderly people are waiting in hospitals and outside medical stores.
A Twitter thread details how a child visited three hospitals but was turned away for a bed, and as a result, her father passed away. She claims in a video that there are a lot of elderly folks waiting in medical offices and outside pharmacies.
Three waves of winter According to epidemiologist Wu Zunyou, the second wave of Covid infections in China would be brought on by widespread travel in January around the week-long Lunar New Year celebrations that start on January 21, according to BBC. The current spike in Covid infections in China, according to Wu Zunyou, is expected to last until mid-January.
He predicted that the third spike in instances would occur between late February and mid-March when individuals started their post-holiday workweeks.
Underreporting of deaths: According to a report, deaths on the Chinese mainland are significantly underreported outside of China. In Beijing alone, the article claims that over 2,700 people have passed away at home.
On Twitter, Eric Feigl-Ding noted that cremations are occurring nonstop in Beijing and that mortuaries are overflowing. "Need for chilled containers. funerals available round-the-clock. There are 2000 remains waiting to be cremated. Sounds recognisable? Spring 2020 is here once more, but this time China is imitating a more Western-style mass infection strategy "He wrote.
US concerned about new variants: According to Bloomberg, the US is worried that the increase in Covid cases in China may lead to the emergence of new virus variations.
Ned Price, a spokesman for the State Department, stated in a briefing on Monday, "We want to see this addressed when it comes to the current outbreak in China. We are aware that whenever a virus spreads in the wild, it has the ability to evolve and endanger everyone.
What caused the spike? The Chinese government's decision to lift the stringent regulations, including the isolation and quarantine protocols, is what caused the Covid spike. The 1.4 billion people in China were almost protected by the zero-Covid policy, but it also sparked widespread unrest there.
The containment efforts were held accountable for the deaths caused by a fire in the Xinjiang region, which sparked protests in Chinese cities in late November.
China's Covid statistics: Relative to other countries, China has reportedly seen no more than 5,237 Covid-related deaths during the epidemic. However, the initial figures might have been far higher. Yanzhong Huang, a global health expert at the Council on Foreign Relations, a US think tank, stated that the (official) death toll from Covid was undoubtedly undercounted.
The vaccination rate in China is almost 90%, yet only 57.9% of adults have had booster injections. For those 80 years of age and older, just 42.3% have received booster doses.
DISCLAIMER: The author is solely responsible for the views expressed in this article. The author carries the responsibility for citing and/or licensing of images utilized within the text.