Crazy Prophesier Evangelist 'Sadhu' Sundar Selvaraj Under Cloud for FCRA Violation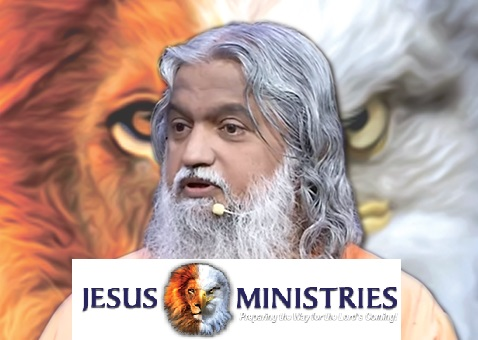 The self-styled 'Sadhu' Evangelist Sundar Selvaraj of Jesus Ministries, notorious for his crazy prophesies is now under cloud for FCRA violation. Evangelist Sundar Selvaraj, likes to be called Brother Sadhu and adopts a Hindu Sadhu's appearance perhaps to fool gullible tribals and trick them into adopting Jesus worship as one of the pantheons of Sanatan Dharma.
Sundar Selvaraj as reported by the Legal Rights Observatory (LRO), received Rs.22.62 crores through Foreign Contributions and used the funds fraudulently for conversions in India. He has registered companies in Taiwan, Singapore, Sri Lanka, Australia, Nigeria and Switzerland. He is also reported to be involved with suspicious Chinese intelligence entities.
Sundar Selvaraj claims that he was a staunch and orthodox Hindu but at the age of 16 he had a dramatic "life-changing super-natural encounter with 'living Christ'" and at the age of 17 he "answered God's call to Ministry". Now how can a 16-year-old hallucinating adolescent claim himself to be a staunch Hindu? These denigrating stories are just spread to undermine Hindu faith and impress meek, poor and rustic Hindus to abandon their faith and move towards Christianity.
This self-styled prophet made a crazy prophecy during a visit to the Philippines for the 24th National Prayer Gathering in 2013 saying, there would be a deadly outbreak of a flesh-eating disease which would spread across the world. He claimed that 'Lord' told him that the epidemic would begin in northernmost part of Philippines called Pangasinan and would spread all over the world from there. He professed the disease would consume the flesh of all men; all their upper skin will begin to decay and it will pierce through the bones! This self-styled prophet seems to be high on weed and spending his funds seeing English horror movies besides the fraudulent conversions.
This lunatic prophesier now claims that the Corona virus vaccine is 'mark of the beast' and a biometric chip that will be injected in people across the country. This biometric chip would have all data of a person which would be used to carry out financial transactions in future! He seems to have a fertile imagination which he employs to scare monger and keep pliable people away from preventive vaccinations for the pandemic. He uses his Angel News TV to spread his bogus Jesus prophesies and bizarre claims.
The Legal Rights Observatory has filed a petition to the Ministry of Home to take swift action against Sundar Selvaraj for flagrant violations of FCRA rules by using foreign funds for dishonest conversion activities. In fact, the government should come up with a law against alluring the poor with food and jobs, using false claims of miracle healing, using Jesus idols fashioned like Bhagwan Krishna, using Sanatani names, Sanatani symbols and plagiarising Sanskrit shlokas like Vishnu Sahasranamam as Jesus Sahasranamam or Jesus Namavalis by deceit to befool the poor and marginalised sections to convert to Christianity.
So, Sundar Selvaraj perhaps could not prophesise his own troubles with the law enforcing agencies when he was busy making outlandish claims and fraudulently harvesting Hindu souls for his Ministry of Jesus!
DISCLAIMER: The author is solely responsible for the views expressed in this article. The author carries the responsibility for citing and/or licensing of images utilized within the text.