Crowdsourcing ideas and awareness to counter Terrorism in the 21st Century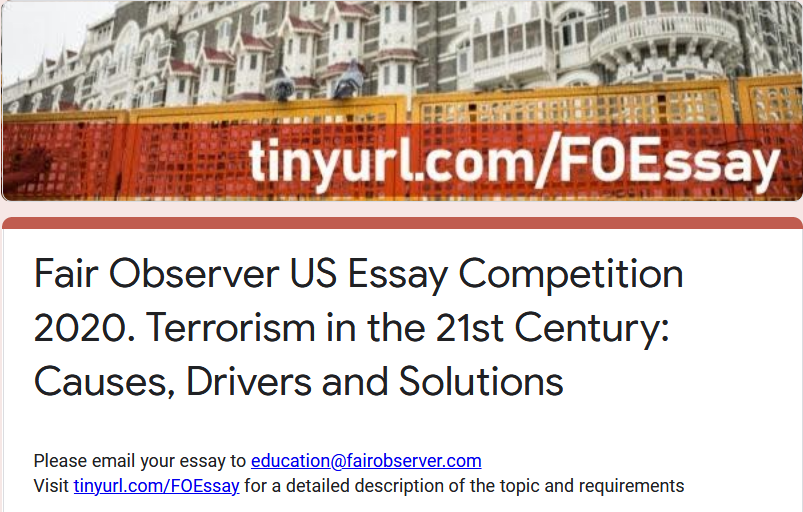 Terrorism emerged as a major political tool in the 19th century. Many of those fighting for what they described as "justice, equality and political change" reasoned that the ends justify the means, embarking on a campaign of political assassinations and indiscriminate bombings. Arguably, a new form of terrorism can be dated from the tragic and historic attacks of September 11, 2001, that changed the world as we know it. The 9/11 attacks were the first on American soil since Pearl Harbor and left the US shell-shocked. In response, Washington launched a global war on terror that is now nearly into its third decade, yet terrorism remains a worldwide problem.
The attacks on American soil inspired further attacks. On March 11, 2004, 10 bombs went off on four trains in Madrid, leaving 191 dead and more than 1,800 injured. On July 7, 2005, four suicide bombers killed 52 people and injured more than 700 in London. Three years later, Mumbai became the target when, on November 26, 2008, 10 Pakistani nationals sailed from Karachi, launching attacks that killed 164 and wounded more than 300 over a period of three days.
In Mumbai, a small group of terrorists wrought much havoc. They did not use advanced technology. Instead, they focused on crowded areas and high-profile locations, inflicting maximum casualties. In the words of Bruce Riedel of Brookings, the Mumbai attacks "set a gold standard for how a small group of suicidal fanatics can paralyze a major city, attract global attention, and terrorize a continent."
Since Mumbai, terror strikes in urban centers have been a regular occurrence. In October, the beheading of French school teacher Samuel Paty set off yet another global debate. Some, like French President Emmanuel Macron, have argued that Islam is in crisis and leads to violence. Others, like Turkish President Recep Tayyip Erdogan, disagree and accuse Macron of Islamophobia. Many apologists argue that violence is caused not by religion itself but its appropriation by political forces, and that it is countries like Pakistan and Iran who are responsible for using terror as an instrument of state policy, not Islam per se.
Fair Observer, a open platform media portal decided to examine the deeper issues behind this global problem, by crowdsourcing ideas from youth in the age group of 16 to 30 . They have invited entries from young people in the US – What drives terrorism in the 21st century? Is there a solution to this phenomenon? If so, what could it possibly be?
Competition Guidelines
The competition is open to young people resident in the US.
They must be over 16 and under 30 on the date of submission.
There are three prizes on offer:

First Prize: $1,000
Second Prize: $500
Third Prize: $250

Ideally, the essays must be 1,500-2,000 words in length.
Please email your essays to education@fairobserver.com after registering here. The subject line should be in this format: 2020 Essay Competition by Your Full Name (Example: 2020 Essay Competition by Thomas Jefferson).
Please send us one high-resolution profile photo of yourself along with your essay.
The judges for this competition will be Glenn Carle, Ian McCredie and Ishtiaq Ahmed.
Send your submissions between November 26 and January 10. The deadline is midnight Eastern Time.
DISCLAIMER: The author is solely responsible for the views expressed in this article. The author carries the responsibility for citing and/or licensing of images utilized within the text.