Quest for pumping India's Defence Muscle speeds up.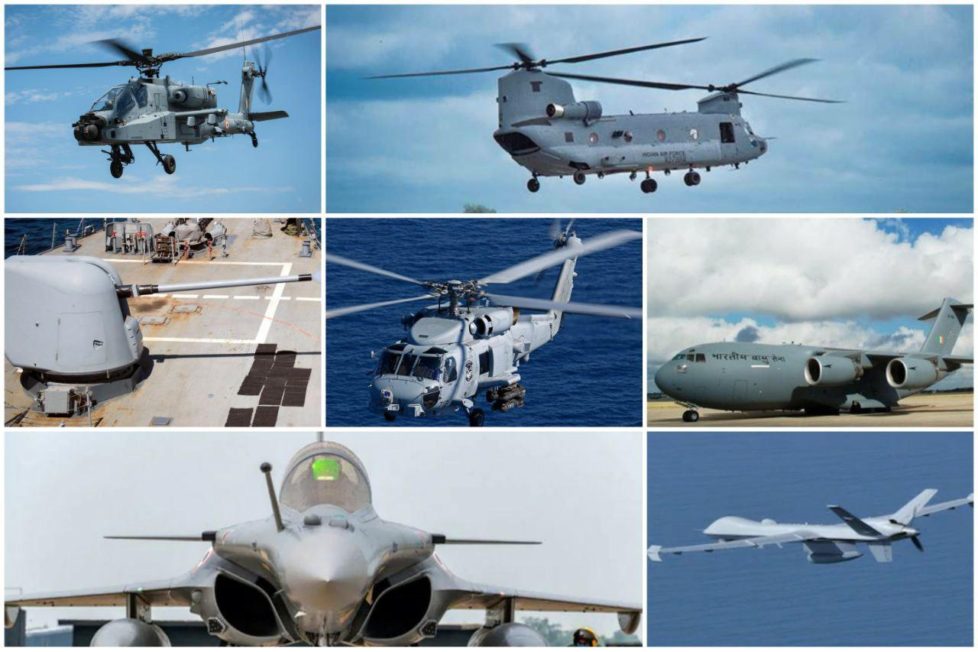 Last few years have significantly created a prioritized advancement for India in the field of defence procurement. With the latest inception of the Rafale jets, India has taken its air power to a new predicament. But, the Rafale is probably the only talked about inclusion in the recent past. Whereas, India has witnessed many such important purchases that might have gone unnoticed but yet, have strengthened the country quite significantly. So let us have a look at some of the top inductions that have taken place or are to happen soon: 1. Chinook: This helicopter is a multi-role, vertical-lift platform, which is used for transport of troops, artillery, equipment, and fuel. It is also used for humanitarian and disaster-relief operations, in missions such as transportation of relief supplies and even mass evacuation of refugees in extreme conditions and difficult terrains. Its induction has brought about the much-needed punch to the military forces that were missing for decades. Chinooks can airlift even the M-777 lightweight howitzers that the Indian Army has in its arsenal. 2. Apache AH-64E: India is one of the 17 nations to select the Apache and has the most advanced variant, the AH-64E Apache. It is designed and equipped with an open systems architecture including the latest communications, navigation, sensor, and weapon systems. It has an improved Modernized Target Acquisition Designation System that provides day, night, and all-weather target information, as well as night vision navigation capability. 3. C-17 Globemaster III and C-130 J Super Hercules: Induction of C-130 J Super Hercules in 2011 and C-17 Globemaster III changed the entire dynamics of strategic lift capability of the Indian Air Force. This acquisition has given the force, the ability to carry out larger transport missions and be able to drop equipment and soldiers to even at multiple advanced landing grounds. Powered with a 4-engine turboprop, C-130J can be effectively used for troop deployment, special operations, air-to-air refuelling, disaster relief, and humanitarian aid operations.
C-17, on the other hand, provides tremendous flexibility in terms of operational response options in any future campaign. The long-range, heavy-lift capability will allow the commanders to induct troops, squadrons, re-locate forces as well as shift forces between theatres rapidly. 4. P8I (Poseidon Eight India): Induction of the Boeing P8I (Poseidon Eight India) Long Range Maritime Patrol and anti-submarine warfare capable aircraft in 2013 has brought about the huge jump in the deterrence and attack capability of the Indian Navy. Indian Navy became the first international customer for the P-8 aircraft with the conclusion of the nearly US $2.1 billion contract on 1 January 2009 for a total of eight aircraft.
The P-8I aircraft is equipped for long-range anti-submarine warfare, anti-surface warfare, intelligence, surveillance and reconnaissance in support of the broad area, maritime and littoral operations. Its communication and sensor suite includes indigenous equipment developed by defence PSUs and private manufacturers. With its high speed and high endurance of about 10 hours, the aircraft is capable of thrusting a punitive response and maintaining a watch over India's immediate and extended areas of interest. Some of the recently signed deals that are expected to take shape and bear results in the coming months:
1. India proceeds with FSV Indian Navy Agreement with Turkey.
2. India and Israel signed an 880 crore Defence deal on March 19, 2020.
3. India's 40 million USD defence deal with Armenia beats Russia and Poland.
4. India and Russia Defence Deal to cross 16 billion USD after DefExpo 2020.
5. United States of America (USA) has approved Foreign Military Sale to India of 13 MK45 5 inch/62 calibre (MOD 4) Naval guns and related equipment for an estimated cost of $1.0210 billion.
6. India has signed an Rs.1,500 crore deal to acquire R-27 air-to-air missiles from Russia for equipping the Su-30MKI combat aircraft fleet of the Indian Air Force.
7. The United States has cleared the sale of the state-of-the-art Guardian 22 unmanned Guardian drones to India.
8. India inks deal for missile defence systems for desi 'Air Force One'.
9. India, US sign deal for 24 MH-60 Sikorsky Romeo multi-role helicopters.
10. India will have two to five theatre commands.

With such significant deals, India is sure to enable itself with all the might to not just grow itself but also give a clear message to its neighbours who have been formulating quandaries for our country on several fronts. And the newly announced 'Aatma Nirbhar Bharat', indigenous production in the defence sector is expected to slingshot to a new high.
DISCLAIMER: The author is solely responsible for the views expressed in this article. The author carries the responsibility for citing and/or licensing of images utilized within the text.