Halal Economics: Toolkit For Economic Jihad (Part 2 Of 5)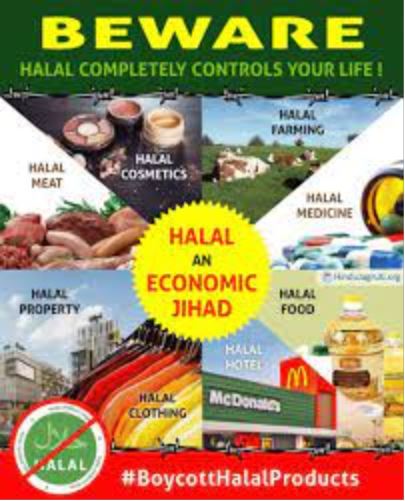 This is in continuation of my article "Halal Economics: Toolkit For Economic Jihad" (Part 1 Of 5), which was published on kreately. in on July 4th, 2021)
meaning of Halal
Halal is an Arabic word that translates to "permissible or lawful" in English.
How the meaning of Halal has changed in the last decade
Over the past decade, the term Halal has evolved to take on a Preposterous meaning. What used to be mostly about food and Islamic financing is now seen as a way of life, sending ripple effects across supply chains and industries. The trend is now stimulating billions of dollars in halal market expansion.
In 2017, the global halal economy amounted to $2.1 trillion as the world's roughly 1.8 billion Muslims warm up to halal lifestyle products, according to the State of the Global Islamic Economy Report 2018/19 by Thomson Reuters and DinarStandard. Halal food and beverage products make up the largest category, with consumers worldwide spending $1.3 trillion, followed by halal clothing at $270 billion, halal media and entertainment at $209 billion, halal travel at $177 billion, halal pharmaceuticals at $87 billion, and halal cosmetics at $61 billion[1].
Halal Economy (Market)
With a strong, predominantly young consumer base that is growing twice the size of the global average, Muslims worldwide is indeed a lucrative captive market. Money earned and spent by one in every four persons in the world is certainly leaving a massive impact on the global economy, making the Halal economy one of the fastest-growing economies in the world.
Players from every sector of the industry, from huge multinationals down to small enterprises and new startups, all are eager to tap into this huge and growing market. The halal industry has now expanded beyond the food sector to include pharmaceuticals, cosmetics, healthcare products, toiletries, and medical devices as well as service sector components such as logistics, marketing, print and electronic media, packaging, branding, and financing[2].
How fast Is Halal Economics Expanding
A. Halal Parks: –
An Investment in Infrastructure and Logistics. The Components which are Halal Certified are –
Raw Materials
Prefabricated Production Areas
Experts
Infrastructure
Energy Efficiency
Marketing[2]
B. Halal Pharmaceutical and Healthcare Industry: –
The healthcare industry has been identified as one of the key industries to be promoted, with vast potentials and opportunities. Components included are:-
Health / Nutrients Supplements
Natural Products, including traditional and Herbals
Vaccines and Biologics
Hospital and Healthcare Providers[2
C. Halal Logistics:-
Halal logistics sector had increased in tandem with the growth of the Halal food industry, and with the help of a globally recognized Halal certification system. consulting company Frost & Sullivan estimates that Halal logistics in Malaysia could potentially be worth about US$1.9 billion annually. Consulting company Frost & Sullivan estimates that Halal logistics in Malaysia could potentially be worth about US$1.9 billion annually.
D. Halal Fashion: –
Clothing has also had to prepare as per Halal and all clothes should adhere to Muslim guidelines on modesty, where clothing items should cover most of the body for women and cover from the navel to the knee for men. Whether a clothing item is halal also depends on the raw material used. For example, shoes and bags made from pigskin leather are considered non-halal[1].
E. Halal Travel and Tourism:–
The hotel industry is also providing Halal environments to attract halal-conscious visitors, for example, hotels in London are removing alcoholic drinks from the minibar in guest rooms, providing prayer mats, and halal food options on the hotel's restaurant[3].
F. Halal Festivals:–
Halal festivals are being inaugurated, for example, the "Heart Halal" festival was kicked off in Chicago, Illinois, USA. The event filled with hundreds of vendors and thousands of guests celebrating Muslim-owned businesses, personalities, and cultures[3]
Guys, this is not an exhaustive list but just the tip of the iceberg where hilal economics has its share And there are many more industries...
---
[1] Sizing up the $2 trillion halal market – FM (fm-magazine.com)
[2] Halal Market Economy – Amana Investment Fund (amanafund.com)
[3] Halal economy worth $6.4 Trillion: Top Trends for Marketers (mlcmedia.net)
DISCLAIMER: The author is solely responsible for the views expressed in this article. The author carries the responsibility for citing and/or licensing of images utilized within the text.