Death penalty to Indian Naval Officers in Qatar: MEA expresses shock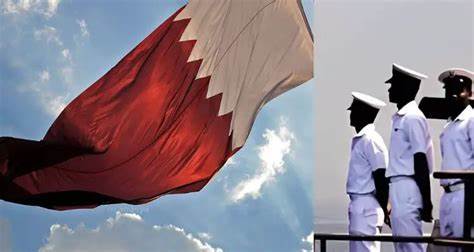 SHOCKING: A court in Doha, Qatar has announced death penalty for 8 naval officers of India. Each one of them worked for a private firm Dahra Global Technologies and Consultancy Services that provides training to the armed forces of Qatar. These 8 men include decorated officers who have commanded major Indian warships. Identification of these naval officers have been made with; Captain Navtej Singh Gill, Captain Birendra Kumar Verma, Captain Saurabh Vasisht, Commander Amit Nagpal, Commander Purnendu Tiwari, Commander Sugunakar Pakala, Commander Sanjeev Gupta, and Sailor Ragesh. The verdict has come out as a shocking event for the Indian government, their family members and the entire world as no one was informed about the charges made against them and trial process.
Qatar was among the first nations to make an outrage against the statement made by the former BJP spokesperson Nupur Sharma for her comments made for Prophet. The same Qatar had invited Zakir Naik to preach at the FIFA World Cup. Qatar was also accused of mistreating south Asian workers at the FIFA World Cup stadium and facilities construction site. Qatar is infamous for exploitation of workers since a time long. But it was during the 2022 FIFA World Cup that some stories came out. Many deaths were also reported due to harsh working conditions at the FIFA World Cup stadium construction site. It is also believed that Qatar allegedly used forced worked force to build the stadiums.
The author once met a plumber in Bihar who worked in Qatar for quite a time long around 2010. He complained that he was forced to work day and night without an amount of rest. He was forced to work in harsh conditions without any protection equipment. He was only provided with food once and not allowed to sleep by throwing water on his face.
On the other hand, MEA (Ministry of External Affairs) has expressed deep shock on this verdict and released a statement that it is continuously in contact with the authorities in Qatar and the family members of the naval officers. According to the MEA statement, Indian authorities in India and Qatar will try their best under the possible legal options to uphold this verdict. Whereas, it has refused to release a detailed statement for the same due to confidential nature of the case.
Over 7,00,000 Indians live in Qatar. Some of them work in different private firms while majority of them are workers who live miserable lives. According to a report, more than 6,500 workers have died in Qatar since the World Cup was first awarded to Qatar.
Qatar has accused the naval officers of spying for Israel. Although it hasn't released any public statement about the charges or the case proceedings. While Indian authorities are awaiting detailed information about the judgement it is quite disturbing to note that the Indian government in spite of having a big conflict on the Nupur Sharma has increased investments bilaterally. Bilateral investments have increased 5 times and so is the number of immigrants to Qatar increasing. India is one of the biggest importers of LNG from Qatar, that is how India is indirectly helping the Qatar economy to boost further. LNG import from Qatar have substantially increased in the past few years as the 2 most prominent companies of India signed a long-term agreement with Qatar to import LNG which was offered at a cheap price, although it was particularly due to the global fall of prices.
In 2022, U.S. designated Qatar as the major non-NATO ally. Qatar has precisely western backing which is guided by the policy of U.S to keep substantial influence in the middle east and Islamic world. The current developments are a great challenge to the current foreign policy of the government of India. While the Indian government has been successful in the past with negotiating the release of its pilot Abhinandan and halting the death penalty on Kulbhushan Jadhav, the current verdict is definitely going to be a big challenge to negotiate with the Qatar government.
DISCLAIMER: The author is solely responsible for the views expressed in this article. The author carries the responsibility for citing and/or licensing of images utilized within the text.