The dip of Narendra Modi in Ma Ganga which will dip the voice of anti hindu groups.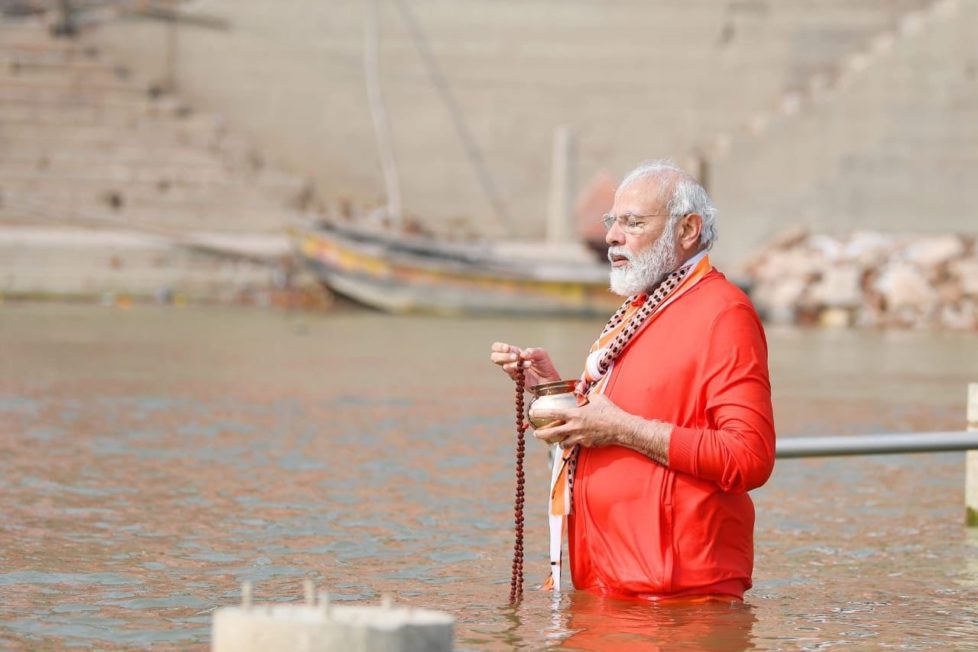 Bhartiya Prime Minister is in a two days trip to his constituency Varanasi.PM Modi has reached Kashi, Varanasi for the inauguration of the temple complex known as the Kashi Vishwanath Corridor. Hindu priests of the Kashi Vishwanath Temple have started the rituals of the inauguration along with Narendra Modi. Prime Minister Narendra Modi offered his prayers at the Kal Bhairav temple in Varanasi as devotees and supporters of PM Modi crowded outside the temple to see the Prime Minister.
After reaching Kashi, Prime Minister of Bharat Narendra Modi took a dip in the Ma Ganga which migh dip the voices of Leftists and Hindu hating people.Prime Minister Narendra Modi will inaugurate the over 50-feet Kashi Vishwanath Corridor in his parliamentary constituency Varanasi on Monday, which will connect the ancient Kashi Vishwanath temple dedicated to Lord Shiva and the two ghats on the Ganges. After the arrival of Narendra Modi and Yogi Adityanath, Kashi and Uttar Pradesh have witnessed a lot of growth both in development and spiritually. Encroachment was made free by widening the roads, which relieved the people from the problem of jam. The development of Kashi can be seen easily with a single glance.The oldest city in the world is being transformed with both contemporary and traditional understanding. Kashi has always been the biggest religious place for Hindus and has been working to connect Hindus. Despite the attack of Islamic Jihadis, Kashi is firm by the grace of Mahadev. With the arrival of Modi and Yogi Adityanath, once again in the world, Kashi's dunk is in full swing.
DISCLAIMER: The author is solely responsible for the views expressed in this article. The author carries the responsibility for citing and/or licensing of images utilized within the text.