DMK Govt Crushes Dissent By Arresting Social Media Commentator Kishore K Swamy For Criticising MK Stalin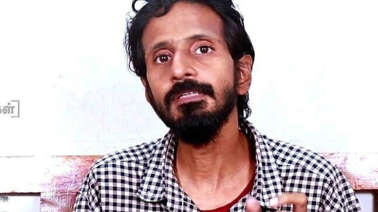 The DMK government swooped down on popular social media commentator, Kishore K Swamy and arrested him to crush dissenting voice against DMK government and criticising DMK leaders. Kishore K Swamy runs a Twitter handle @Sansbarrier and has 73.9K followers. He is a fierce critic of the DMK/DK's anti-Hindu policies and routinely exposes their hypocrisy with regard to interfering in Hindu Temple traditions and practices while letting Christian Churches and Islamic Mosques function very freely without any reforms.
Several DMK leaders have been accused of encroaching Temple properties and misusing Hindu temple funds while abusing and undermining Hindu sentiments. DMK leaders and the Karunanidhi family are also embroiled in several humongous scams from UPA era, the 2G spectrum scam, illegal Telephone Exchange scam etc.
Kishore Swamy has been a severe critic of the DMK party, DMK leaders and the discriminative and exploitative policies of DMK government. He has been targeted by the DMK and arrested twice before for his criticism. He is also a thorn in the flesh of the DMK for unhesitatingly calling a spade a spade.
The Sankar Nagar Police in Chennai has reportedly booked Swamy over complaint filed by DMK IT Wing coordinator Ravichandran on June 10th. Kishore Swamy has been silenced by MK Stalin through his stooge Ravichandran, who used defamation complaints as a weapon to harass Swamy who posted on the social media content which plainly criticised MK Stalin, DMK patriarch M Karunanidhi and Annadurrai.
He has been charged under Section 153, 505, of the IPC essentially accusing him of provoking to cause riots and causing fear and alarm in the public inducing to commit offence against public tranquillity. He has been lodged in chengalpattu sub-jail after being remanded to judicial custody till June 28th .
What hurts DMK cabal the most is that Swamy not only criticises DMK honchos but also calls out the hypocrisy of DMK friendly so-called liberal journalists who run pro-DMK stories and twist facts against PM Modi and the BJP. When he gives back this anti-Hindu, anti-BJP cabal a taste of their own medicine they start crying and accusing him of running vicious campaigns, while they themselves have been shamelessly trolling BJP, RSS and Modi for several decades now.
BJP leader Gayathri Raghuram has severely condemned the arrest of Swamy. She has said on Twitter, "I condemn Kishore K Swamy arrest for speaking against DMK leaders. What happened to democracy? When Udhayanidhi Stalin can lie about PM Modi ji, CM Stalin can lie about PM Modi ji, when Thirumavalavan can talk bad about Hindu Dharma, Brahmnins and PM. Entire DMK speaking bad about particular caste, Brahmins and now they are against Devendra kula Vellalars, when they can call opposition leaders as DOGs, bad smell and disrespect women, when there is no action and arrest of these people, why only arrest a common man?"
She further called out the Fascism of DMK by saying, "No one can force anyone to like or follow DMK. We cannot accept dictatorship, when you can talk, walk as you wish please expect the same back. Arresting a man for calling a spade a spade is this democracy? DMK threatening and arresting all Hindus."
Gayathri Raghuram exposed the one sided venomous campaign of DMK big-wigs and co-ideologists like Thirumavalavan, Variamuthu etc abusing and spewing venom on Brahmins, calling them snakes and inciting people to kill Brahmins and devout Hindus. These worthies did not even leave alone the great woman saint poet Andal who is reverred as a Goddess by Hindus, Variamuthu, M. Karunanidhi's great friend and guide called Andal, a prostitute. While Variamuthu himself is accused by over 16 Tamil playback singers of sexually harassing them and was outed during the Me Too movement. Strangely, Kanimozhi who is very voluble against sexual harassment issues went completely silent over the serious charges made against Vairamuthu.
Since the DMK government has come to power in the first week of May, it is focussing more on harassing Hindus who do not ascribe to their ideology by foisting false cases on them and silencing them by arrests. While management of Covid pandemic has only worsened under Stalin rule with exponential increase in positive cases and deaths as the CM is more busy carrying out his political vendetta rather than focus on governance.
The mainstream media which always shouts for freedom of expression, is cheering the DMK's dictatorship to crush dissenters.
DISCLAIMER: The author is solely responsible for the views expressed in this article. The author carries the responsibility for citing and/or licensing of images utilized within the text.