US Supreme Court reverses Roe v. Wade and eliminates the constitutional right to abortion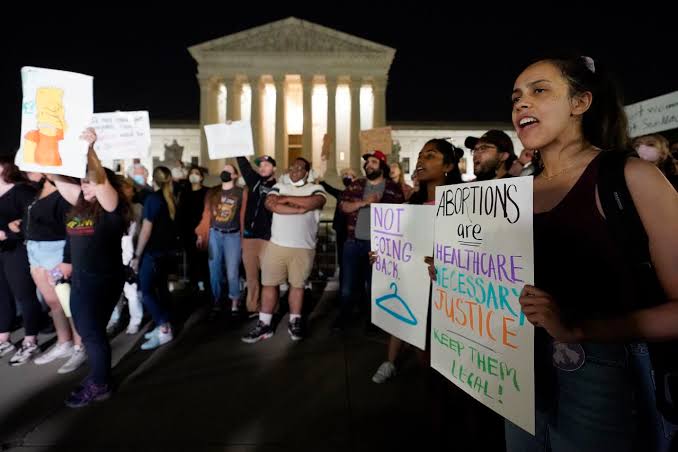 The UN experts have called the US Supreme Court's decision on Friday "a significant blow to women's human rights and gender equality". The recent SC ruling which invalidates the 50-year-old Roe v. Wade ruling which ensured access to abortion in the US.
The Supreme Court's decision to end the unalienable right to an abortion represents a turning point in American history.
By a margin of six to three, the Supreme Court rendered the long-awaited decision in the particular case of Dobbs v. Jackson Women's Health Organization. This landmark ruling sends all state-by-state decisions regarding abortion access and legality.
This judgement, according to UN Human Rights chief Michelle Bachelet, is a "huge setback" for sexual and reproductive health in the US.
"After Roe v. Wade's protection of sexual and reproductive health and rights in the US for fifty years, the US Supreme Court's decision in Dobbs v. Jackson Women's Health Organization given today constitutes a significant setback. It is a serious setback for gender equality and the rights of women, according to Bachelet.
She said, "Access to safe, legal, and effective abortion is at the foundation of women's and girls' autonomy and freedom to make their own decisions about their bodies and lives, free from discrimination, violence, and coercion.
UN human rights experts criticised the Supreme Court of the United States for its shocking and risky decision to overturn a nearly fifty-year-old legal precedent that protected women's right to choose to have an abortion, calling it a serious reversal of an already-existing right that will endanger the health and lives of women.
They claimed that the Supreme Court of the United States had "today, with the stroke of a pen and without sound legal reasoning, stripped women, girls, and all persons capable of becoming pregnant in the country, of existing legal protections that are necessary to ensure their ability to determine the course of their lives and to live with dignity."
The International Covenant on Civil and Political Rights, which defends a woman's right to life from the detrimental effects of abortion restrictions, is said to have been ratified by the United States. According to UN experts, the Supreme Court has completely disregarded the United States' legally binding obligations under international human rights law.
As a matter of ensuring women's ability to exercise their legally protected human rights to life, health, equality and non-discrimination, privacy, freedom from torture, cruel, inhuman, and degrading treatment, and freedom from gender-based violence, legal protections for abortion access and rights have been established under international law.
The UN experts stated that a woman's fundamental right to equality and privacy, regarding private aspects of bodily and psychological integrity, is at the very foundation of her autonomy over her own body and reproductive functions. According to experts, having legal access to abortions is crucial for women's health and is vital for them to fully exercise their human rights.
According to them, the right to make informed decisions about ending a pregnancy must be backed by fair access to respectable treatment, qualified medical personnel, and reliable information.
The lowest rates of maternal mortality are found in nations where access to abortion is decriminalised or legal and contraception is readily available.
According to the World Health Organization, induced abortions result in 6 out of every 10 unwanted pregnancies globally.
"Around 45% of these abortions are reportedly dangerous. According to UN experts, restrictive policies are likely to increase the number of women and girls seeking illegal and dangerous abortions rather than reducing the need for abortion on an individual basis.
According to them, this feeds the stigma around abortion and causes women who require post-abortion care to be abused and imprisoned. Healthcare professionals that work under the danger of violence do so while still experiencing stigma.
DISCLAIMER: The author is solely responsible for the views expressed in this article. The author carries the responsibility for citing and/or licensing of images utilized within the text.