Extremists have made Hindus across the world unite.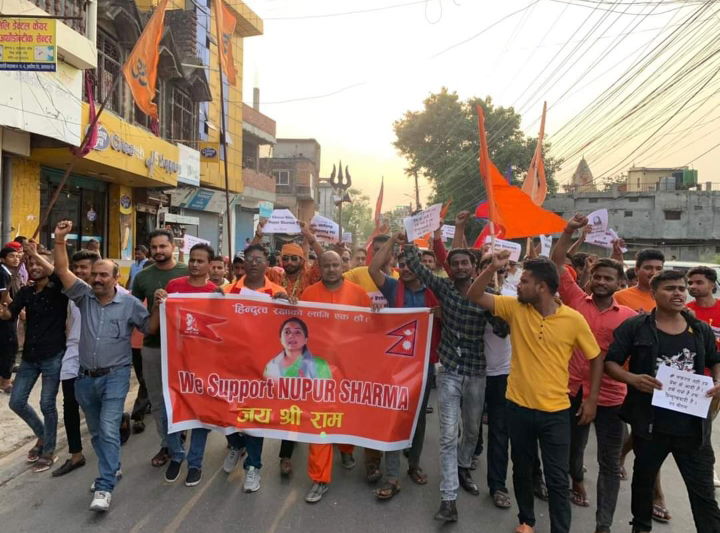 Hindus are coming forward to show the world that it is not only Muslims who can unite for their faith but the proponents of the oldest faith is committed towards Dharma and can come forward to fight Adharmis. In favour of BJP leader Nupur Sharma and Hinduism, a large gathering was held in Nepal's neighbouring nation.Thousands of Nepalese Hindus marched through the streets in support of Nupur Sharma. This rally was held in Birganj, Peerganj, and other cities in addition to the capital Kathmandu. 'Jai Hindu,' 'Jai Hindutva,' and 'Jai Shri Ram' were shouted during this time. The event also featured posters that read, "Jo Hindu Shiv and Ram's nahi, koi kaam ka nahi."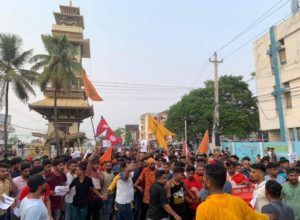 During a rally in Birgunj, a Hindu saint can be heard proclaiming that when Hindu faith is at stake, he, too, will not remain in silent. He claimed that Hinduism had been mistreated in the past as well. In Pakistan, a Shiva temple was recently dismantled. The Muslims then engaged in hooliganism in response to the incident in India. He is now defending his faith by leading a peaceful parade. Some jihadists are also obstructing this. 'Pakistan Murdabad' was also shouted by Hindu sympathisers.
On 10th of June, Hindus saw how their tolerance was crushed under the toes of Islamists. Yesterday's episode was a reminder for Hindus that the process of turning India into Islamic Republic of India has now begun. Violence was unleashed by muslims in various parts of the country. Yesterday was Friday and after the Friday prayers, muslims in various cities came up together to unleash violence upon the Indian State. Stones were pelted on the policemen making many of them injured, Temples were attacked, Ashok Chakra in Tricolour was being replaced by Kalma, Violent slogans calling for the beheading of Nupur Sharma were raised in top of voices.
The most horrifying picture was seeing the effigy of Nupur Sharma hanging in the middle of Belagavi Ford Road, Karnataka. It should be clear to all the Hindus living in the Indian state that it was not Nupur Sharma's effigy which was hanged but it was the tolerance of Hindus which was given a death sentence. Giving more rights to muslims was a blunder commited by the Dharmik community. Muslim appeasement is none other than a process to slowly behead yourself.A civilized population always get decimated when it meets a violent, immoral population horde.History has ample evidence of it. Being majority doesn't translate to having an upper hand in the social system. Africa, British India, Crumpled ancient Civilizations are the greatest example before us. If the faith of majority community is not an organised faith, it will subconsciously start acting as a minority. So those who claim "Hindus toh 80 percent hai unko kya khatra hai " must turn pages of history books. It was hard to believe that this is Bharat where it happened. Security personnels were found helpless in front of the Muslim mob who signed what the community's priority are.
DISCLAIMER: The author is solely responsible for the views expressed in this article. The author carries the responsibility for citing and/or licensing of images utilized within the text.