Festivals of Bharat – Classification by States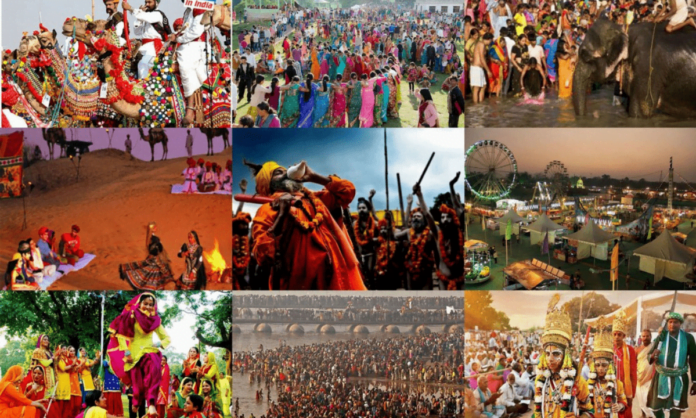 Karnataka
Located on the south-western coast of India, Karnataka boasts a thriving tourism industry with the Arabian Sea bordering one side. This industrialized state produces large quantities of gold, coffee, sandalwood products, and raw silk, with Bengaluru as the capital city. Karnataka's breathtaking natural wonders include pristine beaches, lush green forests, beautiful waterfalls, hill stations, and a diverse range of flora and fauna. The state is home to world heritage sites such as Hampi and Pattadakal, as well as impressive monuments, majestic forts like Kittur Chenamma Fort and Chitradurga Fort, and temples like the one at Halebeedu. Visitors can also enjoy adventure sports and immerse themselves in the state's rich cultural life. Karnataka has been ruled by many dynasties, and its people are hospitable, peace-loving, and a fascinating blend of different traditions and ideas, as manifested in its culture, festivities, and art forms. Puppetry or "Bombe Aata," Yakshagana (a unique form of dance drama), Nagamandala (a ritual), Krishna Prijatha (folk theatre), and the Vijaya Festival at Hampi are some of the state's outstanding cultural events. Kannadigas, the people of Karnataka, are religious and celebrate many festivals and fairs, including Vaikuntha Ekadashi, Gowri Habba, Dasara, and more.
Makara Sankranti
Ugadi
Ganesh Chaturthi
Janmashtami
Deepavali
Naga Panchami
Vajramudi Brahmotsava
Mahavir Jayanti
Mahalakshmi Vrata
Karaga
Sri Vithappa Fair
Godachi Fair
Yellamma Devi Fair
Banashankari Devi Fair
Mahashivaratri
Kadalekai Parishe (groundnut fair)
2. Jammu & Kashmir:
Jammu region boasts of the famous shrine Mata Vaishno Devi. The following festivals are also celebrated in Jammu & Kashmir:
Shivratri
Lohri
Purmandal Mela
Baisakhi
Bahu Mela
Jhiri Mela
Ladakh Festival
Sindhu Darshan Festival
3. Himachal Pradesh:
previously recognized as Dev Bhumi, boasts of distinct fairs and festivals entrenched in the history and legends of each district. Its diverse cultural panorama offers a fascinating glimpse into the daily lives of its people. It is a sight to behold when locals participate in these festivals, demonstrating unwavering enthusiasm and zeal. While Dussehra, Phulaich, and Pori are some of the popular festivals, the state also celebrates several other festivals and fairs:
Doongri Fair
Minjar Fair
Baisakhi
Ladarcha Utsav – Spiti
Sajo Festival
Bala Festival
Summer Festival
Bhunda
Tulsi Viavah
Bala Sundari Fair
Kahika Fair
Pulkhepa Festival
Bharamur Jatra Fair
Lohri
4. Punjab:
Punjab is often referred to as the 'land of five rivers', namely Jhelum, Chenab, Ravi, Beas, and Sutlej. The state is known for its lively and festive atmosphere where celebrations are marked with great enthusiasm and revelry. Since agriculture is a prime occupation in Punjab, it's no surprise that many of its major festivals also revolve around agricultural practices and crop production. A number of festivals are associated with the harvest season. Some of the festivals are of local importance – like Maghi of Muktsar and Hola Mohalla of Anandpur. Other important festivals are as follows:
Rakshabandhan
Diwali
Guru Gobin Singh's birthday
Maghi Mela
Chappar Mela
Holi
Sodal Mela
Chandigarh Garden festival
5. Haryana:
To truly understand the nature of Haryanawis, one must be fully immersed in their customs, celebrations, and way of life. Haryana, also known as the Madhyama Dis (Middle Region) during the later Vedic period, was the birthplace of Hinduism. This region was where the first hymns of the so-called Aryans were sung and ancient manuscripts were written. The name of the country, Bharat, even comes from the Bharata dynasty that ruled over Haryana. Historically, Haryana has been a part of the Kuru region and in the Mahabharata, which is the cornerstone of Indian culture, mentions Kurukshetra as the location of the epic battle between the Kauravas and Pandavas. Additionally, Haryana is rich in folklore, with the oldest extant romance being that of Sorath and Dhaj. The people of Haryana celebrate festivals with great enthusiasm and traditional fervor, taking great pleasure in dramas, ballads, and songs. In addition to the Kurukshetra festival, Surajkund Crafts Mela, and Gopal-Mochan Fair, several other festivals are celebrated in Haryana:
Diwali
Basant Panchami
Baisakhi
Lohri
Dussehra
Holi
Gugga Naumi
Navratri
Bathing at Sohna
Pinjore Heritage Festival
Festival of Gardens
Teej Festival
Chetar Chaudas Mela
Haryana Day
Janmashtami
Mango Mela
Mansa Devi Mela
Masani Fair
Kartik Fair
6. Delhi:
Located on the banks of the river Yamuna, Delhi is the second most populated metropolis in India and is considered a microcosm of the entire subcontinent because people from every part of the country have come and settled in the city over the years. Its unique blend of old and new architecture attracts an unbelievable number of tourists every year. The city boasts its Mughal and British heritage while constantly undergoing drastic changes due to new architectural innovations. The people of Delhi, also known as 'sheher dilwalon ki' (the city of the large-hearted), are boisterous and enthusiastic, indulging in festivities almost all year round, celebrating festivals from various regions and religions, and even creating their unique festivals. The following festivals are also celebrated in Delhi:
Guru Nanak Jayanti
Ram Navami
Makar Sankranti
Diwali
Mahashivaratri
Durga Puja
Janmashtami
Phoolwalon ki Sair
Raksha Bandhan
Garden Tourism Festival
7. Uttarakhand
Uttarakhand, also known as Devbhumi (the land of gods), is abundant in Hindu holy temples and cities. The two most renowned rivers in India, the Ganga and Yamuna, originate at Gangotri and Yamunotri respectively, from the glaciers in Uttarakhand. The region is fed by numerous lakes, glacial melts, and streams which feed these rivers. The Gangotri and Yamunotri, along with Badrinath and Kedarnath, form the local Char Dham, a circuit of four pilgrimage sites. Haridwar and Rishikesh also attract a large number of pilgrims, while Gurdwara Hemkund Sahib is an important pilgrimage site for the Sikhs. Uttarakhand's fairs and folk festivals are incredibly vibrant and unique, representing a blend of various natural, social, and cultural factors. Women's daily lives in Uttarakhand are filled with an endless string of festivals, the majority of which include fasting and the preparation of special foods. Since the majority of the population lives in rural areas, many festivals are related to the land and soil, providing them with a sense of uninhibited joy and clean air. Besides Kandali, Phool Dei, and Khanda Fair, Uttarakhand also celebrates the following festivals.
Basant Panchami
Bhitauli
Harela
Batsavitri
Ganga Dussehra
Dukar Puja
Khatarua
Ghuian Ekadashi
Ghughutia
Makar Sankranti
Hill Yatra
Chhipla Jaat
Nandadevi
Janopunya
Kumaon Holi
Badri-Kedar Festival
Gananath Mela
Garhwal Festival
Olgia or Ghee Sankranti
Kasar Devi Mela
Kavand Mela
Lakhavar Mela
Deva Mela
Nanda Devi Mela
Neelkanth Mahadev Mela
Punyagiri Mela
Shravan Mela
Somnath Fair
Hanol Mela
Jaujibi Fair
Kumbh Mela
Uttarayani Mela
8. Uttar Pradesh
Uttar Pradesh, known as India's most populous state, is often referred to as the birthplace of the Hindu religion and a hub for learning and culture. The revered Ganga and Yamuna rivers flow through the state, and cities such as Varanasi, Ayodhya, Mathura, Vrindavan, and Prayag (now called Allahabad) hold great significance for Hindu pilgrims. In addition, there are important sites associated with Buddhism, such as the Chaukhandi Stupa, Dhamek Stupa in Sarnath, Piprahwa, Kaushambi, Shravasti, and Kushinagar. Uttar Pradesh also has a rich tradition of celebrating festivals, with at least 40 festivals observed each year in a spirit of joy and harmony. The state also hosts approximately 2,250 fairs annually, including the following events:
Ramnavami
Durga Puja
Dussehra
Diwali
Makar Sankranti
Buddha Purnima
Shravana Jhoola Mela
Deva Mela
Kailash Fair
Kumbh Mela
Barabanki Mela
Bateshwar Fair
Rambharat
Ramlila
Kampil Fair
Magh Mela
Ayurveda Janshi Mahotsava
Kartik Poornima and Lolark Shasthi
Ganga Mahotsava
Lucknow Mahotsava
Buddha Mahotsava
Water Sports Festival
Dadri Cattle Fair
9. Bihar
Bihar, a vibrant state in eastern India and a popular destination for tourists, is brimming with historic landmarks and sacred pilgrimage sites. It was the birthplace of both Buddhism and Jainism, and has fostered the growth of Hinduism for centuries. The town of Bodhgaya, home to the renowned Mahabodhi Temple and the revered Bodhi Tree, attracts millions of Buddhist pilgrims from all corners of the globe. Other significant sites include Patna, Nalanda, Vaishali, and Rajgir. Bihar's rich cultural heritage is also reflected in its diverse range of traditional dance forms such as Chhau, Bidesia, Jhijhian, Sohan-Khiloun, Kajari, Jumari, and Jat-Jatin. The region's handicrafts are equally renowned, with Madhubani paintings depicting mythological and religious scenes using natural colors on paper and cloth, as well as miniatures in paper and leaves, hand-painted wall hangings, applique work, and leather products. Bihar is also known for its festive culture, with events such as Chhath Puja, Madhushravani, Pitripaksha Mela, Sonepur Mela, and various other fairs and festivals adding to its allure.
Holi
Diwali
Ramnavami
Shivratri
Rajgir Dance Festival
Saraswati Puja
Bhai Dhuj
Makar Sankranti
Rakshabandhan
Durga Puja or Dussehra
Sama-Chakeva
Bihula
Saurath Sabha
10. Jharkhand
Jharkhand is a vibrant amalgamation of thriving industries, stunning natural beauty, and a blend of modern and traditional tribal lifestyles. Established in 2000 as the 28th state of India after its separation from Bihar, Jharkhand is bounded by Bihar, Madhya Pradesh, Orissa, and West Bengal. Blessed with fertile agricultural lands and a wealth of minerals including manganese, mica, chromites and bauxite, iron, coal, etc., Jharkhand is considered one of the top industrial regions in the country. Adding to its charm are picturesque lakes, mesmerizing waterfalls, hilly terrain, and rivers such as Damodar, Mayurakshi, Barakar, Koel, Sone, Swaranrekha, Batane, and more. The state is also home to several hill stations, sanctuaries brimming with diverse flora and fauna, such as Hazaribagh National Park and the Chachro Crocodile Breeding Centre in Koderma, and bird and wildlife sanctuaries, along with the Tatoloi hot water stream. With a significant tribal population, Jharkhand is renowned for its unique folk dances like Paika, Chaw, Jadur, Karma, Nachni, Natua, Matha, Sohari, and Lurisayro, traditional paintings such as Oraon, Bhitichitra, Santhali Bhitichitra, and Jado Patiya, and handicrafts such as seeenk-work, kasida, terracotta, textiles, bamboo-work, pottery, stone craft, etc. Along with the widely celebrated festivals like Sarhul, Karma, and Bhagta Parab, Jharkhand also rejoices in several other local festivals:
Chhath
Holi
Diwali
Dussehra
Ramnavami
Basant Panchami
Sohrai
Badna
Tusu Parab or Makar
Hal Punhya
Rohin
11. Madhya Pradesh
Fondly called the 'heart of India', Madhya Pradesh straddles the river Narmada, which runs between the Vindhya and Satpura ranges. The captivating state is a beautiful holiday destination with vast range of natural attranctions and spectacular historical and architectural wonders. There are three World Heritage Sites in the state: the Khajurao Group of Monuments including Devi Jagadambi temple, Buddhist Monuments at Sanchi, and the Rock shelters of Bhimbetka. One third of the state is forested and offers a unique and exciting panorama of wildlife. Gond, Bhil, Baiga Korku, Bhadia, Halba, Kaul, Mariya and Sahariya are the important tribes in this state. The festivals of Madhya Pradesh give it a distinct flavour. Flavoured by religion, region, heritage and tradition, every festival of this land gives you a unique taste of culture. While the traditional religious festivals are celebrated as enthusiastically as in the rest of India, it is the tribal fairs and festivals of Madhya Pradesh that lend the state a unique charm. Besides Chethiyagiri Vihara Festival, Khajurao Dance Festival and Bhagoria, the following festivals are also celebrated in Madhya Pradesh.
Tansen Music Festival
Shivratri Mela
Navratri
Sanja Festival
Suwata
Tejaji Fair
Dussehra
Ganga-Gour Festival
Ganga Dashami
Ghadlya
Gobardhan
Jhansi Festival
Ghadlya
Gobardhan
Jhansi Festival
Kajri Navami
Karma Festival
Kujlaya Festival
Laru Kah Festival
Lavani Festival
Malwa Festival
Matki Dance Festival
Meghnad
Navanna
12. Odisha
Odisha, formerly known as Orissa, is a state located on the eastern coast of India. It boasts an array of natural beauty, including rivers, lakes, waterfalls, hot springs, mountain springs and a 500 km-long coastline. The state also has a rich cultural heritage, incorporating aspects of art, religion, spirituality, and music. Home to a significant tribal population, Odisha is known for its unique handicrafts, forest products, traditional paintings, brass and metal ware work, and music and dance. As a tourist destination, Odisha has a lot to offer, including wildlife, national parks, temples with mesmerizing architectural designs, sea beaches, and Lake Chilka – a lagoon that is home to dolphins, sea turtles, and migratory birds. The state has a busy calendar of festivals and fairs, both tribal and otherwise, which have helped to promote its hospitality and tourism industry. Some of the popular festivals celebrated in Odisha include Rath Yatra, Konark Festival, Raja Sankranti, and numerous others. The best time to plan a visit to the state is between October and March when the weather is pleasant.
Ganesha Chaturthi
Durga Puja/Dussehra
Lakshmi Puja
Deepavali
Makar Sankranti
Mahashivaratri
Holi (Dola Purnima)
Ramanavami
Basanta Purnima
Janmastami
Viswakarma Puja
Akshaya Tritiya
Ashokastami
Bali Yatra
Basanta Panchami
Baseli Puja
Bija Pandu
Chaiti Ghoda Nata
Chhadakhai Festival
Chandan Yatra
Chaitra Parba
Chitou Amavasya
Gahma Purnima
Devasnana Purnima
Dhamu Samkranti
Dhanu Yatra
Garbhama Samkranti
Hingula Yatra
Joranda Mela
Karma Festival
 13. West Bengal
West Bengal lies in the eastern part of Gangetic plain and stretches from the majestic Himalayas all the way to the Bay of Bengal. This state has been influenced by diverse cultures over the years. At the time of India's independence, Bengal was divided into two parts – East Bengal and West Bengal. While West Bengal became a part of India, East Bengal became part of Pakistan and then later in 1971, it became an independent country called Bangladesh. West Bengal is a popular tourist destination and generates a considerable amount of revenue from the tourism and hospitality industry. It is blessed with stunning landscapes, snow-capped mountains, majestic seas, blossoming tea gardens, wide deltas, lush green forests, and rich wildlife. The state is also home to celebrated social reformers like Swami Vivekananda and Ishwarchandra Vidyasagar, saints like Ramakrishna Paramahansa, and literary icons like Rabindranath Tagore. Festivals form an integral part of the state's culture and it is said that there is a festival for every season, every region, and every occasion. Apart from Durga Puja, Charak Puja, and Nobo Borsho, West Bengal also celebrates other colorful fairs and festivals with joyous ceremonies, fun-filled activities, and mouth-watering cuisines.
Ganga Sagar Mela
Diwali
Basanta Panchami
Basant Utsav
Sri Ramakrishna Parmhansa's Birthday
Buddha Jayanti
Rabindra Jayanti
Netaji Subhas Chandra Bose Jayanti
Mahesh Yatra
Jhapan
Paush Mela
Vishnupur Festival
14. Chhattisgarh
Chhattisgarh boasts a rich cultural heritage dating back thousands of years, which includes its own unique dance styles, cuisine, and music. Popular among these are the Pandwani – a musical narration of the Mahabharata, Raut Nacha, Panthi, and Soowa dance styles. Additionally, the state is renowned for its distinctive architectural monuments such as temples, caves, and palaces, which offer insight into the region's rich cultural heritage. When touring Chhattisgarh, there are numerous important heritage sites to explore. The locals are widely known for their kindness, simplicity, and adaptability, as well as their penchant for finding humor in language. Comical plays are an especially popular form of entertainment. In rural areas, women frequently adorn themselves with garlands made out of one-rupee coins, although this practice is gradually declining. The state's one-of-a-kind traditions and culture, as exemplified by the various fairs and festivals held throughout the year, reflect the tribal people's way of life. The people of Chhattisgarh celebrate Dussehra to pay homage to their local deity, Sri Danteshwari Mai, who protected the Bastar king and kept him safe from invasions by hiding him in the forest. Along with the Goncha festival, the Kajari festival, the Rajim Lochan Mahotsav, and the Madai festival, several additional fairs and festivals are celebrated in Chhattisgarh.
Dussehra
Bhoramdeo Mahotsav
Chakradhar Festival
Narayanpur Mela
Sheorinarayan Fair
Hareli Festival
Ganga Dussehra
Charta Festival
Navakhai Festival
Sarhul
Arwa Teej
Saila Dance Festival
Bhojali Festival
Sugga Dance Festival
Chaitra Festival
Karma
Ghaila Ceremony
Pandum Festival
15. Rajasthan
Rajasthan's festivals and celebrations are as vibrant as the state's own colors. Despite living in severe and rough weather conditions, the people of this arid land find solace in festivals, which provide an escape from their mundane lives. They have a deep appreciation for each little reason to celebrate, whether it's an occasion for religion, a changing season, ripening harvest, or animal fairs. Rajasthan's festivals often feature folk music and dance, and they bring back the romance, chivalry, and more from the bygone royal era. In addition to famous festivals like the Mewar festival, Kaila Devi festival, and Teej, Rajasthan also celebrates a range of fairs and festivals.
Brij Festival
Camel Festival
Desert Festival
Gangaur
Marwar Festival
Summer Festival
Elephant Festival
Ganesh Chaturthi
Kite Festival
Kota Dussehra
Shekhawati Festival
Baneshwar Fair
Banganga Fair
Chandrabhaga Fair
Gogaji Fair
Jambheswar Fair
Kapil Muni Fair
Karni Mata Fair
Khatu Shyamji Fair
Khetlaji Fair
Mallinath Fair
Nagaur Fair
Pushkar Fair
Ramdevra Fair
Sheetla Mata fair
Shri Mahavirji Fair
Sita Bari Fair
Urs Galiyakot
16. Gujarat
Gujarat has earned the nickname "land of legends" due to its outstanding economic success that has become a model for various Indian states. It is the most industrialized state and a significant business center in India due to the progressive approach of the Gujarati people. Gujarat tourism is making efforts to attract travelers with Amitabh Bachchan as its brand ambassador. Ahmedabad, Ambaji, and Dwarka are some of the significant tourist destinations, and eight tourism hubs have been established. Although Saputara is the only hill station in Gujarat, it remains untouched. Gujaratis are known for their vibrant nature and love to add colors to their clothing and festivals. Gujarat is famous for celebrating over a thousand festivals, including Dangs Darbar, Tarnetar Mela, and the International Kite Festival, among others.
Navaratri
Gauri Puja
Janmashtami
Nag Panchami
Paryushan
Ganesha Chaturthi
Savitri Vrata
Ramnavami
Shivaratri
Mahavir Jayanti
Pateti
Bhavnath Mahadev Mela
Chitra-Vichitra Mela
Sanskruti Kunj Fair
Dance Festival-Modhera
The Kutch Mahotsav
Bhadra Purnima
Rath Yatra
Dhrang Fair
Ravechi Fair
Shamalaji Mela
Vauth Mela
Trinetreshwar Mahadev Fair
Rann Utsav
17. Maharashtra
Maharashtra, known as the land of the Marathas, is the second most popular state in India among foreign tourists. Mumbai, the capital of the state and the financial capital of the country, is a major attraction. The cities of Amravati, Aurangabad, Kolhapur, Nagpur, Nanded, Nashik, and Pune are also worth visiting. Maharashtra boasts of the famous Ajanta and Ellora caves, and the state has about 350 forts, with Devagiri and Raigarh being the most prominent among them. Nashik, located on the banks of the river Godavari, is a blend of the ancient and the modern, while Shirdi, situated 122 km away, is the abode of Sai Baba. The people of Maharashtra are vibrant, colorful, and enthusiastic, and they celebrate life with great vigor, reflected in their festivals which are full of spice. Every festival is celebrated with equal enthusiasm and fervor alongside Ganesh Chaturthi, Gudi Padwa, and Pola. Additionally, Maharashtra hosts several other fairs and festivals which add to the vibrancy of the state.'
Dussehra
Diwali
Buddha Purnima
Gokul Ashtami
Holi
Mahavir Jayanti
Makar Sankranti
Nag Panchami
Narali Purnima
Raksha Bandhan
Pune Festival
Ajanta Festival
Ellora Festival
Kalidas Festival
Banganga Festival
Bhaubeej
Changdeo Fair
Jivti Puja
Kala Ghoda Festival
Khuldabad Urs
Kiran Utsav
Kumbh Mela
Navaratra Mahalaxmi Fair
Palki festival
Shivaji Jayanti
Shrirama Rathotsava
Wat Purnima
18. Andhra Pradesh
Andhra Pradesh, situated on the south-eastern coast with Hyderabad as its capital, is home to over a thousand kilometers of pristine golden beaches, pilgrimage sites, numerous tourist destinations, and iconic temples like Tirumala Venkateswara, Bhadrachalam, Srisailam, Kanaka Durga and Gana Saraswati (at Basar). The state boasts of caves (Belum and Borra), hills, waterfalls, and the Koundinya Wildlife Sanctuary that attract hordes of tourists every year. Andhra Pradesh is renowned for its stone craft (at Durgi village), Kalamkari (an ancient textile art form, at Pedana in Krishna district), lacquered toys, mud toys, doll-making, and red carvings (at Tirupati). The state's storytelling, folk dances, Kuchipudi, and Ghatanatyam, in which performers dance with earthen pots on their heads, are unique to the area. This stunning Indian state has a vibrant and colorful culture reflected in its numerous festivals, some of which are widely celebrated across other parts of India, while others are specific to Andhra Pradesh and observed on a smaller scale. In addition to Brahmotsavam, Ugadi, and Bathukamma, the following fairs and festivals are also celebrated in Andhra Pradesh.
Samkranthi
Holi
Mahashivarathi
Bonalu
Rakhi
Dasara
Diwali
Ramanavami
Deccan Festival
Visakha Utsav
Pearls and Bangles Fair
Lumbini Festival
Pushkaram
Krishna Ashtami
Nagapanchami
Varalaxmi Vratam
Vinayaka Chavithi
Rayalaseema Food and Dance Festival
19. Tamil Nadu
Tamil Nadu, the southernmost state of India, is renowned as the "temple state of India", "land of many festivals" and "land of carnatic music". Powerful dynasties such as Chola, Chera, Pandya, and Pallava once ruled this region. Presently, Tamil Nadu has everything to attract modern-day tourists like exquisite beaches – Marina, Kovalam, Eliot, and Mahabalipuram, iconic temples – Meenakshi Temple, hill stations – Ooty, Yercaud, Kodaikanal, Yalagiri, splendid hills – Annamalai Hills, Kolli Hills, abundant flora and fauna – Mukurthi, Viralimalai, Mudumalai, Vallanadu, Guindy, mesmerizing waterfalls at Kodaikanal, and elegant churches like St. Stephen's, Christ Church, and St. George's. Tamil Nadu is a culturally rich state known as the birthplace of musical maestro Thyagaraja, and Bharatnatyam and Carnatic music are highly prevalent here. Handicrafts such as Kalamkari, handloomed silk, brass and bronzeware, cane articles, and palm leaf are excellent souvenirs to pick up. Despite being the most urbanized state, Tamil Nadu is an agriculture-based region where traditional social differentiations and caste norms play a vital role. Individuals mark their caste by having specific markings on their foreheads. Religion and festivals hold great importance, and rituals are observed with utmost dedication. In addition to Pongal, the Karthigai Deepam festival and Mahamaham, Tamil Nadu also celebrates several other festivals with fervor.
Deepavali
Vinayak Chaturthi
Mahashivarathri
Holi
Makar Sankranti
Natyanjali Dance Festival
Jallikatu Bull Festival
Navarathri
Saraswati Pooja
Chithirai Festival
Cape Festival
Kavadi Festival
Panguni Uthiram Festival
Saral Festival
Summer Festival
Velankanni Festival
20. North-East
The 'Seven Sisters' of India – Assam, Arunachal Pradesh, Manipur, Nagaland, Mizoram, Tripura and Meghalaya – are known for their beauty and diversity. And then there is Sikkim, which merged with India in 1975, with its wide range of flora and fauna. The Brahmaputra flows through the North-East majestically. Assam is famous for its Kamakhya Temple and Kaziranga National Park. Arunachal is considered to be 'nature's treasure trove' and home to orchids. The greenery and the moderate climate of Manipur make it tourists' paradise. Nagaland offers rich traditional and cultural heritage. Mizaoram has a large part of it covered with wild bamboo forests. The erstwhile princely state of Tripura has magnificent palaces – Ujjayanta and Kunjaban at Agartala and Neermahal at Melaghar. Meghalaya is the wettest region on earth. Most of the North-Eastern states have a predominantly tribal population.
Assam – Bihu, Majuli Festival, Elephant Festival, Brahmaputra Festival, Dehing Patkai festival, Tea Festival, Dosa Thoi, Long Nai and Jonbeel Mela.
Arunachal Pradesh – Sangken, Saga Dawa, Solung, Mopin, Losar, Boori Boot, Dree, Nechi Dau, Kshyat-Sowai, Loku, Longte Yullo, Mol, Nyokum, Ojiale, Reh and Si-Donyu.
Manipur – Yaoshang, Ningol Chakouba, Rath Yatra, Durga Puja, Kut, Champha, Gang-Ngai, Cheirooba, Heikru Hitongba and Kang Festival.
Nagaland – Moatsu Festival, Hornbill Festival, Nazu Festival, SekrenyuFestival, Tuluni Festival, Yemshe Festival, Amongmong, Aoling Monyu, Chakhesang and Metemneo.
Mizoram – Chapchar Kut, Mim Kut, Pawl Kut, Thalfavang Kut.
Tripura – Kharchi Puja, Ker and Garia Puja, Durga Puja, Tirthamukh, Ashokastami, Boat Race, Orange and Tourism Festival, Poush Sankranti Mela and Handicrafts Fair.
Meghalaya – Ka Pomblang Nongkrem, Wangala, Behdeinkhlam, Doregata Dance Festival.
Sikkim – Losoong Festival, Saga Dawa, Lhabab Dhuechen, Drukpa Tsheshi, Phang Lhabsol, Dasain, Tihar, Saraswati Puja, Janmashtami, Holi, Namsoong, Sakewa, Bhanu Jayanti, Tendong Lho Rum Faat, Teyongsi, Srijunga Sawan Tognam.
21. Kerala
Kerala is a state that evokes a picturesque landscape in our minds, displaying a vibrant spectrum of colors ranging from green, blue, golden yellow, white, and brown. This region is geographically blessed with a long shoreline, pristine beaches, tranquil backwaters, majestic mountains, valleys, paddy fields, rich and diverse flora and fauna, tea gardens, plantations, and nourished by 44 rivers. Given its abundance of natural beauty, it is no surprise that Kerala is a favorite tourist destination. Kerala is one of the few states in India that has highly literate and advanced society, known colloquially as 'God's Own Country'. Kerala is a harmonious fusion of various cultures and races, which nurture a cosmopolitan and tolerant outlook contributing to its prosperity and an excellent quality of life. This can be seen in the bustling events calendar that the local population follows, comprising boat races, temple festivals, elephant fests, Onam, Theyyam, and many other rituals. Kerala features numerous dance forms, such as Mohiniyattam, Kutiyattam, Kathakali, Oppana, Thiruvathirakali, Margamkali, Kalaripayattu (an ancient marital art), and world-famous Ayurveda centers. Most of the festivals are marked by delightful feasts and delectable cuisine. Apart from Vishu and Aranmula Uthirattathi, Kerala celebrates numerous fairs and festivals throughout the year.
Onam
Navaratri
Mahashivarathri
Ashtami Rohini
Thrikarthika
Arattupuzha Pooram
Athachamayam
Anandapalli Maramadi
Arthungal Perunal
Chettikulangara Bharani
Cochin Carnival
Ettumanoor Festival
Jagannatha Festival
Kalpathy Rathotsavam
Kanjiramattom Festival
Edathua Perunal
DISCLAIMER: The author is solely responsible for the views expressed in this article. The author carries the responsibility for citing and/or licensing of images utilized within the text.