Gunda Raj is once again spreading it's feet in Bihar.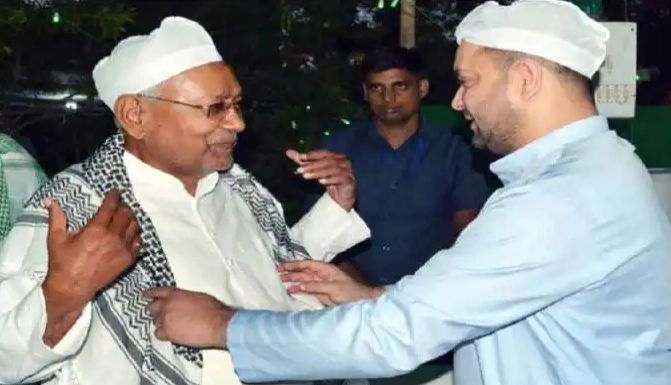 Miscreants went on up wild at the Barbigha Police Station area in the Sheikhpura district of Bihar hours before the swearing-in of the ministers of a new administration formed with coalition of JDU and RJP. The incident happened late on August 15th. Along with damaging store merchandise, they also went up to beat the store owners seemingly for no reason. They reportedly beat at least a dozen shop owners. According to the eyewitnesses, the miscreants were claiming that the state would now be ruled by their leaders because the administration had changed. The irate business owners blocked the Barbigha-Sarmera road for more than three hours after the incident. After being alerted of the event, the Police arrived to the scene, convinced the store owners to calm down, and then the problem was resolved.
Chandan Kumar, a local merchant, claimed that he and several merchants were at their establishments near Arjun Talkies Cinema Hall Chowk, which is close to the police station. A member of the nursery colony named Chandi Yadav arrived on Monday night with his friends. They carried rods and sticks. They started making a commotion and damaging the things housed in the shops as soon as they arrived at the market. They soon began hitting the shop owners without saying a word. According to the victims, the attackers claimed that the government had changed. Now that they are in charge, the shopkeepers are free to go anywhere they like.
The miscreants also beat up people who were just walking past the market at the time of the event. The police allegedly arrived quite late, according to the victims. Following several raids, the police have detained a young person they have identified as Sonu Kumar. At the time of Kumar's arrest by the Police, he was intoxicated. The SHO stated that no FIR has been filed as of yet. It is noteworthy that there have been numerous recorded criminal acts, including the murder of a journalist, since the JD(U) and BJP split up in Bihar and JD(U) leader Nitish Kumar teamed up with RJD to establish the administration regards
DISCLAIMER: The author is solely responsible for the views expressed in this article. The author carries the responsibility for citing and/or licensing of images utilized within the text.