Halal Economics: Toolkit For Economic Jihad (Part 4 Of 5)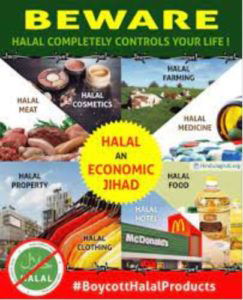 This is in continuation of the article "Halal Economics: Toolkit for Economic Jihad", Part 1, Part 2, and Part 3 were published on July 4th, July 13th, and November 17th, 2021.
The halal market is not only thriving in Muslim majority countries, but also in non-muslim majority countries like the United States, United Kingdom, Japan, and China.
US Halal Market Growth Rate
In 2014, the Muslim population in the US was approximately 5.8 million, and US Halal Market was estimated at 10 billion dollars. However, the growth was expected to exceed two percent per annum through 2020. US Muslims spent around $12.7 Billion dollars on Food and Beverages (F&B) out of the $741 billion that the total American population spend on Food and Beverages (F&B) in the same year.
It is also estimated that out of a total of $12.7 Billion, US Halal Market stood at $10 billion which excludes spending by non-Muslim consumers. The further analysis states that out of $10 billion, $9 billion is attributed to only US Muslims by spending on domestic F&B and the remaining $1 billion is attributed by exporting Halal meat to OIC countries.
Market analysis also revealed that US Halal market growth is poised to grow at a CAGR of 2% per year between 2014 and 2020.
Another survey by the American Muslim Consumer Consortium which was also underlined in 2014 showed that the vast majority of consumers (nearly 93%) purchase Halal Food to be eaten at home. And, over half of the respondents indicated that they purchased strict zabiha hand slaughtered halal meat.
Halal Economics Trendsetter in the USA
In 2018, an event called "I Heart Halal" was held in Chicago. The agenda was to showcase that how Halal Economics can lead the Muslim Community at the local level in the US. The event was filled with hundreds of vendors and thousands of guests celebrating Muslim-owned businesses, personalities, and cultures.
In the same conference Sultan of Perak Sultan Nazrin Muizzuddin Shah said "

While halal is perhaps most often associated with food and drink, there are in fact a wide range of products and services which can be offered including healthcare and pharmaceuticals, personal care, and cosmetics, travel and tourism and financial services, "He further stated that the global halal industry is expected to triple to $6.4 trillion this year, with the Islamic finance sector projected to grow to over $6.7 trillion by 2020

.
Nura Afia, the first CoverGirl beauty ambassador who wears a hijab led beauty classes showcasing looks using affordable products. The event also featured beauty trends like breathable nail polish and two modest fashion shows featuring designers such as Olympian Ibtihaj Muhammad (a member of the U.S. fencing team) and the popular clothing chain Akira, according to a report the Chicago Sun Times[1].
Designer Sarah Ansari, the founder of the clothing and lifestyle company Artizara, told the Chicago Times the me-too movement has made modest fashion "very empowering".
On the Halal clothing trend, Romana bint Abu Baker, founder of London Modest Fashion Week (LMFW) and owner of a modest fashion boutique, Haute Elan told Al Bawaba that more men are interested in modest fashion.
"

The panels and collections we have on the runway will demonstrate the emergence of the aesthetically-conscious Muslim man. We have seen a surge in applications from men. What is male modesty? Longer shirts to cover the rear, longer shirts, and sweats, and accessories, including more contemporary styles of head covering

," she said.
In the event how Halal works in Pharmaceutical Industry was also highlighted. With the advent of the world's first Halal Pharmaceutical Standard, 

MS2424:2012

 Halal Pharmaceuticals, halal pharmaceutical products are now poised to be the new frontier for the global halal economy.
"With the increasing awareness of consumers, health professionals and related organizations, together with the stronger need to meet consumer rights towards informed choice for a better quality of life with products which are safe, efficacious, of quality and hygienic whilst fulfilling their religious obligations, which will then translate into higher demand, more and more pharmaceutical companies will come on board the halal pharmaceutical industry, thus providing a wider range of alternatives to meet such demand," says Rushi Siddiqui, Thomson Reuter's consultant for Islamic finance and halal industry[1].
Flabbergast Fallacious Drivers for USA Halal Economics
Analyst at Technavio highlight the market drivers that are contributing to the growth of the halal food market in the US:
Increasing Sales Through Retail Channels
The sales and distribution of products in the US happen primarily through organized and modern retail channels. Globally, the sale of halal food is mainly dominated by wet and traditional markets. But in the US, the sale of halal food is through modern retail channels like supermarkets, hypermarkets, convenience stores, and more. With the growing demand for halal foods, a greater number of retailers are selling halal labeled food products. It has been made mandatory for the supermarkets and other retailers who supply halal food, to clearly label halal.
In 2016, more than 7500 places sold halal food in the US as compared to nearly 200 places in 1998. These stores have a dedicated space for halal foods and are kept separately from non-halal foods. Thus, most consumers trust this source of distribution for halal meat products.
"Supermarkets like Tesco, J Sainsbury, Walmart, Mark and Spencer, Co-operative Group, and others sell halal food including halal confectionery, meat, snacks, bread, cereals, and others. Other stores like Kroger, sell halal food only at places where there is high demand for it. Halal food was ranked as one of the highest growing segments in Whole Foods Market in 2016," says Manjunath[2].
Rising Muslim population in the country
Though Muslims constitute a very small portion of the total US population, it is the third most followed religion in the country. The rate at which the Muslim population is growing is much higher than the rate at which other non-Christian communities are growing. In 2015, Jews were the highest non-Christian population present in the country. This is followed by Muslims. About more than 3.1 million Muslims were present in the US in 2015, and their population is expected to rise to more than 8 million by 2050. This would make them the highest non-Christian community in the US by 2050. The major portion of the population belongs to Muslim immigrants. High birth rate, rise in Muslim immigrants, relatively younger population are some of the main reasons that are increasing the population of Muslims in the country. Thus, the rise in the Muslim population will surely drive the sales of halal food during the forecast period.
Since halal animals are slaughtered inhumanely, processed, and prepared according to Islamic dietary laws, these foods are considered good and hygienic when compared to non-halal meat. The market for halal foods is growing rapidly as other community consumers are also inclined toward halal foods. Thus, halal companies see it as a big opportunity to even consider the non-Muslims population as their target consumers.
Apart from this, there has been a rise in the number of restaurants and food chains adopting the halal label in the past few years. Many cities have more than 100 halal restaurants in the US, with the highest number of halal restaurants in California in 2017. Thus, there is a high demand for halal foods among people of almost every community.
Sleazy US Market
In a survey undertaken in the AMCC 2014. In the USA, Al-Safa stood out as the most regularly consumed brand followed by Crescent Halal and Midamar.
Al Safa is one of the most established halal food brands in the US. It opened in 1999 with operations in Canada and was acquired by Pakistan base Engro Foods in 2011, which reported Consolidated revenues and close to $400 million in 2014 revenue.
Saffron Road is one of the fastest-growing food brands in the USA, achieving over $40 million in retail sales across 50 frozen entre food products within 5 years.
Crescent Halal and is one of the largest manufacturers of processed chicken in the U.S with plans to expand into beef and other meat products according to their website.
Midamar was established in 1974 and manufactures over 200 halal meat products. Its products are sold through various Distributors and are also available online throughout the USA. and Canada according to the company's website.
The global halal food market reached a value of $1.4 trillion in 2017, according to Research and Markets' June 2019 Halal Food Market Forecast 2019-2024. In 2016, the Islamic Food and Nutrition Council of North America reported that US consumers spent $20 billion on halal food, up 33% from 2010. These figures are only expected to grow, with Technavio predicting a CAGR of 3.48% from 2017-2021. There are huge opportunities to tap into this expanding and increasingly affluent market.
Globally, most halal food sales occur through traditional markets, but in the United States supermarkets are the primary food distribution channel, and halal sales through grocery stores, hypermarkets, and convenience stores are increasing quickly.
Retail Market
Market halal food is available through over 2500 grocery outlets across 37 Market chains and through over 600 restaurant Outlets across 62 restaurant chains according to data available on zabihah.com. 
Halal Guys which began as art-based fast food service in New York City over 25 years ago is now expanding into a franchise with agreements to develop 200 locations across the US and worldwide.
Elevation Burger is a fast-growing organic fast-food restaurant that began in the US with close to 30 locations in major cities and over 10 locations internationally.
However mainstream players are also increasingly accommodating halal food including fast-food chain KFC, for which Halal is available across 27 restaurant outlets in the US, and Leading Discount Chain for which Halal product is available across 380 US outlets.
Supermarket
Whole Foods Market, a major natural foods supermarket chain in the US, halal is one of the fastest-growing segments. Meat and retail foods already make up a large part of the halal market, and halal certification will be increasingly important as the population of Muslims grows in the US, where meat and processed food consumption tends to be high.
In the USA food producers, processors, and certifiers are going for halal certification. Blockchain has allowed certifiers to confirm compliance at each stage of production, reducing the likelihood of fraud, and biotechnology innovations have allowed for nano-sensor analysis to detect traces of pork in processed foods. Such Profit hungry companies are now pressuring other food companies to get Halal Certification.
Reason for Increase of USA Halal Economics
The shift in dietary patterns is an important factor driving demand for certified halal food. In the USA diets include commercially processed foods and meat slaughtered by strangers. These foods must be certified halal because snack cakes, ready-to-eat meals, or ground beef purchased at a supermarket cannot be assumed to be halal in the way that an eggplant, almond, or home-raised chicken can. This façade has led to halal certification in non-Muslim countries like the US.
A majority of Muslims live in Southeast Asia and the Middle East/North Africa regions which accounted for 57% of the global halal market, so for any US-based companies hoping to invest in these regions, halal certification will likely be an essential prerequisite to market entry. Major international food corporations, including Nestlé, Cargill, and Unilever have already certified some halal brands and ingredients. 
---
[1] Halal economy worth $6.4 Trillion: Top Trends for Marketers (mlcmedia.net)
[2] Halal Food Market in the US – Top 3 Drivers and Forecasts by Technavio | Business Wire
DISCLAIMER: The author is solely responsible for the views expressed in this article. The author carries the responsibility for citing and/or licensing of images utilized within the text.