Himanta Biswa Sarma's Pioneering work in Assam – Ending Public Funding of Madrassas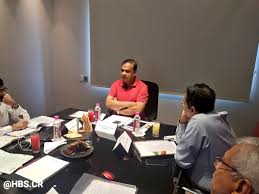 Assam's Education Minister – Himanta Biswa Sarma has emerged as a sane leader who is conscious about public spending on religious initiatives. Sarma has introduced a bill earlier today which will stop all state-run madrassas. Instead, the funds will be used for general schools, effective April 1, 2021 if the Winter Session of the Assam Legislative Assembly passes the bill.
Sarma said "We have introduced a Bill whereby all madrassas will be converted into institutes of general education and the state government will not establish any madrassa in the future. We are happy to introduce this Bill to bring a truly secular curriculum in the education system" and though there is opposition from some parties which have unfairly benefited from state funds being diverted to fund pet projects like madrassas, Sarma states that "we are determined that this Bill needs to be passed and it will be passed."
This outdated practice of using public tax money to fund religious muslim and often anti-India, anti-Hindu indoctrination and brain-washing in madrassas began by the muslim league in pre-Independence Assam and the decision to put an end to this practice is based on extensive research. The research studies show alarming results. "A survey conducted by a Gauhati University professor, who happens to be a Muslim, found that the parents and guardians of most of the students of the madrasas are not aware of the fact that their children are not taught the regular subjects but are imparted lessons mostly in theology" said Sarma.
Sarma clarified that the government has no intention of shutting down private madrassas as they are not funded by public tax payers.
Implementation Plan
A few months back, Sarma outlined the plan and said that "The government-run madrasas in Assam would either be converted into regular schools or they would be closed down. Teachers would be transferred to general schools after issuance of a government notification next month."
The Education Minister also added that "In order to bring uniformity, teaching the Quran at the cost of government exchequer could not be allowed to continue."
Sane taxpayers have welcomed this decision and people of India hope that Sarma's pioneering work will be implemented in other parts of India as well as the world.
Image: @himantabiswa |Twitter
DISCLAIMER: The author is solely responsible for the views expressed in this article. The author carries the responsibility for citing and/or licensing of images utilized within the text.