"hindu IT cell" : New Face to protect dharma by legal proceedings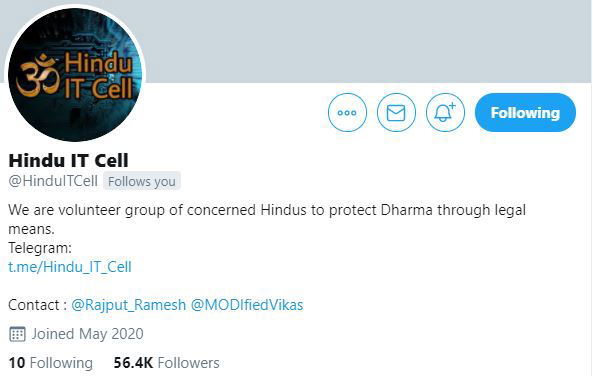 You must have seen often on YouTube/Twitter/Facebook where mocking Hindu religion has become a trend to access fame because of the tolerant nature of Hindus and such people used to get away without any fear because nobody used to take a note of their actions but there were many Hindus who wanted to take legal actions against those but due to lack of support and guidance they used to avoid legal proceedings.
Sensing the need and demand of such a Platform renowned Hindu activist & Social Media Influencer Ramesh Solanki and Vikas Pandey (Techie & BJP Volunteer) created a page on Twitter called "HINDU IT CELL" with the objective of protecting Dharma through legal means and the rest is history.
After the arrival of the Hindu IT Cell on Twitter, people think 10 times before posting anything obscene which can trigger the sentiments of Hindus. It was the impact and fear created by the volunteers of the Hindu IT cell that various companies fired the offenders from their job who shamed the Hindu religion and deities. Hindu IT Cell has garnered attention from all the big media houses for their selfless work towards Dharma and within four months since its inception, more than 55 thousand people have followed the page on Social media.
The Hindu IT cell also keeps a vigil eye on the activities of Anti-national elements whose aim is only to disturb the communal harmony and peace of our country. The major breakthrough was the arrest of an alleged Youtuber "Heer Khan" who was continuously spewing venom against the beliefs of the Hindu religion and it was the initiative of Senior members of Hindu IT cell members: Sahil Khosla (@sahil_k27) and Ashutosh (iamaashoo) who took the matter into the cognizance and approached competent authorities at the correct time as a result within 24 hours she was arrested by the UP Police. Satyam Mishra and other volunteers at the Hindu IT cell worked the entire night to collect all the relevant information related to her and handed over the cops which turned fruitful with her arrest. UP Police in an official statement revealed that she had connections with terror outfits.
Under the guidance of Ramesh Solanki and Vikas Pandey and the constant support from Mukesh Sharma (Legal Advisor), Mrutyunjay NJ, Sahil Khosla, Ashish Kumar, Ron Bikash , Ashutosh Gupta and Shantanu Sakia, more than 150 volunteers of the Hindu IT Cell are fighting for the cause selflessly day and night. At regular intervals, the Hindu IT cell organizes workshops to create awareness among the masses and motivates them to join and stand together for the cause.
To join the Hindu IT cell on Twitter, you can follow them on their official Twitter page: @HinduITCell
DISCLAIMER: The author is solely responsible for the views expressed in this article. The author carries the responsibility for citing and/or licensing of images utilized within the text.