Hindu Munnani Chief Lambastes MK Stalin For Anti-Hindu Policy Destroying Hindu Temples In Tamil Nadu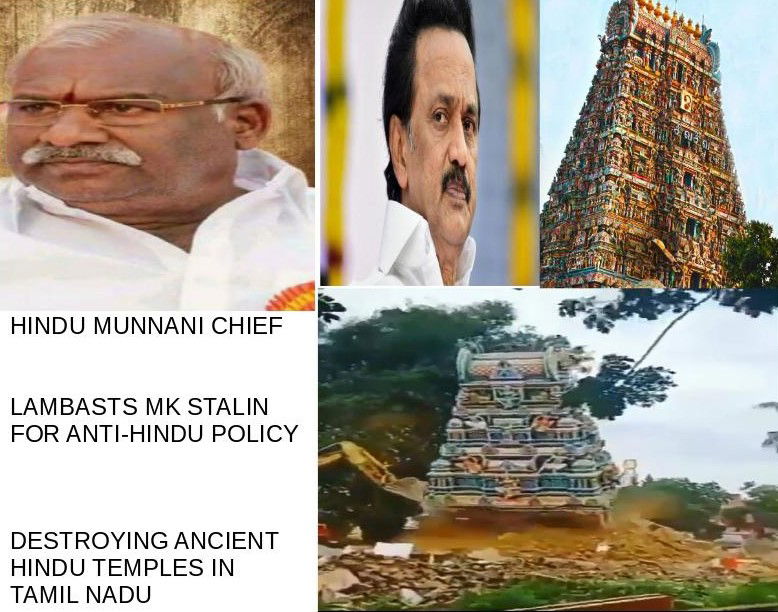 Ever since Hindu hating MK Stalin assumed power as Chief Minister, he has been steadfastly pursuing an anti-Hindu policy by breaking seven ancient Temples in Coimbatore under the garb of development, proposing scheme to loot Temple gold jewellery and coming up with a scheme to remove hereditary traditional temple priests under the pretext of appointing new temple priests from 'all castes'.
On August 17, MK Stalin reportedly made grand statement that by appointment of temple priests from all castes, the thorn present in "Periyar's chest" while speaking in the Tamil Nadu Assembly.
The Hindu Munnani State President, Kateswara Subramaniam in response questioned the connection between EV Ramasamy Naicker and temples as he was staunchly despised Hinduism and Hindu Dieties all his life.
Subramaniam reportedly said, "What has temples got to do with E.V. Ramasamy Naicker who said 'there is no God, there is no God at all, one who created God is a fool'?
He also said, "While CM Stalin claims that the 'All Castes Can Become Priests' scheme was to fulfill EVR's desire, it is a well known fact that E.V. Ramasamy wanted to destroy Hinduism and keep Tamil Nadu under the control of Christian British."
He further pointed out that EVR nurtured hatred for Hinduism aiding conversions of Hindus to Christianity and Islam.
Subramanim also said that Hindu devotees are distraught with Stalin government's systematic conspiracy to destroy Hinduism, ancient Hindu Temples.
Subramaniam exposed DMK's hollow claims of following EVR's so-called social justice principles, by saying that MK Stalin is very keen to implement them in Temples while shying away from doing so in his own party. He questioned that why is the party not being led by a Scheduled Caste.
He further questioned double standards of MK Stalin by asking, "Chief Minister Stalin is an atheist, a hater of Hinduism and an admirer of Islam and Christianity. The DMK claims to be a secular party. Can the secular government appoint Mullahs and priests in churches and mosques? Will Stalin train Maulvis and priests? Why is the secular government interfering only in the matter of Hindu temples? If the rulers think that the thorns of EVR should be removed, they can build temples on behalf of the party, set up a Vedic school, give training in Agamas to their party workers. It is wrong to try and change traditional practices which has caused the great turmoil among the people."
He also stated that performing Pooja, Archana was not a profession or a job one can pursue merely by passing some exams but is a service to the deity with devotion.
Subramaniam pointed out that a 'secular' government has no business to intervene in temple affairs and questioned how the government can decide who should be appointed as priests in Hindu Temples.
He said, "It is a well-known fact that if a particular party comes to power, the trustee belongs to that party. The temples will become the office for inculcating party policies. Stalin's government should not do the job of destroying Hindu temples by making the work of priests a government job."
He also pointing out Article 26 of the Constitution, forbids the interference of State in matters of all religious worship irrespective of religion and creed . He stated, "It is unconstitutional for the Government of Tamil Nadu to interfere in the worship of Hindus as like every community, they are also empowered to establish and maintain religious and charitable institutions to administer matters relating to religion itself."
He also added that in a majority of ancient temples under the HR&CE department, the priests are not from the Brahmin community. In fact only a miniscule minority of 8% to 6% of the total 38,400 plus temples in Tamil Nadu have traditional ancestral Brahmin priest, the rest have traditional acestral non-Brahmin priests.
He lastly asked the DMK government to give up its anti-Hindu agenda and allay the fears of Hindus. He warned that by not doing so, DMK government would only be earning the wrath of people which would be detrimental for the party.
Featured image a collage of pictures sourced from internet
DISCLAIMER: The author is solely responsible for the views expressed in this article. The author carries the responsibility for citing and/or licensing of images utilized within the text.