Holy Inquisition of Andhra
Hindu Hater Christian ADGP Sunil Kumar To Investigate Serial Temple Destructions In Andhra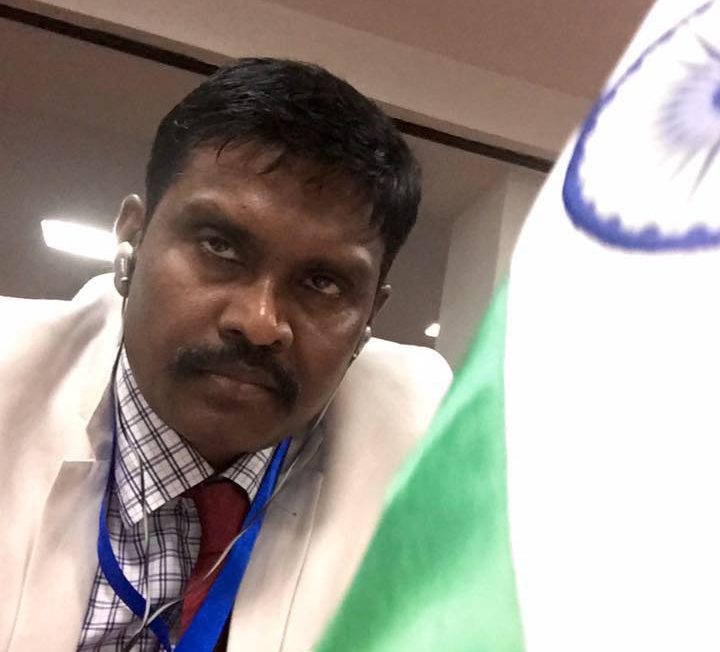 Hindu Hater Christian ADGP Sunil Kumar To Investigate Serial Temple Destructions In Andhra
The serial attacks on Hindu temples are continuing unabatedly under the Christian Andhra Pradesh CM Jaganmohan Reddy. Just within 72hours from December 30 to 1st January 2021 three ancient temples were vandalised and idols were broken, more than 120 Hindu temples have been attacked in Andhra since the Christian CM Jaganmohan Reddy came to power in Andhra in 2019. Mission Kali a website which tracks illegal conversions of Hindus by fraudulent evangelists reported on Friday that, on December 30th, Bhagwan Sri Rama's idol at Ramateertham mandir in Vizianagaram was broken, the head was cut off from the idol. The very next day, on December 31st, the idol of Sri Subramahnya in the Sri Vigneshwara temple in Rajahmundry was also vandalised, with its hands chopped off. Then on January 1st, the Sri Komalamma Padalu murthi in Vishakapatnam was vandalised.
This raised a lot of uproar among Hindus as they felt betrayed by the way state government of Andhra Pradesh under the Christian CM Jaganmohan Reddy was misusing his position in office and promoting conversion of Hindus by evangelist forces like his own brother-in-law, Pastor Anil Kumar. Hindus are distraught and agitated over the issue of rampant vandalism of ancient Hindu temples in Andhra and the Christian Chief Minister's apathy and non-seriousness in taking strict actions against the anti-Hindu criminals.
CM Jagan's gross disdain for Hinduism and Hindus is evidenced from his latest action of handing over the investigation into the serial attacks on Hindu temples to a self-confessed Hindu hater and colonial British rule lover, rabid Christian PV Sunil Kumar, who is the Chief of Criminal Investigation Department (CID). Notably, PV Sunil Kumar was appointed as the Additional Director of Police (ADGP) CID in 2019.
Sunil Kumar is an unabashed Hindu hater and promoter of evangelist conversions in Andhra. There are plenty of videos of Sunil Kumar attending evangelist programs giving hate speeches against Hinduism. This was cited by the well-known author and technocrat, Ratan Sharda in his tweet to voice his disappointment over the fate of investigations on serial attacks on Hindu temples in Andhra Pradesh. Ratan Sharda and other concerned Hindus rightly expressed their utter dismay, as it is a forgone conclusion that PV Sunil Kumar is only going to cover up the attacks on Hindu temples and not conduct a fair and unbiased investigation to nab the real culprits.
It would not all be surprising if the bigoted PV Sunil Kumar comes up with a theory of Hindus desecrated their own temples for political gains. This theory would then be peddled by the commie-Chrislamist entrenched media and so-called human rights experts like Harsh Mandar, Prashanth Bhushan etc to add insult to the wound.
The following is the translation as mentioned in the aforementioned article of PV Sunil Kumar's hate speech on Hinduism to justify fraudulent conversions of vulnerable Hindus to Christianity and his love for the oppressive British rule in India:
"When we aren't allowed into Temples, Britishers showed Gave us a Church
When we aren't allowed to have one God , Britishers showed us a God
When we aren't allowed to study , Britishers introduced education to us"
Mission Kali further reports that, ADGP CID, Sunil Kumar has founded an organisation called, Ambedkar's India Mission (AI) aiming to lead a "Dalit movement" in Andhra Pradesh. He wants the 'Dalit Christians' to be recognised as Dalits.
It is noteworthy that Sunil Kumar is misusing Ambedkar ji's name to run a subversive movement under the garb of Dalit empowerment. Ambedkar ji himself had hated the predatory Christian religion and wanted reforms within the Hindu community. In fact, Ambedkar ji had famously written in one of his books that the "Aham Brahmasmi" of Sanatan Dharma is an ultimate concept of spirituality and oneness of humanity with Divinity and is unparalleled in the world, but he only rued the fact that varna classification by one's own abilities had degenerated to discriminations based on birth. So, using casteism as a ruse for conversion is a perverse idea. Moreover, Dalits who converted to Christianity face worse discrimination at the hands of the rest of the elitist Christians who do not allow them to come to their churches or have any marital relationships with them.
The antecedents, background of ADGP Sunil Kumar further alienates and worries the Hindu community that their places of worship and fundamental right to practice and propagate Hindu religion is unsafe and facing a crisis under the Christian Chief Minister of Andhra Pradesh. As the hope of catching the real culprits responsible for the serial temple destruction as a systematic plan under the watch of Jaganmohan Reddy is very bleak.
Notably, reacting to the fact of innumerable temple attacks under Jaganmohan Reddy, TDP leader and ex-CM, Chandrababu Naidu on 03.01.2021 said that Jagan has betrayed Hindus as being a Christian, he promotes conversions of Hindus and does not take strict actions against iconoclasts who are regularly breaking idols in ancient Hindu temples.
Jaganmohan Reddy instead taking stern actions against the iconoclasts and Hindu haters, responded to the criticism against him on 04.01.2021 by claiming that the serial vandalism of Hindu places of worship is a 'propaganda' to seek political mileage. Jagan also tried to insinuate his critics from TDP and BJP to have resorted to attacking temples for diverting attention from government programs.
So, by deciding to get the systematic attacks on Hindu Temples by a rabid Hindu hater and Christian ADGP (CID) PV Sunil Kumar, Jagan has ensured that the investigation results are pre-decided along the lines suggested by him and would concoct some evidence to fix up some people from the Hindu community itself close to the Sangh Parivar or the TDP to whitewash the anti-Hindu hate agenda propelled by the Christian missionaries.
So, unless the Central government under PM Narendra Modi takes cognisance of persecution of Hindus and destruction of ancient Hindu temples under Jaganmohan Reddy, it would be a free field for Jagan to achieve his father's ambition of the Holy Inquisition of Andhra Pradesh.
DISCLAIMER: The author is solely responsible for the views expressed in this article. The author carries the responsibility for citing and/or licensing of images utilized within the text.