How PM Modi uniquely sent a message to Himachal and Gujarat simultaneously through his Uttarakhand visit, before elections!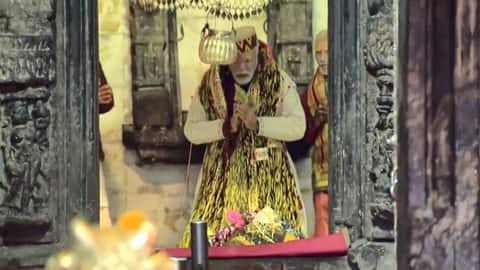 Prime Minister Narendra Modi reached the famous Kedarnath Dham located in Rudraprayag district of Uttarakhand on Friday. Here he worshiped Baba Kedar and also laid the foundation stone of some new projects. PM laid the foundation stone of 9.7 km long Gaurikund-Kedarnath ropeway. With this, the difficult journey of 8 hours will be completed in just 30 minutes. During the two-and-a-half-hour program, the PM visited the Mandakini Aastha Path and Saraswati Aastha Path when he reached the Samadhi site of Adiguru Shankaracharya.
PM Modi has reached Baba Kedarnath and Badri Vishal at a time when the election dates have been announced in Himachal Pradesh. The bugle may sound in Gujarat too soon. In such a situation, political connections are being sought in PM Modi's visit as well. There is also a lot of discussion about the clothes of PM Modi, who is very expert in the politics of symbols, whose connection is with the electoral state Himachal. When PM Modi landed in Kedarnath Dham, he appeared in 'Chola Dora'.
Himachal Pradesh is being told that this garment was prepared by a woman living in Chamba, Himachal Pradesh. He presented it to the PM as a gift. PM Modi accepted it and promised that he would wear it on any special occasion. Wearing this garment in Uttarakhand, PM Modi has sent a message from one mountain to another. The BJP, which has made a record of forming the government for the second consecutive time in Uttarakhand, is trying to repeat the government in Himachal after 37 years.
The message will also go to Gujarat
If political experts are to be believed, the party will benefit from this 'darshan' of PM Modi in Gujarat as well. The BJP, which has been running the government in Gujarat for 27 consecutive years, has strengthened its roots here only with the help of 'development with Hindutva'. This is also said to be the strongest formula behind Modi's success. A large number of pilgrims also reach Kedarnath from Gujarat. Many pilgrims from Gujarat also lost their lives here in the horrific disaster in 2013. Since then PM Modi has shown great interest in the Kalkalp of Kedarnath. After becoming PM, he has reached Kedarnath six times and each time came with some special gifts. Keeping in mind the large number of devotees of Baba Kedarnath in Gujarat, most of the BJP leaders, including the state's Home Minister Harsh Sanghvi, continued to share pictures and videos of PM Modi.
DISCLAIMER: The author is solely responsible for the views expressed in this article. The author carries the responsibility for citing and/or licensing of images utilized within the text.