How Rahul Gandhi has been proving his lack of political understanding?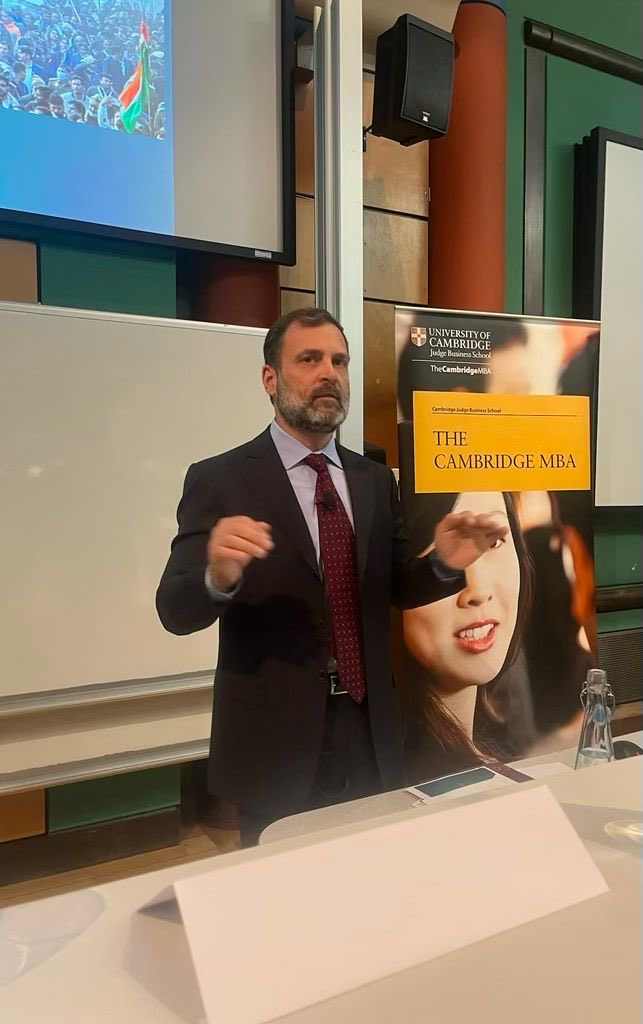 By trying to bring down Indian democracy during his visit to Britain, Rahul Gandhi proved that his political understanding is still standing where it was when he started his political journey. Rahul Gandhi did not curse Prime Minister Modi and his government on a foreign tour for the first time. He has done this work before also. In his understanding, the erosion of democracy in India started with Narendra Modi coming to power in 2014 and is over now. It is clear that he is not able to digest the defeat of Congress in 2014 and again in 2019.
The Congress had to face defeat in the Lok Sabha elections as well as in most of the assembly elections when Rahul Gandhi was the vice-president and president of the party. He is behaving as if he has been forcibly thrown out of power. He is also ignoring his flaws along with the mandate. Even though he has left the post of Congress President, the party is revolving around his thinking. Since 2014, the tone of his speeches remains that the country is going into the abyss after Modi came to power. Sonia Gandhi's voice is similar. Like Rahul Gandhi, she is also seeing the suppression of democracy and freedom of speech. Ever since Mallikarjun Kharge became the Congress President, his speeches have also become like Sonia and Rahul.
Rahul Gandhi is repeatedly complaining that all the institutions of democracy have been captured by the people of BJP and RSS. He is forgetting that when the Congress was in power, these institutions were controlled by its people. Just like the Congress made its people sit in various institutions when it was in power, BJP is doing the same, so what is wrong with it? This is the practice of politics. All parties do the same. During his visit to Britain, Rahul Gandhi also lamented that America and Europe are indifferent even after democracy is "over" in India. He is also wishing that America-Europe should intervene to restore democracy in India. This is nothing but an invitation for foreign interference in the internal affairs of the country. That is why the question is arising whether he violated the oath taken as an MP? whatever,
Rahul Gandhi also said in the UK tour that leaders like him are neither allowed to speak in educational institutions nor in the Parliament. Firstly, it is a blatant lie that they are not allowed to speak in educational institutions. He seems to have forgotten his addresses given in various educational institutions. As far as stopping him from speaking in Parliament is concerned, his record in Parliament exposes this lie. He does not ask any questions in the Parliament and hardly becomes a part of the discussion on any important subject. How serious he is in Parliament is shown by the fact that he once hugged PM Modi to show that he does not hate him, but the truth is that most of his speeches are synonymous with blind opposition to Modi Are.
During the Bharat Jodo Yatra, Rahul Gandhi kept on speaking against Modi on the whole. During this journey, instead of coming up with any new idea, he kept repeating the same things which he had done many times before. His phrase is heard again and again that the Modi government is protecting the interests of a few industrialists. Taking the name of Ambani-Adani, he not only curses industrialists, but also Modi. Even though Rahul Gandhi may say that his political understanding has increased through the Bharat Jodo Yatra and he has started understanding India in a better way, but it does not seem so.
Whatever Rahul Gandhi may say, India's credibility has increased under Modi's leadership. All major countries are preferring to take India's side. India's claim for permanent membership in the Security Council is getting stronger. As India's international stature is increasing, anti-India forces are also becoming active. The BBC documentary that came some time ago with Modi was an attempt to humiliate India. The documentary was followed by a statement by American investor George Soros that the Hindenburg report on the Adani group would help "establish" democracy in India. Is it just a coincidence that Soros said something similar to what Rahul Gandhi did?
As the general elections are approaching in India, the activities of Khalistanis are also increasing in some western countries. The question arises that what does the Congress want to achieve by creating a discourse that degrades India? Is the Congress knowingly or unknowingly becoming an ally of those forces which do not want the interest of India? After all, who is sponsoring Rahul Gandhi's visit to Britain? Whatever be the answer to these questions, the Congress should know that it is not benefiting from unnecessary attacks on Modi. The proof of this is the recent election results of three states. If the BJP is trying to capitalize on the discussion created by Rahul Gandhi abroad, it is because the average Indian would not like that our leaders go abroad and do the work of humiliating India. It is doubtful that the common Congressman would have been enthused by Rahul Gandhi's speeches in Britain.
DISCLAIMER: The author is solely responsible for the views expressed in this article. The author carries the responsibility for citing and/or licensing of images utilized within the text.