Ilhan Omar named in Election Ballot fraud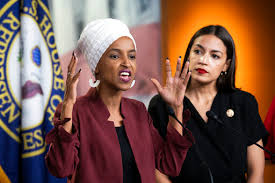 Young Democrats have been a disappointing lot. Ilhan Omar however is the worst in the group and a gift which keeps on giving.
This time the Congresswoman has been exposed in trading cash for ballots (#BallhotHarvesting) and this unethical ballot harvesting scheme (#IlhanOmarGate) has come out in the open due to work done by Project Veritas.
A journalist, James O'Keefe broke the news on Twitter where a harvester is seen bragging about tempering with the absentee ballots for the 2020 elections.
James O'Keefe@JamesOKeefeIII tweeted:
BREAKING: @IlhanOmar connected cash-for-ballots harvesting scheme EXPOSED "Money is the king in everything"; harvester boasts harvesting HUNDREDS of 2020 absentee ballots ILLEGALLY! "Numbers do not lie…these here are all absentee ballots…my car is full…"
Video: blob:https://www.projectveritas.com/88ce7ea5-380e-4117-a3c6-df492f9a87f8
Ilhan Abdullahi Omar is the U.S. Representative for Minnesota's 5th Congressional District. Minneapolis, located in Minnesota is one of the dens of Jihadi activities. The network runs deep. Omar is a puppet of CAIR- Council on American-Islamic Relations. CAIR has been designated as a TERRORIST organization even by the United Arab Emirates due to it's association with the Jihadi organization – the Muslim Brotherhood.
Representative Omar has been directly named in the Snapchat video regarding ballot harvesting, especially in Somali neighborhoods. Omar is Somali by ethnicity.
Liban Mohamed is seen in the Snapchat video commenting on the fraud regarding the ballots. He is the brother of Minneapolis city council member Jamal Osman! "Just today we got 300 for Jamal Osman," Mohamed says in the Snapchat video. "I have 300 ballots in my car right now…. Numbers don't lie. You can see my car is full. All these here are absentee ballots. Look, all these are for Jamal Osman" Mohamed also says that "Money is the king in this world… and a campaign is driven by money."
An anonymous informer who was identified as a former Minneapolis political worker informed Project Veritas that Omar's campaign deputy district director – Ali Isse Gainey – was the person responsible for coordinating ballot harvesting from elderly people from a housing complex Minneapolis before the Minnesota election primary on August 8. Ali Isse Gainey is the campaign chair of Ilhan Omar and he is also a staffer in her office.
Of course Omar will deny any link to Ali but we know that this is just the tip of the Jihadi activities in America and that the Democrats are in cahoots with the likes of Omar.
Sources:
https://www.projectveritas.com/news/ilhan-omar-connected-cash-for-ballots-voter-fraud-scheme-corrupts-elections/
https://www.newsweek.com/project-veritas-ilhan-omar-illegal-ballot-harvesting-1534555
DISCLAIMER: The author is solely responsible for the views expressed in this article. The author carries the responsibility for citing and/or licensing of images utilized within the text.