Imran Khan Niazi: "Pakistan's Pariah Prime Minister in The Games of Throne"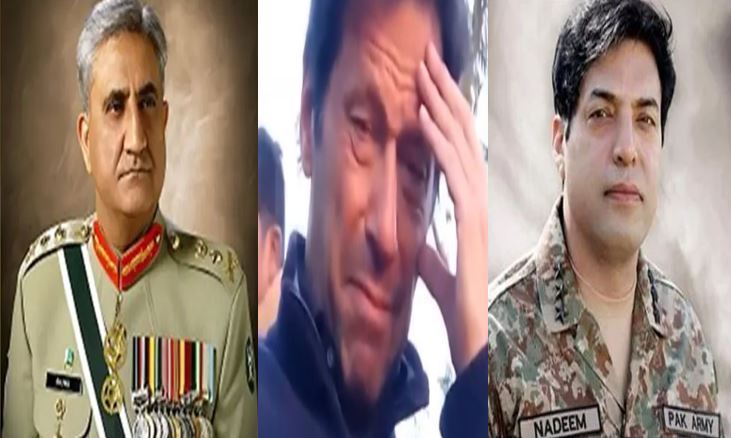 In the last couple of weeks, Asia's two headlines have taken the world by a splash. Ironically both headlines are of India's immediate neighbors. The first is the economic turmoil of India's southern neighbor, and the second is heavily weighed on the Political turmoil in her western neighbor.
Although Sri Lanka is in existence for 5000 years, however, Pakistan was born when Britisher divided India (also called Bharat) in 1947. Since its creation Pakistan has been the most rouge nation history has witnessed in the last 1000 years.
Political turmoil in India's western neighbor i.e., Pakistan is due to one man "Imran Khan Niazi".
Imran Khan Niazi: "Sissy Playboy"
Politicians of Terror State Pakistan had always been studded with contrasts and contradiction and Imran Khan Niazi is not any exception.
Imran Khan Niazi's sordid story of playing for the Pakistan cricket team to Prime Minister saddle is nothing but a lot befuddling.
Young Niazi, while pursuing his education abroad, developed a reputation as something of an aristocratic playboy who chased supermodels around the London nightclub circuit and posed lounging on a bed in nothing but a pair of satin shorts.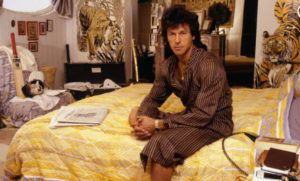 Imran Niazi was a bachelor for the first 42 years of his life. But, in the next 23 years, he married thrice. Imran, then 42, first married in 1995 to a 21-year-old British socialist Jemima Goldsmith, who also converted to Islam but ended in divorce after nine years in 2004.  It is said that Jemima had hated the shallowness of western life and longed for a more meaningful existence. When she married Imran Niazi, she said that she had met her "soulmate" but ultimately got disillusioned, and the relationship ended in divorce[1].
Imran Niazi's second marriage to Reham a British TV presenter also ended just after 10 months in 2015. Media groups had mocked said that "Imran Marriage lasted as long as a commercial break". In her book and interview, Reham has mentioned Imran's sexual encounters with many women (even men) and his cocaine addiction.
The third time, Imran Niazi wedded his spiritual guide, then known as Bushra Wattoo, already the mother of five, in a traditional Islamic ceremony during which the bride was shrouded head-to-toe in veils. There were many reports by various media houses that Bushra Bibi married Imran Khan after she had a dream. It was also mentioned that the Prophet Muhammad had asked Bushra (also called Pinki Pirni) to marry Niazi for the betterment of his life and the country's condition.
People in Pakistan talk of mysterious supernatural activities in Imran's residential complex, something that Khan's wife is known to believe in and take part in. In his first address in 2018 after counting started after the elections and results started pouring in, Imran Khan Niazi, seemingly spellbound by his spiritual wife became more traditionalist and spoke about making Pakistan like "7th century Medina".
Imran Khan Niazi: "Pakistan's Petulant Prime Minister"
Since the dawn of this century, Imran Khan Niazi was always an outlier in Pakistani politics, more popular with London's posh set than Pakistani voters. He was always a cricket celebrity who wanted to be the savior king. In order to get his dream job, he also gets rid of his so-called "Idealism".
Just before Pakistan's 2018 elections, Imran Khan Niazi was always spelling bouncers on both Pakistan Muslim League–Nawaz (PML–N) and the Pakistan People's Party (PPP). Although Pakistan was under dictator military rule for nearly 4 decades but for the rest of the time both of these parties have ruled Pakistan in succession.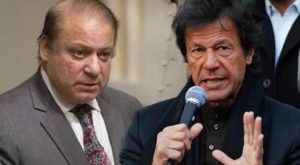 In his election rallies, Imran criticized previous governments both domestic and foreign policies, and blamed them for the economic turmoil Pakistanis were facing. He has also supported a slogan given to then Prime Minister Nawaz Sharif "Modi ka Jo Yaar, Nawaz Gadar" which means "Nawaz is a traitor as he is a friend of Indian PM Modi Ji".
While in opposition Niazi was focused, hammering away at Pakistan's rulers on his pet themes of corruption and nepotism.
Before coming to power, Imran stated that he would rather die than go to the IMF for a loan but the irony is that in his first ruling year (just after a few months) he did the same, and went begging to the institution.
And the funny part is that then he surrounded himself with the politicians he had claimed were the root cause of Pakistan's problems[2].
Imran Khan Niazi rose to power by convincing the voters that he was the only clean politician around, that everyone else was corrupt.
The truth is that as a prime minister, Niazi avoided dealing with the country's structural problems, instead, he went on a moral crusade because in his youth he had lived a life of sin in the west and now he was not only atoning for it but wanted to be a spiritual father to the nation.
From his speeches, it seems that in his head he was not only the leader of Pakistan but also the leader of the umma, meaning the community of Muslims who can also do 60 pushups on the go.
During the OIC meeting held in Islamabad in early 2022, he lectured foreign ministers of Muslim countries about how pornography was responsible for rising divorce rates in the Muslim world. He himself is on his third marriage and had the image of Pakistan's Playboy.
Moreover, Reham Khan, who was briefly married to Imran Khan, has claimed in her autobiography that the cricketer-turned-politician told her that he sired at least five illegitimate children, including "some" Indians[2].
Isn't Imran Khan Niazi the perfect example of mythomania and pseudologia fantastic???
Imran Khan Niazi's "Botched Foreign Policies"
Isn't it a little surprise that Imran Khan Niazi's government survived for so long despite a very thin majority?
It's an open secret that he was supported by the military in the 2018 elections, and a coalition of disparate groups was built to provide his party with enough parliamentary support to form the government.
But even with full military support, the Niazi government struggled, largely due to his limited understanding of statecraft.
Any Country's policy change can be explained by using Hermann's three methods
Program change
Adjustment Change,
Goad change.
Narcissistically Imran has failed drastically on all Hermann's methods.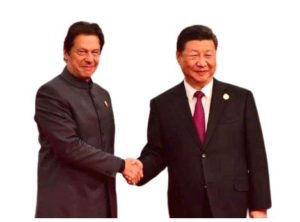 There is no doubt that Pakistan's foreign policy has always stood flawed since the 1950s but at no time it has been more apparent during his leadership.
Mr. Niazi, Foreign policy is not a cricket pitch where heightened aggressiveness and fast googlies ensure the defeat of an adversary by toppling wickets.
Regrettably, Imran Khan has not outgrown Pakistan's cricket captaincy.
Imran decidedly started his tenure on a wrong footing against the United States, the biggest donor to beggar Pakistan. He should have remembered, "Beggars can't be Choosers".
Niazi overboard tilts towards Communist China, an arrogant demanding posture against its Mighty neighbor India and an ill-advised initiative to form an Islamic Bloc of "Pakistan-Turkey-Malaysia" to counter "Saudi-UAE" dominance of the Islamic world.
All of these foreign policy directions of naïve dull leader-led Pakistan nowhere in terms of Pakistan's national security and economic security.
Pakistan's foreign policy under Niazi was endangered with the two major determinants of a nation's foreign policy, namely, national security and economic security not on sound footings.
Terror heaven Pakistan's national security and economic security were hitherto fore been underwritten by the United States, chiefly because of the Afghanistan factor.
When Biden Administration hastily decided the USA exit from Afghanistan in August 2021, the CIA by that time had belatedly realized the Pakistan Army's perfidious role in Afghanistan against the United States, which leaves no scope for a return of US munificence to Pakistan.
Washington also noted Islamabad's utterances on Afghanistan and its intense Beijing coordination in Afghanistan to bring a Taliban Government in Kabul.
US Experts on Pakistan would have been insistent on Imran to retain the previous ISI Chief, Faiz Hameed, even against the Pakistan Army Chief's wishes whom they believe was the Chief Architect of Niazi's Kabul policy.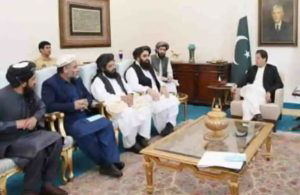 Thus, Pakistan's gamble on Afghanistan along with China has not paid off well. Afghanistan is headed toward a humanitarian disaster that cannot be ameliorated without India and other countries' assistance.
Although India has sent 50,000 tons of wheat to Afghanistan on humanitarian grounds, still Afghanistan is heading fast towards grave instability.  This had a serious impact on Pakistan's security and stability. Latest reports have alarmed that ISIS is establishing Pakistan as its new grounds.
Imran's promise of a "New Pakistan" bought the Terror Sponsored Pakistan onto the brink of default. Pakistan's economic security cannot be financially underwritten by Niazi's preferred strategic patron "China".
Despite his cavorting with the Chinese Embassy during his election campaign and rush to Beijing soon after he became Prime Minister, the levels of Chinese financial bailouts for Pakistan did not pay off well as expected by the sluggish PM[3].
It was on China's perceived strengths and support for Pakistan that Khan Niazi arrogantly dismissed any chances of Pakistan going to IMF for financial bailouts. But in no time PM Imran Khan Niazi retraced his steps and went running with a begging bowl to IMF to forestall Pakistan's economic insolvency.
Like his predecessors, he too gambled heavy on China's commitments to transform the economic landscape of Pakistan through the highly publicized China Pakistan Economic Corridor (CPEC). But we all know the reality.
Like Sri Lanka, Imran bought Pakistan into China's debt trap which would end up with enhanced security and strategic bondage to China's Grand Strategy strategic blueprint in which the core aim is to challenge the United States' global predominance.
Imran Khan Niazi's policies also endangered the security of Pakistan by moving decidedly into China's strategic orbit.
New National Security Policy which Imran emphasized that it's imperative that Comprehensive National Security should incorporate economic security. However, regrettably, official sources quoted within Pakistan indicate that he did assert that better relations with India cannot be undertaken with Modi Government in New Delhi.
So, Pakistan's foreign policy fatal flaws were ill-served both by Imran Khan Niazi and his Foreign Minister Shah Mahmood Qureshi. Qureshi is perceptional and regarded as a very arrogant, ambitious, and flamboyant person. He views himself as the right choice to be Pakistan's Prime Minister.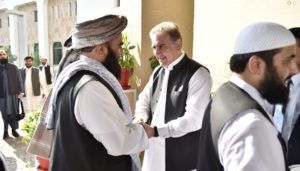 Qureshi not only chose to switch his political allegiance from Bhutto's PPP to Imran's PTI but also subdued his ambitions temporarily surfaced when Imran critically falls in the political favor of the Pakistan Army.
It's well-proven that Imran Khan Niazi is bereft of both political & strategic vision and lacks foreign relations experience. A seasoned Foreign Minister at such a stage would have rendered sound advice to his Prime Minister as to the right directions in which Pakistan must steer itself to revise its foreign policy templates on Pakistan's national security and economic security.
Imran Khan Niazi cannot absolve himself from the plea that Pakistan Army controls Pakistan's foreign policy and tangentially its economic directions too.
Thus, Imran Niazi's dipterous foreign policies proved disastrous by having a love affair with China and indolence with India, the Middle East & United States.
Imran Khan Niazi "A Debacle Home Governance"
Imran Khan Niazi's fall from grace marks proves the end of Pakistan's experiment with a "Hybrid Rule", with the military actively backing the civilian administration.
His journey from being a sporting hero to occupying the corridors of power is largely owed to Pakistan's powerful military. He was projected by the army as the last best hope.
His dream of "New Pakistan" which will be similar to 7th century Medina has left the country in history's biggest shambles.
Osama Bin Laden's feeder Pakistan is already under FATF's grey list for the last couple of years due to its home-grown terror groups. Lots of foreign companies have already left the terror nation and many international groups are afraid to make any investments due to its worse credit rating.
During the Niazi regime, inflation went skyrocketing. Pakistanis also witnessed unemployment touching new heights.
Imran's leadership had failed drastically during Covid Pandemic. During the Pandemic when over-the-counter medicines like Paracetamol and ibuprofen went off the shelves, beggar Pakistan was looking towards India to save in despairing times. However, it was Niazi's Administration who had banned trade with India after India revoked Articles 370 and 35A in her Union Territory (then state) of Jammu and Kashmir.
Pakistan is the only country on the globe that is a safe haven for more than 150 terror groups[4].
Some examples of terror groups that flourished under PM Imran Khan Niazi's regime are Lashkar-e- Toiba (LeT), Jaish-e- Mohammad Mujahideen E-Tanzeem, Haqqani Network. These terror groups have a long list of attacks on India, Sri Lanka, the United Kingdom, Afghanistan, and many other countries around the globe.
On February 14, 2019, a suicide bomber of the Pakistan-based Jaish-e-Mohammed (JeM) terror group attacked the CRPF convoy in the Pulwama district of Jammu and Kashmir, India killing 40 army men. On February 26, 2019, the Indian Airforce retaliated back and bombed Terror pads in Balakot, Pakistan killing more than 400 terrorists and wounding thousands who were undergoing training by the Pakistan Army.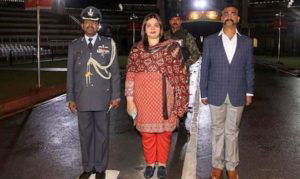 The next day i.e., February 26, 2019, a US-manufactured Pakistani aircraft F-16, transgressed into the Indian airspace and was chased by Indian Wing Commander Abhinandan Varthaman, who finally shot down F-16.
During this chase, the Indian Wing Commander's plane crossed over to the Pakistani side and due to a technical glitch his aircraft got crashed.
Army-controlled Pakistani Media started its false propaganda of shooting Indian Aircraft and capturing the Indian Commanders. Their False propaganda didn't last long as Imran Government and Pakistan Army kneeled down under the pressure from Mighty Indian Defense Forces.
This was stated when Pakistan Muslim League-N (PML-N) leader Ayaz Sadiq recounted the events of the important meeting in the parliament during his speech in which he said "I remember Shah Mahmood Qureshi was in the meeting in which Imran Khan had refused to attend and Chief of Army Staff General Bajwa came into the room, his legs were shaking and he was perspiring. Foreign Minister said for God's sake let Abhinandan go, India's about to attack Pakistan at 9:00 PM.
Even after being greylisted from FATF, Imran Niazi's administration's lip-lock with home ground Terrorist organizations didn't end but increased many folds which are evident during protests and mass rallies of Tehreek-i-Labaik Pakistan (TLP) during the month of October 2021.
After Terror outfit TLP started nationwide protests against Niazi Government, they clashed with Lahore police in which seven police officials died and many received injuries. After three days of Lahore clashes, TLP aimed at pressing the Imran administration to release the TLP chief and expel the French ambassador over the publication of blasphemous caricatures in the most popular French magazine.
When TLP started a long march to Islamabad on Oct 22, Prime Minister Imran constituted a team to hold talks with the terror outfit after consulting some extremist religious leaders.
Later Members of the negotiating team from the Imran government claimed that they had reached an 'agreement' with the proscribed TLP in order to end the nearly two-week-long impasse, but refused to divulge its details.
"The government of Pakistan and the TLP held detailed negotiations in an environment of mutual trust and an agreement has been reached between the two sides," announced Mufti Munibur Rehman at a press conference. He was accompanied by the government's negotiating team members Foreign Minister Shah Mahmood Qureshi, National Assembly Speaker Asad Qaiser, and Minister of State for Parliamentary Affairs Ali Mohammad Khan. Mufti Munib, who facilitated the talks along with some other religious leaders in their individual capacity, said the agreement had the backing of jailed TLP chief Saad Rizvi. Mufti Umair Al-Azhari, Allama Ghulam Abbas Faizi, and Hafiz Hafeez participated in the negotiations from the TLP side, he added.  He said a steering committee headed by Minister Ali Mohammad Khan also comprising Punjab Law Minister Raja Basharat, the federal interior secretary, and Punjab home secretary, besides TLP representatives Mufti Ghulam Ghous Baghdadi and Engineer Hafeezullah Alvi would oversee the implementation of the agreement[5].
Reuters also quoted a terror outfit TLP spokesman, Sajid Saifi, as saying their supporters were ready to pack up but were awaiting instructions from the party leadership. He said he hoped Saad Rizvi and all activists arrested in recent days would be released soon.
Mufti Munib told the news conference they had succeeded in reaching the agreement after rationality prevailed over sentiments and aggression. "I want to tell the entire nation that this is not the victory of one individual, but it is the victory of Islam, Pakistan, patriotism, and protection of human lives," the Mufti said.
He asked the media to report the development in a "Positive Manner"[5].
While Niazi Government was busy shaking hands with its terror organizations, the Pakistani embassies in USA, Serbia, Afghanistan, and many more around the world were running out of funds.
As an example, In December 2021, the Pakistan embassy in Washington had run out of funds to pay salaries for at least four months to some of its employees, though the Pakistani ambassador's active engagement saved the day, The News reported.
At least five of the Pakistani embassy's locally recruited contractual employees faced delays and non-payment of their monthly wages from August 2021[6].
One staffer out of the five affected, who had been working for the past ten years with the embassy, resigned in September owing to delays and non-payment, the report said.
These unpaid local staffers were hired by the embassy on an annual contract basis and worked for the mission on bare-minimum salaries, which range from 2,000 to 2,500 dollars per person per month.
Imran Khan Niazi "Final Exit from PM Residence"
The world witnessed high voltage drama when the Pakistani opposition called for "No Confidence Motion" in parliament.
This brinkmanship went on for a couple of days and finally ended when Pakistan Army Chief, Qamar Javed Bajwa and ISI chief, Faiz Hameed fly their helicopters at PM Niazi's residence and both slapped him a couple of times on his face as per Pakistan media reports.
After both Army officials left Niazi's official residence, he was finally removed as prime minister early on Sunday, April 10th, 2022 after losing a no-confidence vote in Parliament.
This "No-Confidence Vote" coming amid soaring inflation and a rift between his government and the military, capped a political crisis that has embroiled this south Asian nation for weeks and came down to the wire in a parliamentary session that dragged into the Sunday's early morning hours.
A majority of Pakistanis are happy that Imran Khan Niazi was ousted in a no-confidence vote in parliament, a new survey showed[7].
Some 57% of people in the South Asian nation reported they were "happy" about Khan's exit, while 43% were "angry" about the development, according to a poll conducted by Gallup Pakistan[8] Hours after the vote that took place just after midnight Sunday. The survey was conducted over the phone using random digit dialing with over 1000 men and women in over 100 districts.
Till today even after being in power for more than 3 years, to Imran Khan Niazi, it is either the misrule of previous regimes or mafias that were responsible for the country's predicament. His frustration seems to have arisen with the collapse of his government's "Anti-corruption" drive that had mainly targeted opposition leaders.
He blamed both the judiciary and media for "HIS" failures of governance.
Many times, it was witnessed that when in power he seemed restless and distracted as if he wanted to be back on the street. He rarely came to parliament, claiming that he could not sit with thieves and looters
Self-righteousness and the politics of religiosity did not help him deal with the worsening political crises. And as the crisis evolved, Niazi's government became increasingly authoritarian with an overreliance on the security establishment's support and under-reliance on Parliament. Its contempt for elected institutions was evident.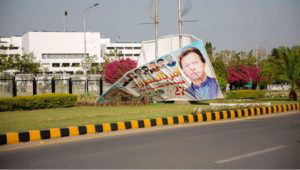 Now that everyone opposing him is not only corrupt but a traitor and an American puppet.
When Imran Khan Niazi fell, it wasn't solely that he failed to deliver, but the real reason is that he fell out with the army.
Pakistani Media is citing that Imran caused huge offense when he wanted his own man to continue as the chief of the Inter-Services Intelligence. Any civilian prime minister interfering with the army or the way it wants to run the country's defense policy is seen as the country's enemy.
My perception is that the military establishment's withdrawal of support seems to have derived from multiple factors.
First, the Army was worried about Khan's domestic governance which, given that Khan was the military's chosen political leader in 2018, came to undermine the military's own standing.
Second, increasing inflation, and depleting foreign reserves would put Pakistan Army on a tight rope in the future which is unacceptable to Pakistan's deep state.
Third, there appear to have been differences between Bajwa and Niazi over foreign policy, ranging from how to handle ties with the United States to the opening of trade with India. General Bajwa seems to have wanted a conciliatory approach to relations with the United States and India perhaps because of Pakistan's growing strategic challenges reflected in the country's economic woes. Imran, on the other hand, leaned into populist anti-American and anti-Indian narratives.
Pakistan's former Prime Ministers like PM Nawaz Sharif had attempted to change the above Pakistani narrative by interfering in the military and he also met the same fate. First Sharif landed in jail and then exiled to Saudi and England.
When the military leadership had distanced itself from the government, it gave a further boost to the opposition, resulting in a major shift in the country's political scene when two main opposition parties, PML-N and PPP aligned against the government. As soon as the army withdrew its support, opposition parties moved in for the final kill.
Imran Khan Niazi: "His Future while at War with General Headquarters (GHQ), Rawalpindi"
After Imran exited from PM's residence, he is holding people rallies on a war footing. In every rally, he is blaming the USA for toppling his government and is called the PM Shahbaz Sharif as "Puppet of America".
Now the question is whether Pakistan remains in a state of turmoil and will heads into an early election season in the coming months or the Pakistani Army's push will help the Sheriff government to 2023.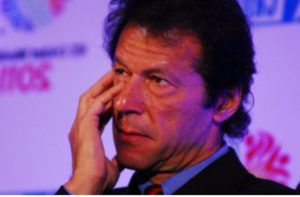 However, it's very prudent that three factors can complicate civil-military dynamics under the new Shahbaz Sharif-led government.
First, in the near term, Bajwa must contend with a serious possibility of backlash from within the military over Khan's ouster. Many in the officer corps appear sympathetic to Niazi's general view and share his general disdain for the political leaders of the new governing alliance.
Secondly, Army chief Bajwa's own standing in the army is questioned by some Pakistani military analysts. They often refer to him as controversial army chief in his second term, which he got under Imran's governance and his term is slated to end later this year. As a result, (as Pakistan's army is well known as an undisciplined army), there are high risks of dissent against the chief. Bajwa will have to manage the army's cohesion carefully which is difficult but not impossible for an army chief with the highest powers in the country.
Third, the new coalition government will have to decide who will succeed Bajwa as the army chief later in the year. Military transitions in Pakistan are always tenuous and this time especially so. It is plausible that the new government may extend Bajwa's term yet again assessing his demonstrated "neutrality" amid the vote of confidence saga as likely to ensure a smooth election. But another extension for Bajwa can aggravate the military's senior leadership, especially those generals who are in line to be considered as the next chiefs of the army. Also, Imran can openly oppose Bajwa's extension from the opposition benches. The question of the appointment of a consensus army chief candidate who doesn't raise any red flags is difficult to answer.
In any of the above scenarios, this will be an important appointment with major implications for Pakistan's domestic stability and ties with the rest of the world.
Another point that needs to be considered is how the government will run?
While Imran Khan Niazi has taken the political initiative in launching a defiant return to campaigning from the opposition, his party saw major defections in the run-up to the no-confidence vote. The former opposition parties and PTI defectors united behind the goal of removing him from office, but now face the difficult challenge of establishing a governing agenda and future political strategy in a coalition with multiple potential veto actors.
In the absence of close cooperation and power-sharing among the new governing coalition, or stronger interventions by the military or judicial establishment to restrain or aid the major political actors, is it likely that the new government will call for "EARLY ELECTIONS" to rebalance its position in parliament ahead of the normal five-year schedule that would have otherwise meant elections in the fall of 2023; this may be in early 2023, but not immediately as the PTI would like.
Also, whatever electoral campaign that follows, it seems that it will be more fractious and multi-partisan than the last elections in 2018. That environment raises the importance of small spoiler parties either in determining the outcome of first-past-the-post calculations or by raising the incentive for larger parties to take stronger positions to try and woo those voters. It also contributes to greater uncertainty about the potential range of post-election outcomes.
That said, it is highly unlikely that the military would support the PTI as it did in 2018, and Pakistan has historically never seen the same government return to power in the next election cycle.
The former PM never seemed comfortable in the office and now he has been sent back to the street where he can start his crusade to save the country all over again
But what will be the future of Imran Khan Niazi "The Pariah Pakistani Politician". Will he meet the same fate as former Prime Ministers like Nawab Sharif and Benazir Bhutto or he will get the middle path? Let's watch where Pakistan's Political "Game of Thrones" mastered by the Pakistani Army will lead him?
[1] From Playboy to Prime Minister: The sordid story of Imran Khan (indiatimes.com)
[2] Indians among Imran Khan's five illegitimate kids, claims ex-wife Reham Khan | World News – Hindustan Times
[3] Pakistan's Flawed Foreign Policy Under PM Imran Khan – Analysis – Eurasia Review
[4] Terrorism in Pakistan | Terrorist Groups in Pakistan | SATP
[5] Government, TLP ink deal to end impasse – Pakistan – DAWN.COM
[6] Pakistan embassy in US ran out of funds to pay salaries for 4 months | Business Standard News (business-standard.com)
[7] Majority of Pakistanis Supported Imran Khan's Ouster, Poll Shows – BNN Bloomberg
[8] Gallup Pakistan on Twitter: "Nation divided over issue of PTI govt dismissal. Significant majority of intermediate or better educated men and women are angry, resentment highest in KP and among new voters. 2/4 https://t.co/qASXpB831p" / Twitter
DISCLAIMER: The author is solely responsible for the views expressed in this article. The author carries the responsibility for citing and/or licensing of images utilized within the text.