Rohingyas, Bangladeshi infiltrators, illegal settlements in Jahangirpuri, and How did the riots start? A GROUND REPORT by Kreately Media –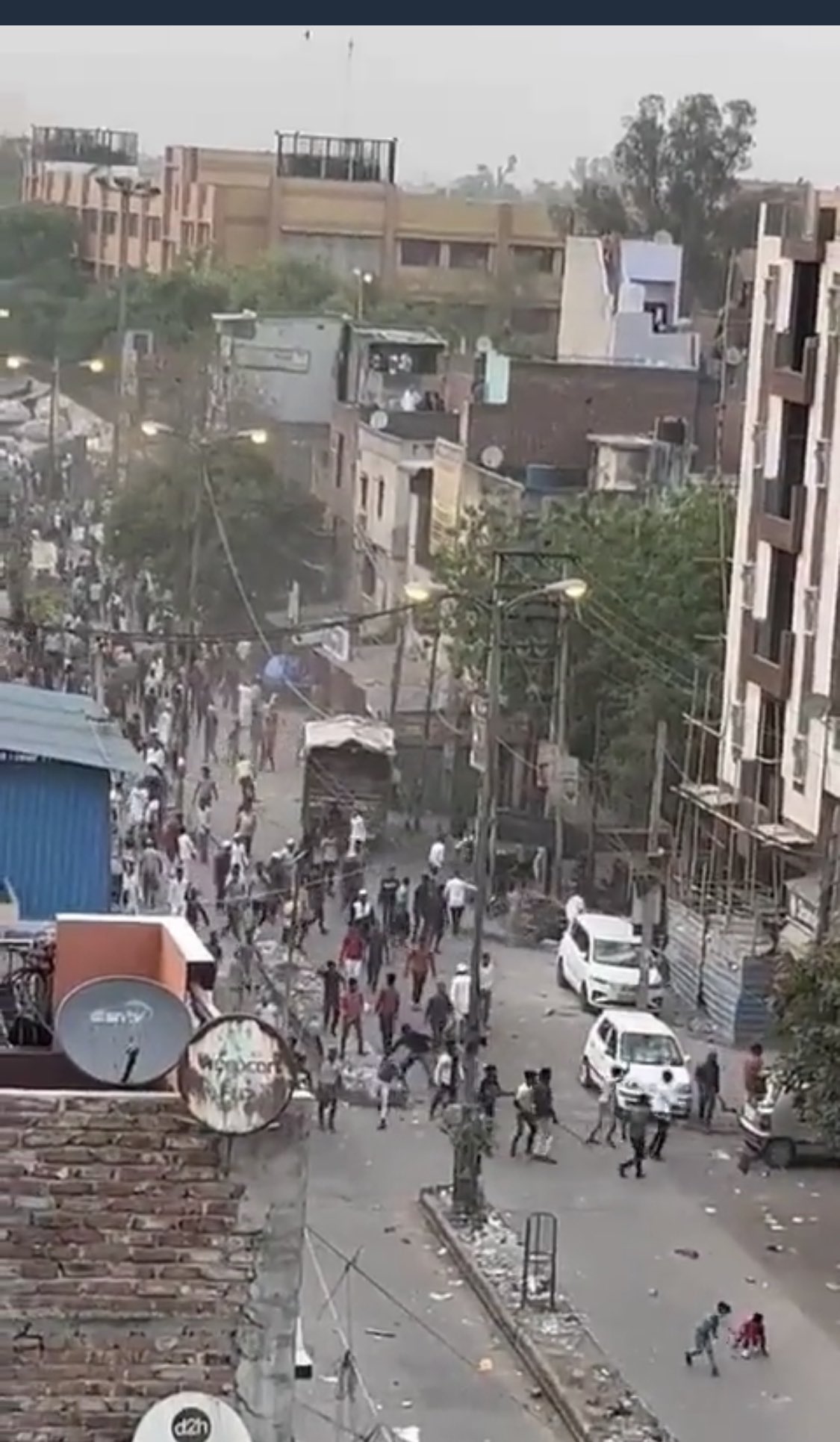 The news is that like the rest of the states, communal tension took place in Delhi on Saturday. The procession of Hanuman Jayanti was being taken out. In this some miscreants threw stones. Tremendous tension increased in the area. Taking action, the police arrested 14 people. Well, the news is over. Now you understand the geography of Jahangirpuri. Where, how and who are these people inhabited. First of all, let me tell you that there is a good number of Rohingya Muslims here. who have been living here for many years. Different areas of Delhi have their own distinct identity. The geography of Jahangirpuri, situated near Azadpur Market, should be understood. It is said that if any incident happens in any area, then you should know its history and geography, then you will understand another story of the incident.
Politics started with Rohingya Muslims
Politics has also started regarding Rohingya Muslims. Delhi BJP state president Adesh Gupta has attacked the Kejriwal government. He has written that a delegation of Delhi BJP will go to Jahangirpuri area and investigate the incident of stone pelting. I will personally meet Home Minister Amit Shah regarding this. I want to ask Chief Minister Arvind Kejriwal why are you providing electricity and water to Rohingyas and Bangladeshis?
Understand the history of Rohingya
Only 17,500 Rohingyas are registered in the UNHCR office in Delhi. According to The Print, Delhi is one of the main places in terms of settlement of Rohingya refugees. Apart from places like Jasola, there are also five large informal camps located on the banks of river Yamuna. Madanpur Khadar is near Yamuna river. Rohingya Muslims are living as refugees in many areas of Delhi. There is also a settlement of Rohingya Muslims in Madanpur Khadar in South Delhi. A year ago there was a fierce fire in which conspiracy was being talked about, but the police had said about an electrical short circuit. An objection was raised on behalf of the Sangh regarding this and said that they should be removed from here. Similar is the situation in North Nagar area of ​​Delhi. According to a report here, Rohingya Muslims had even started converting their religion. There is also a big settlement here who were living here for almost 30 years.
Understand the geography of Jahangirpuri, understand the geography
of Jahangirpur Puri a little bit. Jahangirpuri is situated in the North West district of Delhi. Where there is also Azadpur Mandi. Azadpur Mandi is being mentioned here because it is very famous and Asia's largest fruit-vegetable market. Jahangirpuri area is very dense and mixed population. People of Hindu-Muslim and some Punjabi and Sindhi communities live here. You will find a lot of people doing fruit and vegetable work here because there is Azadpur Mandi nearby. People here who come from lower and lower middle class. There are also slums in between and the area is divided into several blocks. We called and talked to many people.
What is the secret of C block and H block?
Many people did not know about the geography of Jahangirpuri and shunned it. But some people told Local residents say that a large number of Bangladeshis live in C-Block where the rebellion took place during the procession taken out on Hanuman's birth anniversary. The area is already sensitive. The North West Parliamentary Constituency and the Jahangirpuri area of ​​Badli Vidhan Sabha have been developed by the DDA. The area is divided according to the block. Its extension is from Jahangirpuri A Block to J Block. Local residents say that C-Block and H-Two slums have the largest Bangladeshi population.
How did the riots start?
Now the question of the people was that where did the riots finally start. We tried to understand it from the ground while talking to some people there. People first told us in detail about the location and the community living there. According to him Muslim population lives in B block. Along with B, there is also a Muslim population in C block. At the same time, there is a Hindu population in G and H blocks. Eyewitnesses say that the riot took place between Mangal Bazar to Kushal Cinema in C Block. The Muslim population here is high. Eyewitnesses say that around 6 pm, the procession was passing through the road connecting Mangal Bazar to Kushal Cinema in C-Block. Meanwhile, stone-pelting started. After that the situation worsened. Slogans started from one side and weapons were also waved.
People were hiding in their homes,
the situation here became such that people imprisoned themselves in their homes. The women told that on seeing the slogans started shouting and stones started raining on the houses. We were sitting inside the houses in horror while saving our children. Sometimes it seemed that they would break through the door and enter. But after a while the police came and then we sat peacefully. The rioters were shouting various slogans. They also pelted stones at the police. For a few moments I thought what was going to happen but now everything is fine.
The matter is still going on in
the court The issue of Rohingya Muslims is under consideration with the Supreme Court of the country. But we know their history. Most of the Rohingya Muslims currently live in Jammu and Kashmir, Hyderabad, Haryana, Uttar Pradesh, Delhi-NCR and Rajasthan.According to ministry data, the UNHCR currently has information on more than 14,000 Rohingyas living in India. However, according to the other information available with the Ministry of Home Affairs, about 40 thousand Rohingyas are living illegally in India. The Myanmar government enacted a nationality law in 1982 that abolished the citizenship status of Rohingya Muslims. Since then, the Myanmar government has been forcing Rohingya Muslims to leave the country. Although the root of this entire controversy is about 100 years old, but the communal riots in Rakhine state of Myanmar in 2012 gave fuel to it.
Now let's talk about the issue of Rohingya Muslims in politics,
more than two decades have passed and this issue always arises in Delhi. There are settlements for Rohingya refugees in many areas in Delhi. In the year 2019, BJP had raised the issue that the Kejriwal government was providing ration cards to Rohingya Muslims. Making them their vote bank. We talked to some people of Delhi and found out whether they have ration card? The answer was yes. Many Rohingya families have got ration cards here. In 2021, the Delhi High Court was hearing a petition. In which the Delhi government had replied that the government was making arrangements for food and drink for the Rohingya refugees.
DISCLAIMER: The author is solely responsible for the views expressed in this article. The author carries the responsibility for citing and/or licensing of images utilized within the text.