indo-nepal farmers suffering oli's cruelty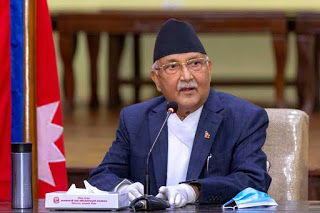 Recently India's neighbour and Bread Daughter's relationship keeper Nepal has passed a disputed map from it's parliament, considering India's territory of Kalapani, Lipulekh and Limpiyadhura into it. This was made happened by the current communist government of Nepal, headed by KP Sharma Oli as the Prime Minister. Indian experts on foreign affairs straightly blames Chinese government for this issue as to counter India and expand it's territory China has owned the policy to break India's relationships with it's neighbouring countries. PM Oli has found this as a occasion to fame himself and passed this map in his own intrest ignoring people's sentiments and our ancient relations. However India has cleared it's stand that all three disputed places belongs to India and any misunderstanding can be sought out through bi-lateral meetings. But Nepal has closed it's border and isn't allowing people to cross the border, raising concerns for the people who earn a living in opposite side.
This fight has immensely hit the farmers on either side, as many Indian farmers practice farming in Nepal and many Nepalis have agriculture land in India. This is most appropriate time for sowing, but tension on border hasn't allowed farmers to sow this season and made them tense for their earning. Farmers are the provider, without them we will be unable to produce grain, no government has the right to mess up with our providers. Disputes should be kept on another side and it should be confirmed that not a single farmer suffers from this. Relationship from ancient times should not be breaked on a person's or party's individual intrest. India and Nepal can have a political boundary but it can never have social boundary.
DISCLAIMER: The author is solely responsible for the views expressed in this article. The author carries the responsibility for citing and/or licensing of images utilized within the text.