The Hindu Minorities of North East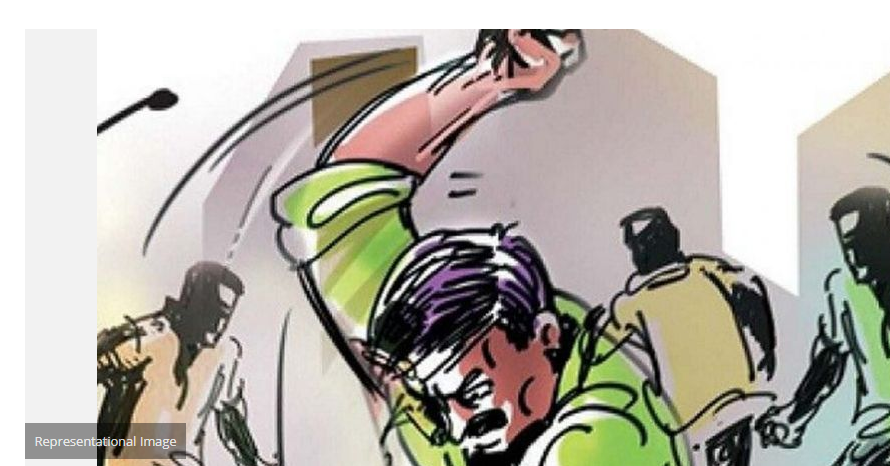 This news is from the beautiful place called Shillong(the Scotland of the East) and for the mainlanders this might come as a surprise or irrelevant even to be brushed aside, but this is high time the truth of the Hindu minorities of the North East be known to the rest of India.
The Incident…
What happened on the afternoon of 3rd of July in Shillong is but an example of one assault that happened on non -tribals in Meghalaya in a series of assaults, attacks, stone pelting, setting shops ablaze, hurling petrol bombs that have been happening since ever. Be in 2020, 2018, 1987, 1979 – each of these stories and incidents will tell how difficult life has been for the non- tribals in the North Eastern part of the country and why they are forced to leave the place of their birth, for good.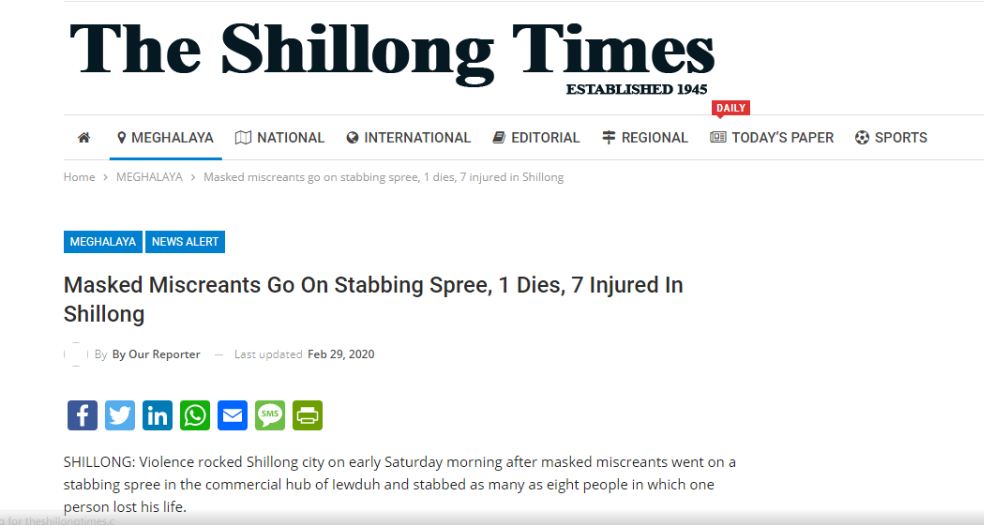 For the uninitiated, Shillong is the capital of the north eastern state Meghalaya. Meghalaya is a Christian state(about 80% of the population follow Christianity) and dominated by three major tribes – The Khasis, the Garos and the Jaintias. The rest are non-tribals: Punjabis, Bengalis, Biharis, Marwaris, Assamese, Nepalis…
On the afternoon of 3rd of July, 5 Bengali Hindu boys who were playing basketball were attacked by about 20 locals, armed with sticks and iron rods. All these 5 boys had to be admitted to the hospital with different level of injuries. A couple of those boys did manage to escape according to certain reports. Unconfirmed news says that these boys were beaten because they had gathered in a group despite the COVID 19 situation. This is the state of affair in a state where the miscreants think themselves above law. The assaulted individuals who sustained injuries are Arindam Deb, Subharshi Das Purkayastha, Saptarshi Das Purkayastha, Binak Deb, Bishal Ghosh, and Prittish Deb and as the names would suggest are all Hindu boys.
Action/ Non-Action?
Though the Chief Minister of Meghalaya has assured investigation and action, there is very little hope going by how it has been all these years.

It is reported that the suspects have been picked up by the Meghalaya Police but whether any real action will be taken still needs to be seen.
Source : https://thenortheasttoday.com/meghalaya-lawsohtun-assault-case-8-suspects-picked-up-for-interrogation/
The Governor of Meghalaya, Shri Tathagata Roy who has a strong social media presence has also been assuring justice but only time will tell.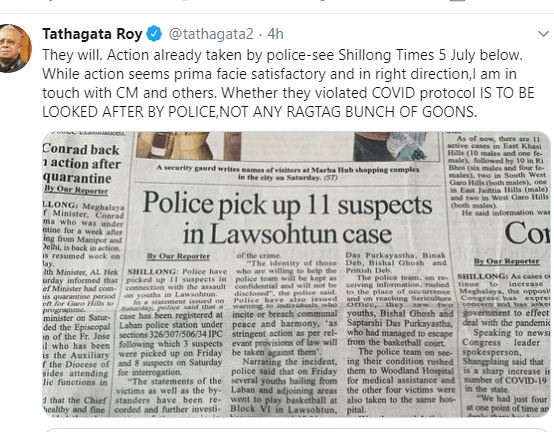 History
It's very difficult to understand the awareness and interest of the Central Government in this matter. It brings us to the essential question of whether Hindu lives matter. If this incident had happened with any other religious minority, there would have been a lot of hue and cry.
It's however not so difficult to understand and answer why the locals behave in this way. The initial insecurity they had is of jobs being taken by the more educated non-tribals among several other factors. The ultimate aim is to drive away each and every non tribal family out of there. There are only a few sane voices among the tribals and they are unusually unheard.
This is not the first incident this year. Earlier this year, during the CAA protests, the HNLC general secretary Sainkumar Nongtraw warned of "mass bloodshed" if the Bengali Hindus failed to heed the group's ultimatum…https://www.thehindu.com/news/national/meghalaya-extremists-ask-non-tribal-group-to-leave/article30965125.ece
One must understand the status of non tribals in Meghalaya. They are not allowed to buy land in and those who have their property cannot sell to another non-tribal. Selling of property is only allowed to a tribal. This is one example of discrimination among several others.
However these same tribal guys come to mainland India for higher education or better career opportunities and cry victim at the slightest provocation. There is hardly any discrimination here in mainland India and many of these tribals have established themselves very well in mainland India. Much noise is made on racism grounds and media becomes very active then reporting these as news of racism against North Easterns but the media is comfortably numb when the opposite happens to non- tribals in NE.
Whether one calls it racism, or dominance of a Christian state, the issues of the non- tribals of Meghalaya are hardly talked about or discussed in social forums. One must have lived there to know the hatred they have for India. The non-tribals have been always considered foreigners in this part of the country.
And out of all people, Paul Lyngdoh tries to play the good citizen and messiah. Paul's rise to fame and following was via hitting the Principal of the most renowned college in Shillong. To know about Paul Lyngdoh's deeds, please read:https://www.ucanews.com/story-archive/?post_name=/1992/10/02/colleges-reopen-after-student-unrest-in-northeast-india-led-to-closure&post_id=42035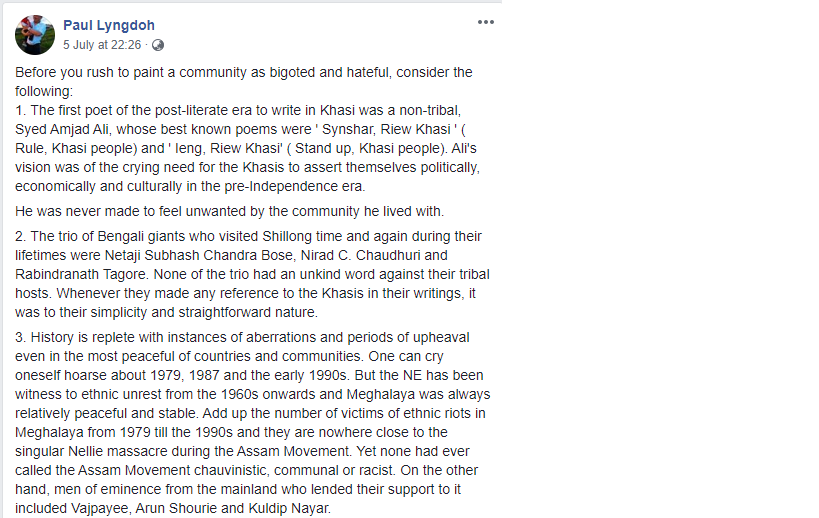 Developments
As expected, the victims have withdrawn the case, most likely out of fear.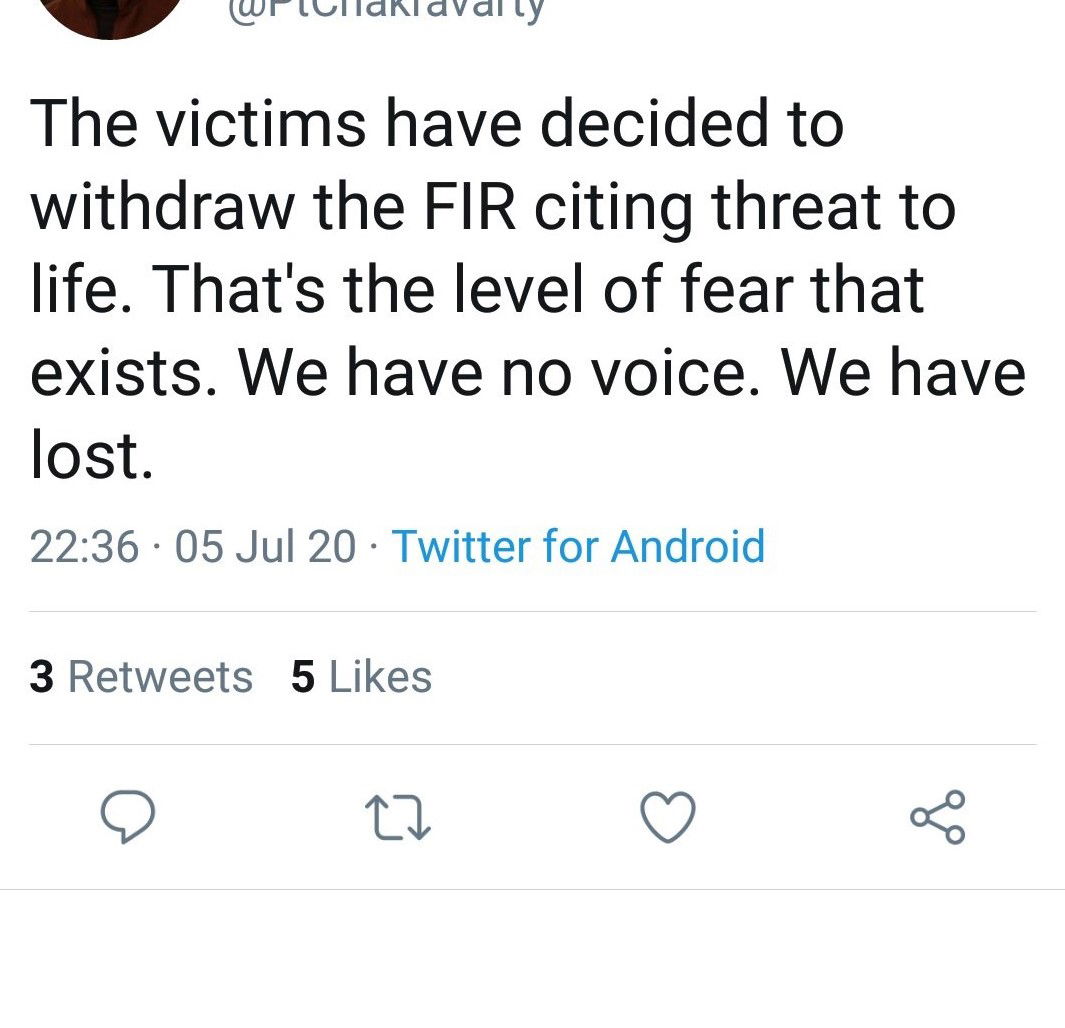 Whether local voices raise their voice or not, there is no real good emerging out of it until and unless the culprits are brought to book.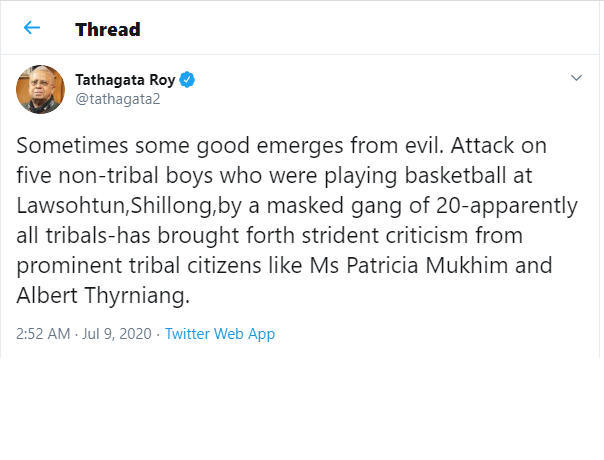 However thanks to social media that some people are raising their concerns now and these are getting noticed/heard to some extent.
Last but not the least, this change.org campaign is out here to raise the issue and voice the concerns of the non-tribals of Meghalaya. Read and sign if you can…https://www.change.org/p/narendra-modi-stop-violance-against-non-tribals-in-meghalaya
Two of the guilty have been arrested but does this mean the problem is solved? Doubtful….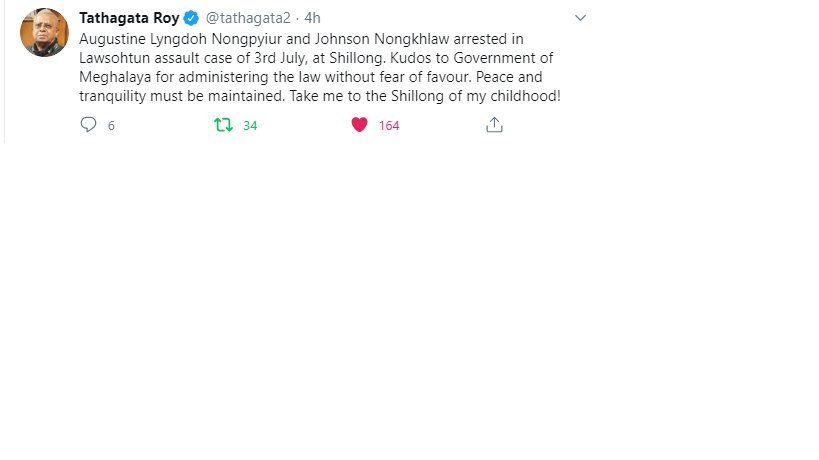 However playing victim does not end. Earlier it was Paul Lyngdoh who tried to play the good citizen by invoking some piece of harmony in history and now this kid, Mayborn Lyngdoh again plays the victim card. They aren't now able to handle the pressure of the social media:
https://www.youthkiawaaz.com/2020/07/an-open-letter-to-the-northeast-tribal-people/
1979, 1987, 2018, 2020…it continues…
*** Shri Tathagata Roy was the Governor of Meghalaya from August 2018 to the end of his term in August 2020.
Also read – https://kreately.in/north-east-diaries-temple-vandalised-in-meghalaya/
DISCLAIMER: The author is solely responsible for the views expressed in this article. The author carries the responsibility for citing and/or licensing of images utilized within the text.