Hindu In Bangladesh Is the Greatest Sin? Part 1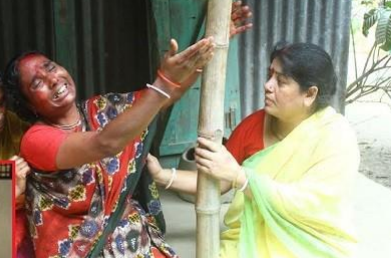 The Hindus in East Pakistan which has now become Bangladesh are facing religious persecution from the hands of Both State and central govt of Bangladesh, goons of political parties like Awami League, BNP, and Islamic Jihadist outfit like Jamat e Islami, Arkan Rohingya solidarity Organisation, Bangladesh Khalifat Majlis, etc who constantly target the Hindu religious minority, the atrocities committed on Bangladeshi Hindus are so brutal and gruesome that even soulless person would think of 100 times before massacring anyone with such a severe magnitude. Hindus in Bangladesh face day to day torture with fear of life and their daughter trembles their heart every moment only because they are Hindu, the temples of Hindus are vandalized, Idols are broken, Hindus shops are looted, their localities are plundered by Jihadi mobsters with local authorities taking a scant notice of complaints of Hindus against the Violence committed on them on the religious line. After the formation of Pakistan, the Hindus in Bangladesh dropped sharply from 31% to 22% in 1951 and it kept on continuously falling from 22% to 18% in 1961 and now it has decreased to 10.7% of the total Bangladeshi Population in 2011, the accounts which are given below are taken from the recently published report of Bangladeshi Govt on conditions of Hindu Minority on Bangladeshi, the report is flooded with the rape Incidents of Hindu girls in Bangladesh but sadly both the international media and local media overlooked the report due to some constraints such as anxious of being called as Islamophobic, Communal, etc, therefore we felt necessary to Highlight the incidents happened against Hindu women so that we can tell to the world how Hindus are reduced to the state of Dhimmis in Bangladesh.
9 Jan 2016: A minority girl was kidnapped by few criminals at Shobarnachar in Noakhali. She is Sumi Rani Mazumdar. Sumi Rani was a college student. Shohag is a Muslim boy. He always followed Sumi Rani in the college path. At last, Shohag gave a proposal to Sumi Rani. She denied the proposal. Sumi informed her parents. Her parents informed the miscreant family member. But Shohag agitated and kidnapped Sumi Rani. Her family tried to find out their lovely girl but they failed. Her mother went to the police station but the police officer did not their case in file. When the Hindu-Budhha- Christian Ayakha parisad helped the family, then police filed the case. It's very heartbreaking, the noticeable criminals are walking surrounding the family but the police did not detain any of them. Criminals always threatened the minority family.
20 Jan 2016: A minority woman was raped in front of her child and husband by an Awami League party leader's younger brother in Habigonj district at Baniyachong Upozala. Sanger is a village of Baniyachong Upozala. The victim minority woman is living in this village. Miscreants Manu Mia also lives in the same village. Continuously, Manu Mia gave a bad proposal to the minority woman. But women did not leak it for social harassment. Manu Mia always searched for an opportunity when the woman to be alone. On 14 January 2016, her husband and the child went to a village fair. In the meantime, Manu went to her house and raped the minority woman forcefully. Then the woman told her husband what did Manu Mia with her. Her husband went to the local people and demand justice. On 16 January, Manu says everything is true in front of the village police and village meeting. Then the village police arrested him. 17 January, his brother Ustar Mia rescued him. Again on 17 January, he and more than 3 miscreants went to the minority woman's house and raped the woman in front of her child and husband.
13 March 2016: Nazmul Sarker, son of Luna Sarkar and Soleman Suman,
son of late Mahabbat Ali with unknown 4/5 criminals of Nishchintapur, Doudkandi, Comilla abducted Popi Rani Mallik from Greenland bus stoppage, Narayanganj at the time of returning home after finishing practical exam at Gonobidyaniketon center. He was an S.S.C candidate of Morgan Girls' High School. About one month has gone after the abduction but she is still not rescued.
March 14: A Hindu girl was gang-raped in Gouripur Union of Theghoria within
Balagonj Sylhet District. This minority girl is 14 years. Muslim boy Hiron and Safique always followed this girl. They searched for an opportunity, at last opportunity has come. One day, Mohammad Hiron Miah and Mohammad Shafique Ali-perpetrators on at night about 9 p.m called Arpona Das for an ill motive. Arpana did not respond, as she was in the toilet, but the perpetrators entered into the toilet of the victim while her mother went to her relative's house outside her house. In this opportunity, perpetrators took her away from the Toilet and brought her in a rook of Mohammad Hiron Meah & raped her one after another.
March 16: Rakhi Rani (Pseudo name) is a Hindu girl. She is now 21 years old. She studies at Edward University College. Her native village Karmaza, at Shatiya Upzila in Pabna district. Sunday, the night a group of miscreants' gang-raped her. They took away forcefully the minority girl from a house. Police and the victim's uncle informed us, Five days long a religious ceremony is going on a Hindu house in Karmaza union. Sunday night, the victim's whole family went to attend this religious program.
March 16: Few miscreants were tired to pick up a Hindu girl. In the meantime, her father
protects her daughter from the miscreants. Agitating miscreants killed the girl's father with sharp weapons at Raghunathpur, Fethullah in Narayangonj.
March 16: A Hindu girl was kidnapped and murdered in Kurigram. Then 6 days later, her dead body was found in the river. One month has gone; even today the autopsy report did not receive her family. Police did not file murder case and general dairy. A powerful group influenced this case. They also threaten the minority family that this family killed their own daughter. If the victim's family gives any case, they will file a case against the victim's poor family.
March 17: A Hindu man was killed by Juba League leader Jabed Shiraj's younger brother
Jamshed Shiraj in Sylhet. His name was Biplab Roy Bikal. His wife's name is Supta. They were lived at Lahari village, Virshanath Upazila in Sylhet. He was killed because he protested a local ex Chatra League leader Jamshed Shiraj leader who always teased Bikal's new wife Supta. Supta was a beautiful woman. Jamshed in various ways teased Supta. Bikal's father name is Bijou Lal. At present, they are living in Majortilla, Vatpara in Sylhet.
March 17: few miscreants were teasing devotees Hindu woman in the temple in Duttakhila village, Kalmakandha Upazila in Netrokona district. In the meantime, miscreants teasing activists were oppressed by the temple authority. Then miscreants anguished and fired in a house in the temple. Local Hindus came to control the fire and one was injured.
March 22: A primary school teacher Monika Saha is kidnapped from Jhiltoli Sonali bank
corner in Faridpur. Kidnappers demanded 10 lakh taka extortion. Last Monday at 5:00 PM, a primary school teacher Monika Saha was kidnapped from Jhiltoli Sonali Bank corner, in Faridpur. Then kidnappers called her husband Baloram Poddar from an unknown number. They demanded 10 lakh taka extortions from her husband.
March 24: A Hindu girl was gang-raped by two Muslims in Tarail, Kishurgaong district.
Jahangir and Khokan Miya raped the girl in front of her father. After the rape, Jahangir and Khokan Miya also threatened this victim Hindu family. The victim's family went to the police station but the police stations did not accept any case against the criminals. Police officer SI Rafiqul Islam Taluqdhar says we didn't listen to any rape incident in the police station.
April 1: For attempting to rape a Hindu female, Mathbariya police station arrest Anwar
Hossein Ripon in Pirojpur district. The victim female's father-in-law Foni Voshan Shil filed a case in Mathbariya police station against Anwar Hossein Ripon. Anwar Hossein Ripon is a son of Motour Rahaman Kazi. They live in Laksna village, Mathbaria Pirozpur district
Apirl 1: An indigenous man was murdered by his wife's teaser Samchur Rahaman. Dipo
Ora'o is an indigenous man. Dipo and his family lived at Binodpur village, Sofapur union, Mohadebpur, in Nagaon district. He is the son of Robi Ora'o. Mohadebpur police station's and OC Shaber Reza Chowdhary confirmed the news. OC says, seriously wounded Debo died in Mohadebpur health complex
April 6: Tandra Rani Debnath (23) a pregnant Hindu woman and a school teacher has been forcibly converted to Islam in Bangladesh, reports minority watchdog Bangladesh Minority Watch (BDMW). The pregnant Hindu woman was abducted by Mohammad Habib (28). Tandra Rani Debnath is the wife of Biswajit Debnath who is a Bank officer. She was kidnapped on 11.03.2016 while she was waiting for a vehicle to go to her father's home at Ataradana seven kilometers away from Ghatail Police station-Tangail District
April 27: A college student Hindu girl, Muri Purakayasta, has been abducted on last Sunday. She lived in Biyanibazar Upazila in Sylhet. Her family claimed, Muri was abducted by miscreants. But police say else. The victim's family informed Muri was a student of Biyanibazar Adharsha Mohila college. She studied in class eleven. On Sunday, Muri went to college. But she didn't come back home. In the afternoon Muri's father went to Biyanibazar police station and filed a general diary. Muri's mother Protima Purakayasta said, we searched for her in her friend's houses but we didn't get her.
May 11: Nupur Rani Sheel is a 12 years minor Hindu School girl abducted by Pre-cadet School Teacher Shidqualla & his associates were accused on 17.12.2015 of rape and forceful conversion to Islam, from Alekjander, Noakhali. After 5 months has gone victim not yet rescued today. Her helpless father Shyamal Chandra Shill is now speechless for losing the only daughter. Those who abducted the Hindu girl are Md. Siddique Ullah @ Russel (25) son of Late Ismail. 2) Md. Joynal (35) son of late Anisul Hoque, 3) Md. Sheikh Farid (30) son of Noor Nabi, 4) Mahafuz Master (37), son of late Shamsuddin, 5)Ms. Nur Jahan (45) son of late Ismail and unknown 5 to 6 others.
May 13: A Hindu girl Bristi Rani is abducted and forcefully converted at Shibgonj Upazila in Bogra District. She was abducted on 8th May 2016. Name of perpetrators: 1) Md. Azizul @Azizul Sheikh (25) son of Md.Anwar Hossain Sheikh. 2) Md. Belal Hossain(27) son of Md. Helal Hossain, 3) Md. Shariful Islam Sheikh (55) son of Noor Nabi, 4) Md. Helal Hossain Sheikh (37), son of late Shamsuddin, 5)Md. Md.Anwar Hossain Sheikh (60) son of 6) Ms.Zaheda Begum (60), 7) Ms. Shirina Khatun (15).
May 21: On 21st May 2016, Few miscreants had gang-raped a Hindu girl at Signboard,
Shidhirgonj, Narayangonj. The victim came from Jhenaidah with her boy friend. Miscreants were tied with a rope of victim boyfriend. People seized a miscreant who is Md. Sakar. The victim's boyfriend said victim parents fixed her marry with an Indian citizen. But she did not agree to marry. Due to she came from her house with her boyfriend. Their destination was Narayangonj. On 20th May, at night 4:00 AM they step onto the signboard bus station. A hotel owner Sagar and his associates Akbar Hossein, Mehadhi Hassan forcefully kidnapped them and forcefully raped hindu girl.
May 22: Mother Mamata Saha asked, her adorable daughter Subarna Saha to commit suicide due to the exceeding pressure of her working place. Subarna was working at 'The Sylhet Khajanchibari International School and college. This school was strictly ruled. Many colleagues didn't like Subarna because Subarna was a cultural activist. For this, she was down in frustrations. A Hindu female dancer allegedly committed suicide by hanging herself with a ceiling fan in the metropolitan city's Kajolshah area on Wednesday night
May 23: a Hindu young man was murdered at Mirzapur village, Kashapur
Union in Jessore. His name was Suman Mondal. On Sunday, Suman Mondal went to an AL party UP election publicity meeting at Mirzapur village. In the meeting, BNP's candidate supporters had killed Suman.
May 27: A Hindu school girl was hacked to death while three other
girls were injured in an attack by a man in Sadar Upazila of
Chapainawabganj on Friday morning. The deceased Konika Rani Ghosh, a class X student, was hacked indiscriminately in front of Mahipur Community Clinic in the Upazila. Local people caught the culprit Abdul Malek and handed him over to
police.
DISCLAIMER: The author is solely responsible for the views expressed in this article. The author carries the responsibility for citing and/or licensing of images utilized within the text.