Why does Farooq Abdullah "love" Kashmiri Hindus?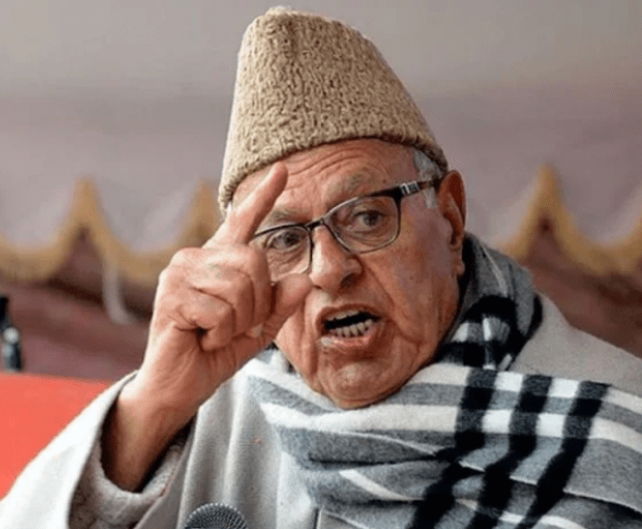 Is Farooq Abdullah wishing for another Kashmiri Pandit genocide which happened during his days of power ? Is he wishing the death of other Kashmiri Pandits too who by the grace of Mahadev were able to save their precious lives ?
Farooq Abdullah, the leader of the National Conference, sparked a debate today with his words in response to the death of a female teacher in the Kulgam area of Jammu and Kashmir. Terrorists opened fire on a Hindu school teacher in the Gopalpora region on Tuesday, and she later died of her injuries in the hospital. When Farooq Abdullah was asked about the unfortunate incident he replied "Abhi maare jaenge sab (all will be killed now)."
Another Hindu had to give up her life because of the creature called Islam. On 31st of May, a Hindu woman teacher has been shot dead by Islamists in Jammu and Kashmir's Kulgam district for her faith. Ahead of Amarnath Yatra, another Hindu has been killed by Islamists just three weeks after Kashmiri Hindu Rahul Bhat was killed. Will we see the IITian, honest, Aam Aadmi Chief Minister of Delhi, Arvind Kejriwal giving a humourous and rational speech at the parliament mocking the death of Rajni Bala ?
The Govt teacher who had to give her life is being recognised as Rajni Bala. Rajni Bala hails from Samba in Jammu. She was a teacher for last 5 years, staying at Kulgam town, South Kashmir but used to travel everyday to interiors of Gopalpora to teach which is 10kms away.
Kashmir Zone Police said "Terrorists fired upon a woman teacher at High School Gopalpora area of Kulgam. In this terror incident, she received critical gunshot injuries, being shifted to hospital. Area has been cordoned off. Further details shall follow. Injured woman teacher, a Hindu & resident of Samba (Jammu division) succumbed to her injuries. Terrorists involved in this gruesome terror crime will be soon identified & neutralised,".
The narrative of Naya Kashmir seems facade. Until and unless the demographics of Kashmir is not made to change no positive change could be witnessed in the valley.
DISCLAIMER: The author is solely responsible for the views expressed in this article. The author carries the responsibility for citing and/or licensing of images utilized within the text.