Jaish Ul Hind Claims Responsibilty For Bomb Blast Near Isreali Embassy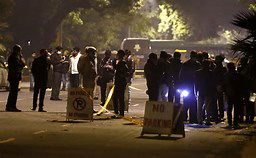 On Friday, at 5 pm in the evening, a low intensity IED blast took place near Israel Embassy in the heart of Lutyens' Delhi. Though some cars window panes were damaged, fortunately, no one was injured in the incident.
Notably, the blast coincided with the anniversary of India and Israel establishing full diplomatic relations on January 29, 1992.
In social media today a statement of Jaish-ul-Hind has claimed responsibility for the blast near the Israeli Embassy in Delhi.
Agencies have found a Telegram Chat of a suspected channel in which Jaish-Ul-Hind has taken responsibility.
The social media Chat reads as follws: –
"By the grace and help of Allah, soldiers of the Jaish -Ul-Hind were able to infiltrate a high security area in Delhi and carry out an IED attack. This Allah willing is the beginning of the series of attacks which would target major Indian cities and pay back in kind to the atrocities committed by the Indian State. Wait and we too are waiting."
The exact social media post of Jaish-Ul- Hind is posted below:
Notably, the Israeli officials from the beginning treated it as a suspected terror attack, Delhi Police promptly handed over the probe of the incident to anti-terror cell. Mossad is co-ordinating with Indian agencies in the investigations and an FIR has been lodged under the Explosives Act.
Islamic Jihadi Terrorist organizations could be taking advantage of the chaos and violence created in the country under the garb of protests against the beneficial Farms Laws enacted by the Modi government. Pertinently, the NIA and other probe agencies had earlier found evidence of Pakistani ISI propped Khalistani funding to the so-called farmer protest.
DISCLAIMER: The author is solely responsible for the views expressed in this article. The author carries the responsibility for citing and/or licensing of images utilized within the text.