Jihadi Love (Of Page-3 Celebrities)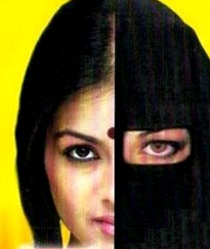 Love Jihad is the term used when a muslim deceives & traps a kafir women (mostly Hindu) in his fake love as a part of his duty (jihad) towards Islam for demographical change of relatively increasing Islamic population for achieving Ghazwa-e-Hind (Islamizing Bharat). By going for Hindu girls (note that a muslim can have upto 4 wives and our Indian Constitution allows it!!), one potential Hindu family is virtually lessened in number as the girl no longer would marry and make family in Hindu society; plus the shift here is in favour of Islam.
In other words, Hindu–, Islam++ !
Though Love Jihad has been observed in Bollywood, there has also been Jihadi Love in showbiz (Bollywood, Cricket, Political circles) wherein a more confident muslim lady marries a kafir and sets the tone of the family. Here's the list.
In either case of Love-Jihad or Jihadi-Love, the mindset of the new family (assuming happy ones) is mostly drifting towards Islam or atleast remain anti-Hindu in nature as is observed in showbiz due to its gradual Islamization.
Actor Sunil Dutt married Nargis, a Muslim. Their son Sanjay is now married to Dilnawaz Sheikh (screen name Manyata).
Actor Hritik Roshan married Suzanne Khan, daughter of actor Sanjay Khan (Actual name Abbas Khan).
Actor Atul Agnihotri married Alvira Khan, actor Salman Khan's Sister and Salim Khan's daughter.
Actor Feroz Khan's daughter Laila Khan Rajpal married Rohit Rajpal.
Urdu author Krishan Chander married Salma Siddiqui.
One of the three daughters of politician Najma Heptullah (niece of Maulana Abul Kalam Azad) is married to a Hindu.
Former Sheriff of Mumbai, Nana Chudasama is a Hindu Gujarati Rajput married Munaira Jasdanvala, a Muslim . They have two children- Akshay and Shaina, both of whom are married to Hindus. Shaina (popularly known as Shaina NC) is national spokesperson BJP .
Actor Sanjay Khan's daughter Simone Khan is married to Ajay Arora (and other daughter Suzanne to Hritik Roshan)
Actor Aditya Pancholi is married to actor Zarina Wahab.
Cricketer Ajit Agarkar, a Maharashtrian Brahmin, is married to Fatima Ghadially.
Actor Sunil Shetty is married to Mana Qadri, daughter of a reputed Muslim architect of Mumbai.
Congress MP Sachin Pilot, son of Late Rajesh Pilot is married to Sarah Abdullah, Daughter of Former J&K Chief Minister Farooq Abdullah.
Actor Govinda's father, small time actor Arun Ahuja married Nazeem, later known as Nirmala Devi (Govinda's mother).
Zubeida, a Muslim girl from a prominent Mumbai family was pushed into marrying a Muslim youth in 1947. The husband divorced her when she refused to migrate to Pakistan with him. She later married Hanuwant Singh, the then Maharaja of Jodhpur. Both later died in an unexplained air crash. She was the mother of film critic-turned director Khalid Mohammed ('Fizaa', 'Tehzeeb', 'Silsilay'). Khalid wrote the script of film 'Zubeida' which was directed by Shyam Benegal with Karishma Kapur in the title role.
Director/Choreographer Farah Khan married director-editor Shirish Kunder.
Gangster turned Politician Arun Gawli from Mumbai married a Muslim lady named Ayesha who later took up the name Asha.
Manoj Bajpai married actor Shabana Raza whose screen name was Neha. She made her debut in Vidhu Vinod Chopra's 'Kareeb' opposite Bobby Deol.
Nayyara Mirza, Miss India finalist of 1967, was the first Muslim to participate in the pageant. She converted to Hinduism after marriage and became Nalini Patel. She is settled in the USA.
Noted English writer Anil Dharkar is married to Imtiaz, a Pakistani Muslim. Their daughter Ayesha is an actor who came to limelight with Santosh Sivan's film 'The Terrorist' where she played a suicide bomber.
Legendary actor Waheeda Rahman married Shashi Rekhi, the Punjabi Hindu actor who acted opposite her in the film 'Shagun'. (His screen name was Kamaljeet).
Choreographer Saroj Khan got married at young age to bollywood dance master B Sohanlal. They had 2 kids, Kuku and Choreographer Raju Khan (also director of the film 'Showbiz').
Raj Babbar married stage actress Nadira Zaheer, daughter of Communist parents.
Actress – activist Nafisa Ali, a former Miss India, is married to Colonel (retired) Sodhi, a Sikh .
Hindi writer Nasira Sharma is a Muslim married to a Hindu.
Yesteryear's actor Mumtaz married Mayur Madhvani, a businessman.
Mumtaz's sister, Mallika married Dara Singh's brother, Randhawa who featured in many stunt films of 60s.
The ex Naval Chief Admiral Vishnu Bhagwat is married to Niloufer .
Actor -singer Kishore Kumar married Madhubala (real name Mumtaz Begum) in 1960.
Madhubala's sister Zahida married music director Brij Bhushan Sahni .
Sir VS Naipaul, Trinidad based writer of International reputation, is a Hindu (of Indian origin) married to a Pakistani Muslim called Nadia.
Actor Asha Parekh's father was a Gujarati Hindu and mother, a Muslim.
The niece of actor Raza Murad, Sonam (actual name Bakhtawar), best known as the 'Tridev' girl, married Rajeev Rai, producer and director of that film.
Maharashtra politician Late Hamid Dalwai's daughter married Sharad Chavan.
Yesteryear's actor Rehana Sultan, known for her bold, controversial films like 'Chetna' and 'Dastak' in late 70s, married producer – director B R Ishara, a Hindu.
Veteran actress Zohra Sehgal (originally Khan) married Late Kamaleshwar Nath Sehgal.
TV Actress Tasneem Sheikh is married to builder Sameer Nerurkar. Her post-mariage name is Tanisha Nerurkar.
Pakistani actress Anita Ayub who appeared in some films in 90s, got married to Saumil Patel and is now settled in USA.
Congress MP from Assam, Rani Narah was originally Jahan Ara Chaudhary before she married Politician Bharat Chandra Narah and converted to Hinduism.
Filmmaker Tinu Anand (Also known as Virender Raj Anand, director of 'Shahanshah') is married to actress Shahnaz (sister of actor Jalal Agha. Acted in 'Saat Hindustani').
Roshan Ara, Daughter of Ustad Allauddin Khan married Ustad Ravi Shankar and became the famous Sitar Player Annapurna Devi.
Ghazal singer Pankaj Udhas is married to Fareeda.
Yesteryear's actress Zahida (Hussain) who acted opposite Dev Anand in 'Gambler' and 'Prem Pujari' and opposite Sanjeev Kumar in 'Anokhi Raat', married Mr KN Sahay. She is actor Sanjay Dutt's cousin.
Actor Nirmal Pandey was married to Kausar Munir, a lyricist in Bollywood.
Actress Tabassum known for her TV show 'Phool Khile Hai Gulshan Gulshan' on DD is the daughter of Ayodhyanath and Asghari. She is married to Vijay, brother of actor Arun Govil (Lord Ram of TV Serial 'Ramayan').
Model Feroze Gujral is the daughter of a Christian father, George and a Muslim mother, Viqar. She is married to Mohit, son of painter Satish Gujral.
Filmmaker Hansal Mehta (Woodstock Villa, Chhal, Yeh Kya Ho Raha Hai) is married to Safina, daughter of actor Yusuf Hussain who does supporting roles in bollywood.
Theatre actress Ayesha Raza is married to actor Kumud Mishra.
Iconic bollywood villain Ranjeet (Bedi) is married to Nazneen.
'Raam Teri Ganga Maili' star Mandakini (real name Yasmeen) was born to a Christian father and a Muslim mother. She is married to one Dr Thakur -nepali Hindu settled in Mumbai .
Cricketer Manoj Prabhakar is married to Farheen, an actress who was seen in a few films in the 90s and was noted for her resemblance to Madhuri Dixit.
World-famous beauty expert and entrepreneur Shahnaz Husain is married to a Hindu businessman RK Puri.
News anchor Sehar Zaman (presently with CNN IBN) is married to writer Dhiraj Singh.
Mamata Banerjee's father (Promileswar Banerjee) married a muslim women who kept crypto name (as Gayatri Devi). Mamata's father died when she was 12, and was strongly influenced by her mother – the results are all visible.
DISCLAIMER: The author is solely responsible for the views expressed in this article. The author carries the responsibility for citing and/or licensing of images utilized within the text.