Kashmiri Pandits are being killed for liking Breaking Bad more than Game Of Thrones !!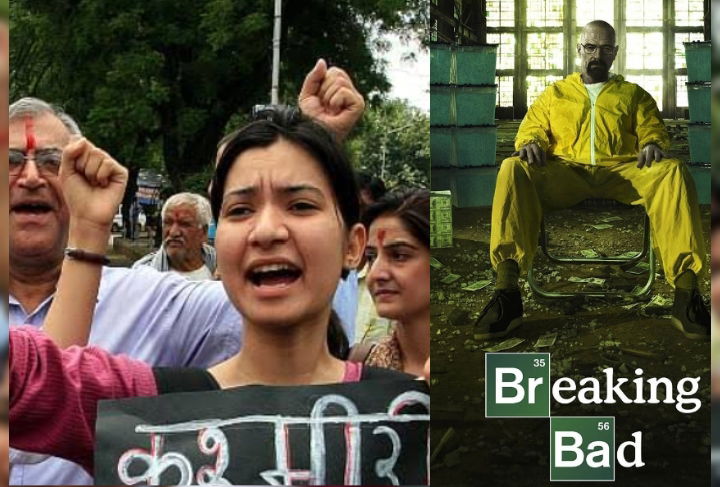 Walter White aka Heisenberg was involved in the drug business and used to trade blue-meth which is harmful for the society and Kashmiri Pandits as a community was a fan of such character and therefore Muslims in Kashmir came up to teach them a lesson. Also Kashmiri Pandits liked Breaking Bad as a series more than Game Of Thrones which Kashmiri Muslims loved and this was also one of the reasons why Kashmiri Muslims opened fire at the community. The whole whole of Breaking Bad revolves around Walter White aka Heisenberg and Pinkman whereas Game of thrones has many characters involved which gives a signal of Kashmiri Pandits as a community being exclusive and Kashmiri Muslims being inclusive in Nature. May God pour his blessings upon Lieutenant Governor Manoj Sinha for bringing out the truth that Kashmiri Pandits are not being killed for their religion and we must stop seeing the killings of Kashmiri Pandits on the basis of Religion. Also it must be noted that the Islamists checked the Aadhar Card of the Hindus to check whether someone had birthday on 1st of January so that they will free the individual as a gift.
But some bigoted, Islamophobic Hindus are trying tooth and nail to give a different turn to the whole story. According to Islamophobes, On Sunday, January 1, 2023 . At around 7 pm, two Islamists made their intruded into three houses which belonged to Hindu community and opened fire at them. Islamists first confirmed the identity of the victims, through their Aadhaar cards and after identifying them as Hindus they took their lives. The unfortunate event took place in the Dangri village near Jammu's Rajouri district.
DISCLAIMER: The author is solely responsible for the views expressed in this article. The author carries the responsibility for citing and/or licensing of images utilized within the text.