Khudiram Bose, the youngest freedom fighter.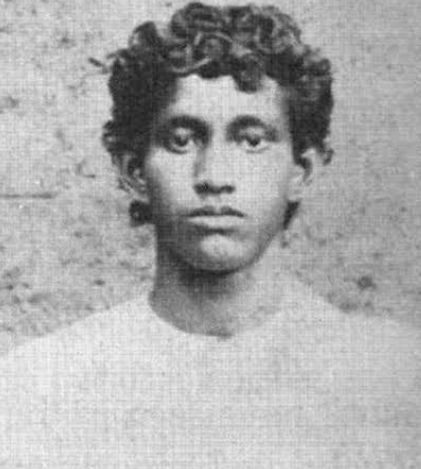 Khudiram Bose one of the youngest martyrs of the freedom struggle at the age of 18, whose sacrifice gave an impetus to the freedom movement.
Credit – @sadaashree
Thread on his Jayanti today.
Khudiram Bose, one of the youngest martyrs in the struggle for freedom, born on December 3, 1889 in a small village, Habibpur near Midnapore. His father Trailokyanath Basu was the revenue agent for Nadazol province.
As he was the only son, two others dying in infancy, his mother Lakshmipriya Devi, as per the prevailing custom, symbolically sold him to her eldest daughter Apurupa for 3 handfuls of "Khud" or foodgrain.
This in a way gave him his name, and he was later bought up by his eldest sister, after his parents passed away when he was just 6 years old. He was admitted to the Hamilton High School in Tamluk by his brother in law Amritalal Roy.
Even before reaching adolescence, he had the reputation of being a dare devil rebel. The speeches of Aurobindo and Bhagini Nivedita, in 1902 and 1903, when they visited Midnapore, fired him up with a burning desire to join the revolutionary activities, when he was just 12.
When his brother in law was transferred to Midnapore, he enrolled at the Medinipur Collegiate School, and that proved to be a turning point in his life. He became part of the akhara that was active in socio political sphere. #khudirambose
Angered by Lord Curzon's decision to partition Bengal in 1905, he was one of the many who got caught up in the revolutionary fervor and joined the Jugantar, headed by Bhupendranath Datta who was none other than the youngest brother of Swami Vivekananda. #khudirambose
Douglas Kingsford, the chief Magistrate of Alipore's Presidency court, was the one who ruthlessly targeted Jugantar Patrika, had overseen the trial of it's editor Bhupendranath Datta and sent him to prison.
Kingsford earned more ire, when he ordered a young revolutionary Sushil Sen to be flogged in public. He now became the target of the revolutionaries.
In the meantime one of Barindra Ghosh's associates Hem Chandra Kanungo, had learnt about bomb making from the Russian revolutionary Nicholas Safranski in Paris, and he returned back to assist the other rebels.
The first attempt was made on Kingsford was through a book bomb that Hemchandra had made, packed into a section of Herbert Broom's book Commentaries on Law ironically.
However he narrowly managed to escape the attempt, and was transferred to Muzaffarpur by March 1908, to keep him out of danger. However the Anushilan Samiti, tracked him to Muzaffarpur, sending a two man reconnaisance team, that included another revolutionary Prafulla Chaki.
Hemchandra once again provided a larger bomb, with 6 oz of dynamite, and this time Khudiram Bose accompanied Prafulla to Muzaffarpur. By now the police suspicious of the Anushilan Samiti activities, began to track their movements, and the Kolkata police alerted the SP there.
Four men were assigned to guard Kingsford's home, while Khudiram and Prafulla Chaki, taking up the aliases of Haren Sarkar and Dinesh Chandra Roy, took residence in a dharamshala in Muzaffarpur run by Kishorimohan Bandopadhyaya.
After closely tracking the movements of Kingsford, over the next couple of days, they were ready to execute their plans, and choose the evening of April 29.
They began to survey the park opposite the British club in Muzaffarpur where Kingsford was a regular visitor, and were promptly noticed by a constable. However they managed to evade the police and intelligence officials for over 2 weeks.#khudirambose
April 30, 1908, 8:30 PM
Kingsford finished his bridge game at the club, and left in a horse drawn carriage. However in another identical carriage, the wife and daughter of Pringle Kennedy, a leading lawyer of Muzaffarpur had left earlier.
And both Prafulla, Khudiram mistook this one to be that of Kingsford's. As the carriage neared the home of Kingsford, they ran towards it and threw the bombs. It was a terrible explosion destroying the carriage. Both mother and daughter later died due to injuries.
By now the entire town was agog with the news of the attack, and the police were on full alert. Khudiram made his escape through the countryside on foot, and after walking non stop for 40 km, he reached a station called Waini on May 1, 1908 morning, exhausted and tired.
His appearance immediately alerted two constables Fateh Singh and Sheo Pershad Singh, and when he asked for some water, he was caught. The frail Khudiram had no chance against the two burly constables, and his struggle to escape was in vain. #khudirambose
37 rounds of ammunition, a railway map, Rs 30 in cash was found, his fate was sealed. Meanwhile Prafulla Chaki after trudging around the countryside, was totally exhausted that too in the peak of summer. #khudirambose
A Government official Trigunacharan Ghosh, noticing him totally exhausted, suspected he was the same one involved in the Muzaffarpur incident. He however took pity on him, took him home, gave him some food and clothes, a bath and arranged for his safe return to Kolkata.
However destiny played a cruel trick here, in the same compartment in which he was travelling, a SI, Nandalal Banerjee was also travelling, in normal clothes. Suspecting him of involvement in the Muzaffarpur incident, he struck up a conversation with him.
Unaware of his identity Prafulla shared all the details to the inspector. He immediately sent a telegram to Muzaffarpur police station to arrest him. #khudirambose
When Prafulla was about to disembark at Mokamghat station to change to Howrah, he saw Nandalal along with a group of police ought to arrest him. Realizing he had been led into a trap, and had no chance to fight them, he attempted to escape and shot himself.
May 1, 1908- The handcuffed Khudiram Bose was bought to Muzaffarpur, where the entire town turned up to see him. He was taken to the house of the DM, Mr.Woodman, and not knowing that Prafulla was dead, took the entire responsbility of the operation upon himself.
Two fellow Indians, Nathuni Prasad and Janak Prasad, were appointed as members of the jury, while Corndoff was the Judge. While Mannuk and Binodbihari Majumdar were the prosecutors, eminent lawyers like Kalidas Basu, Upendranath Sen took up #khudirambose defense.
They were joined later by other lawyers like Kulkamal Sen, Nagendra Lal Lahiri and Satischandra Chakraborty, not one of them took up any fees. All these lawyers stood up for #khudirambose , and the nation.
Khudiram was forced to sign a statement to the magistrate E.W. Bredhowd, denying any involvement or responsibility in the attack, on the advice of his lawyers.
However just on June 13, an anonymous letter that one more bomb attack was due and this time it would be the Biharis who will carry out the plan. And this influenced the Judge to pronounce the death sentence on Khudiram.
All the efforts of his lawyers to save him, were in vain. Khudiram just smiled in response, leaving the Judge astounded, who asked him if he knew what it meant. #khudirambose
Though Khudiram, was prepared for his death sentence, his defense lawyers persuaded him to file an appeal to commute it to life imprisonment. The High Court hearing once again took place on July 8, and this time it was Narendra Kumar Basu who came to Khudiram's defense.
By now he had become a hero for the entire country, and the trial fired up the nation. Narendra challenged the verdict on the following grounds, as per Article 164 of IPC, the accused had to submit his statement in front of a first class magistrate which Woodman was not.
He also pointed out that the accused was not questioned in his native language, Bengali, which was a violation of Art 364. Finally he contended that since Prafulla Chaki was the actual bomb thrower, and the one who committed suicide, Khudiram was only an accomplice.
Sadly on 13th July, 1908, inspite of Narendra Kumar's best efforts, the Judges conferred the death penalty on Khudiram Bose. Even a request to the Governor General was turned down, and his hanging was confirmed for August 11, 1908.
Kolkata erupted in protest, especially the students and youth taking to the streets, against the hanging. Predictably Mahatma Gandhi did not approve of Khudiram Bose's act, stating such violent methods are of no use.
August 11, 1908, 6 AM. Crowds swelled around the prison to have a last glimpse of Khudiram Bose, his close associate Upendranath Sen, a lawyer and journalist, was at the front, to make all the funeral arrangements.
Khudiram walked to the gallows with a smile on his face, and as the noose fell around his neck, one more brave hero, had given up his life for the sake of India's independence. #khudirambose
Neither the Jubilee murder of 1897, nor the reported tampering of the Sikh regiments had produced so much commotion, and the English public opinion seems inclined to regard birth of the bomb in India at the most extraordinary event since the mutiny at 1857.- Tilak in Kesari.
#khudirambose sacrifice did not go in vain, it only intensified the revolutionary movement more. Many a revolutionary was inspired by him. Tilak propagated his sacrifice in Kesari to inculcate nationalism among youth. #Naman and thanks for following this long thread patiently.
Credit – @sadaashree
DISCLAIMER: The author is solely responsible for the views expressed in this article. The author carries the responsibility for citing and/or licensing of images utilized within the text.