Lies, damned lies, outright lies and DMK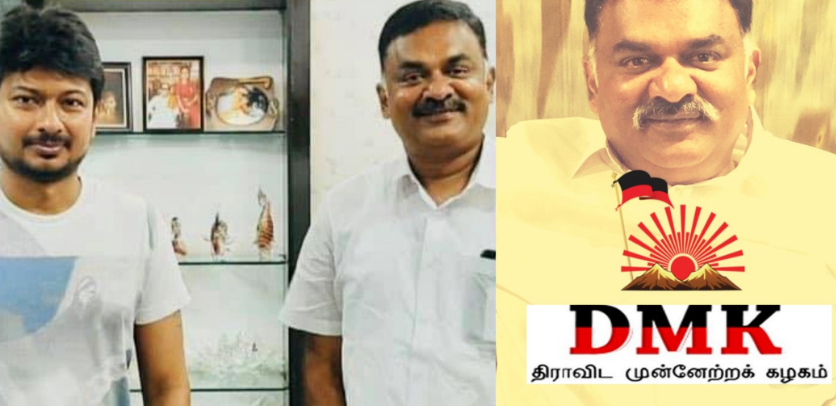 Many who come across as 'social activists' today, seem to be agents of the DMK. They emerge either as tacit supporters of the party by masquerading as 'social activists' or they are very open about it. Then there are the likes of Karthikeya Sivasenapathy who lie through their teeth for their survival.
The Jallikattu protest which started as a student led protest against PETA was hijacked by this man for his own popularity. He portrayed himself as the saviour of Jallikattu and has since then become a prominent face gaining some youngsters as followers on social media.
Since then he is known for eulogizing the most corrupt party of Tamil Nadu – the DMK, while positioning himself as someone not affiliated with the party.
However, his cloak dropped off when he tried to act smart on Twitter while responding to Tamil Nadu BJP Vice President and former IPS officer K. Annamalai. Just a few days before that, he had called on DMK chief MK Stalin's son and the party's youth wing secretary 'actor' Udhayanidhi Stalin, probably to pitch himself as a probable MLA candidate.
After Dharmapuri DMK MP Senthilkumar backed off from an open debate with Annamalai citing parliament session as a reason, Karthikeya Sivasenapathy jumped-in in an attempt to save the DMK's face. In a Tamil Youtube channel started by Senthil, one of the expelled news anchors from News 18 Tamil Nadu, Sivasenapathy had challenged for a debate with Annamalai. However, Annamalai had politely declined saying that he was looking forward to engage with a member who wants to represent people and work for the state.
To this, Sivasenapathy had tweeted to Annamalai that if the latter could arrange a debate between him and Prime Minister Modi, he would be obliged to arrange the same with 'his party leader' and Annamalai. He also added that he was a DMK member since 1996.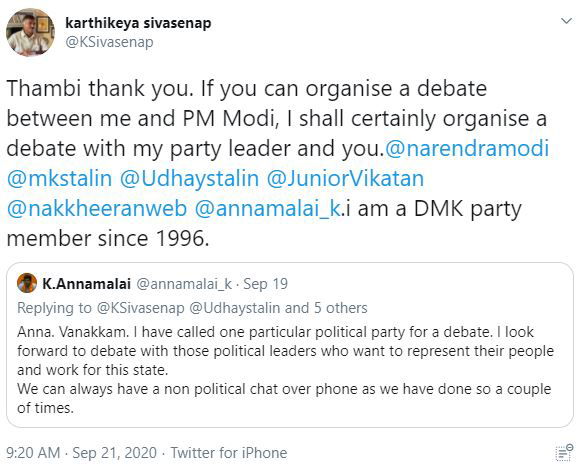 So, when the Jallikattu protest happened in which Tamil Nadu youngsters had barred all political parties from participating, this man like a fox clandestinely entered the scene hiding about his DMK affiliation and hijacked the protest to spread anti-Modi and anti-AIADMK rhetoric when both these parties had nothing to do with the ban of the sport whatsoever.
Recently, he posted about the state of Tamil Nadu's economy on his twitter page. The information he shared does not even have an iota of truth. Knowing that the evidence could not be given if asked, he released the fake data, graphs and concepts handed over by DMK's new master I-PAC.
Also, the post was ditto copied from the tweet of Suresh Sambandam who has become the DMK's new poster boy after his interview with Neeya Naana Gopinath became viral.
However, netizens were quick enough to point out that the data and information shared were nothing but outright lies.
A person named Purushothaman has researched the information given on the official website of the Government of India and proved with evidence that whatever has been peddled by these two people is nothing but lie.
Tamil Nadu has always been ahead of rest of the country for a long time in history. Especially during the British period, the development of Tamil Nadu (then Madras Presidency which included Andhra, parts of Karnataka, Kerala and extended upto Odisha) was as good as that of Bombay and Bengal Presidencies. But DMK sympathizers who are good at telling stories portray as if the state owes its growth to DMK.
Here are few numbers to put things in perspective.
The DMK sympathizers claim that the GDP of Tamil Nadu had grown from $0.34 billion in 1970 to $260 billion today, 764 times, while India grew only 47 times from $62 billion to $2.9 trillion. However, this is a totally flawed comparison. If in 1970 Tamil Nadu GDP was $0.34 billion and India's GDP was $62 billion, Tamil Nadu's share in Indian GDP turns out to be only 0.5% which cannot be the case.
Official statistics available with the Government of India show that in 1970-71, India's GDP (at factor cost) was ₹44382 crores, while Tamil Nadu's GDP was ₹2371 crores i.e., Tamil Nadu contributed 5.3% to India's GDP.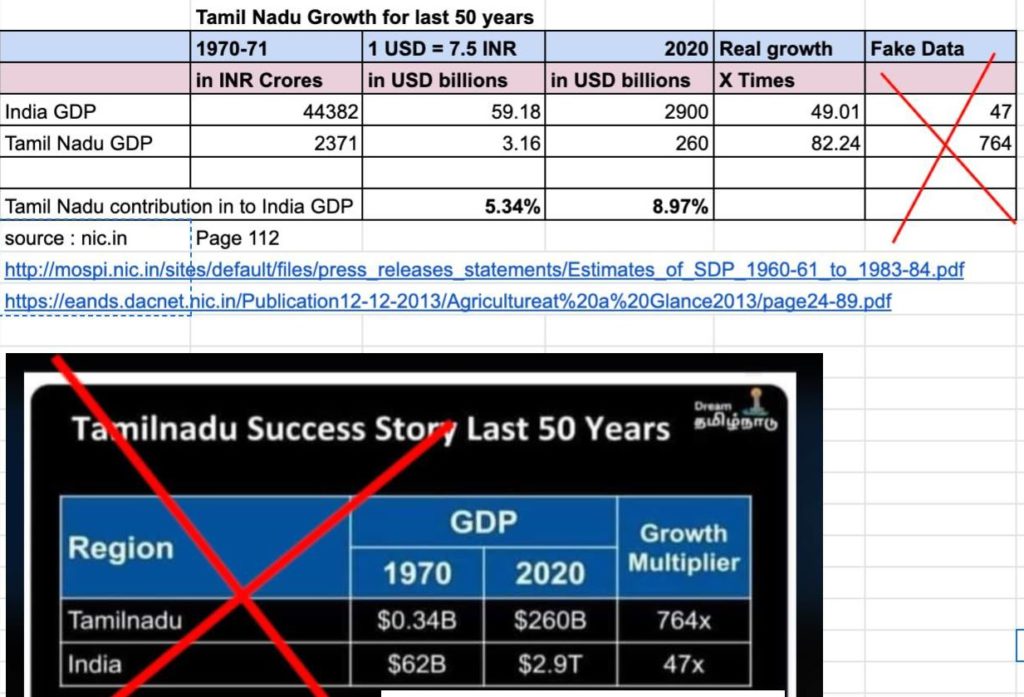 Suresh has cleverly/ignorantly taken Tamil Nadu's GDP at factor cost and India's GDP at nominal value to draw comparisons. It is basic economics knowledge that one cannot compare GDP at factor cost with nominal GDP. (Once again, Mr. Suresh proves that he is a certified Murasoli reader.)
So, in essence, during the first 15 years of DMK rule, Bihar's growth rate was slightly higher than that of Tamil Nadu. This seems to have continued until 2000.
So as it turns out, during the first 15 years of DMK rule, Bihar's growth rate was slightly higher than that of Tamil Nadu. This seems to have continued until 2000.
The growth of Tamil Nadu post the 1990s has been due to the liberalization, privatization and globalisation reforms brought about by the Narasimha Rao government at the Centre. Thankfully, the state was when India was liberalized the state was governed by AIADMK supremo J. Jayalalithaa.
Seen in that light, all the southern states have grown since liberalization. The development of Tamil Nadu should not always be compared with other northern states simply because the southern states have had a geographical (coastline) and historical advantage. It is good that we serve as a benchmark for several states. But one should not boast about oneself and demean the efforts of others. Tamil Nadu should be looking up European and Scandinavian countries and not look back to see how far we are ahead of other states.
It is not to say that nothing happened during the DMK rule. Yes, every government had contributed its fair share to the state's prosperity. But to say that Tamil Nadu owes its development to one party and one leader who was known for scientific corruption is just humbug.
DISCLAIMER: The author is solely responsible for the views expressed in this article. The author carries the responsibility for citing and/or licensing of images utilized within the text.