Love Jihad is Real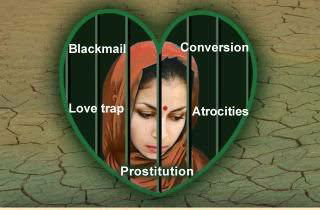 Forum of Catholic bishops in Kerala has accused that scores of Christian women in Kerala are being lured by the IS through 'Love Jihad' and accused the police of not taking effective actions against it.
The synod of Syro-Malabar Church headed by Cardinal George Alencherry made the statement.
The Syro-Malabar Church's statement pointed out that out of the 21 people from Kerala recruited to IS a couple of years back, almost half were converted from the Christian community. "It is a reality that 'Love Jihad' is happening in Kerala in a planned manner targeting Christian girls. Christian girls are killed in the name of Love Jihad", said the statement.
"Love Jihad", also known as "Romeo Jihad" in some countries, is a strategy of luring vulnerable girls to convert to Islam by feigned love. Instead of genuine marital bliss, these girls get trapped in a web of deceit and frequently end up in the hands of Islamic extremist organizations
In 2009, Kerala High Court confirmed the signs of "love jihad"; the court's statement mentioned the following observations –
during the last four years, 3,000 to 4,000 religious conversions have taken place after love affairs
involving converting girls from other religions to Islam after enticing them to marry Muslim boys
police reports indicated a 'concerted' effort to convert girls of a particular religion to another with the 'blessings of some outfits'
fundamentalist outfits like National Democratic Front (NDF) and Campus Front have roots in college campuses in various cities
there were indications of "forceful" religious conversions under the guise of "love", the Kerala State High Court recommended the government to consider enacting a law to prohibit such "deceptive" acts
In 2016, the National Investigation Agency (NIA) had also confirmed that there's a pattern to convert Hindu girls and get them married to Muslim men.
Nimisha alias Farima and Ayesha alias Sonia Sebastin were both trapped and forcibly converted to Islam. They were then tricked into marriage and later taken to Afghanistan to join the Islamic State. It may be recalled that 21 had left for Afghanistan from Kerala in one batch.
Some have been killed in airstrikes while others have surrendered. They are now seeking the help of the Indian government to return home. Farima during her questioning at a Kabul jail spoke about Love Jihad. She felt that it was a conspiracy that was backed by Pakistan to trap girls and convert them. The larger plan is to trap girls and then recruit them into the Islamic State.
Nimisha was converted to Islam three years ago. She then got married and when she was in the seventh month of her pregnancy, she left for Afghanistan. She was told that they would lead a truly Islamic life and every true Muslim must join hands in establishing the Caliphate.
During her questioning she also said that, while it was told that they would lead a religious life, in reality, they were being urged to train for Jihad
Love Jihad is an Indian name to Romeo Jihad that was being practiced in UK, other European countries and even the Americas. 'The love jihad's modus operandi involves a heartless strategy of luring vulnerable girls and young women to convert to Islam by feigned love and promises of marriage. But instead of marital bliss, the girls unwittingly get trapped in its deceitful web and usually wind up in the hands of Muslim fundamentalist organizations'.
It is mostly used against Sikhs & Hindu girls in western countries. The method was exposed when the book 'Why we left Islam' was published in 2008. It contained lot of testimonies that detailed the modus operandi of Romeo Jihad.
Demographic goals have always been a part of the Islamic discourse. However, the goal acquired urgency for a terror-group like IS which needed more fighters. Love/Sex Jihad, therefore, became intertwined with terrorism.
The Islamic State also took the Yazidi women as sex slaves – justifying it by saying that they were kafirs. The IS bought and sold them, passed them around to be raped by the fighters, as well as produce children who would be future fighters.
The infamous Muslim Grooming Gangs in Britain also revealed the selective targeting of non-Muslim young girls. Last year, the Sikh Mediation and Rehabilitation Team Charity made public a report saying that the Muslim gang members have been systematically targeting Sikh girls of Indian background, for almost 50 years!
The report stated that the the girls would be lured by "fashionably dressed Pakistani men pretending a modern outlook. They would roam around in flamboyant vehicles in areas and schools with predominantly Sikh population".
In Shahan Sha A vs State Of Kerala, the High Court said that there was a "concerted effort" to convert girls of other religions to Islam and marry them off to Muslim men. The role of the organisation Popular Front of India (PFI) came out in the case.
The court noted that there had been 3,000-4,000 such conversions in the past four years, and it was clear there was a concerted effort to convert girls of a particular religion to another with the 'blessings of some outfits'.
In 2010, a Marxist leader of Kerala defied his own party line over 'Love Jihad'. CPM member V S Achuthanandan, the then Chief Minister of Kerala, told the press in Delhi that the PFI was indulging in divisive activities with the aim of "turning Kerala into a Muslim majority state.
Several courageous women victims of Love Jihad have come forward with their stories.
Their horrifying experiences include being deceived into a relationship/marriage by a boy disguised under a Hindu name, who only revealed later that he is a Muslim and forced the woman to convert.
The phenomena of Love Jihad has deeper historical roots and ideological motivations that need to be uncovered and understood.
DISCLAIMER: The author is solely responsible for the views expressed in this article. The author carries the responsibility for citing and/or licensing of images utilized within the text.