Maruti Grand Vitara vs Volkswagen Tiguan Comparison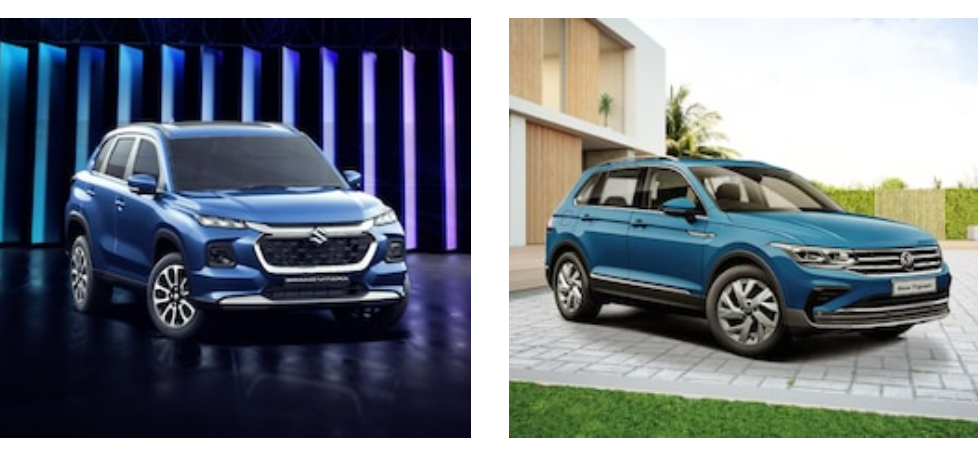 Welcome to the SUV war!
Today we are comparing two strong contenders from the SUV segment: Maruti Grand Vitara and Volkswagen Tiguan. Both models are much loved by motor enthusiasts due to their performance, looks, and road presence. It is a difficult task to pick the best one between the two. Still, we are trying to offer you some insight into the specifications, subtle characteristics, and unique features. To help you choose the right car for you.
If we begin with the comparison of prices, Grand Vitara price in Kerala is much less than that of Tiguan.
So, those considering only the financial aspect can go straightway to the Maruti Suzuki dealers in Kannur, Kochi, Trivandrum, or any other location in the state.
Let's go directly into Maruti Suzuki Grand Vitara and Volkswagen Tiguan comparison.
Basic Pros and Cons of Grand Vitara and Tiguan
A broad comparison between Maruti Grand Vitara and Volkswagen Tiguan would reveal the basic pros and cons of each car.
Maruti Suzuki Grand Vitara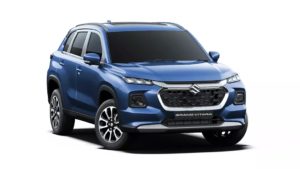 Pros
Affordable compared to other models in the segment
Spacious enough to offer adequate room even for a big family
Maruti Suzuki's after-sales support
Feature-rich car at this price range
Cons
Engine of a higher power could have been better
Safety features need to be enhanced
Volkswagen Tiguan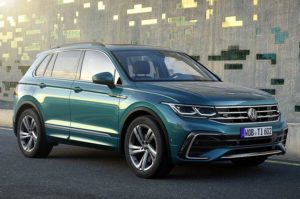 Pros
A compactly designed car with enough room inside
Easy to handle
Powerful engine
Cons
It may not offer a smooth drive
Lumpy power transmission is a minus
Maruti Suzuki Grand Vitara vs Volkswagen Tiguan: Exterior
Maruti Grand Vitara has a powerful exterior that would exude a strong road presence. Available in nine colour options, the car is a materialization of elegance. Pick from the six single shades such as Chestnut Brown, Celestial Blue, Arctic White, Grandeur Grey, Splendid Silver, and Opulent Red. Or from the three dual-tone paint schemes viz. Arctic White with Black, Splendid Silver with Black and Opulent Red with Black.
The chrome grille on the front delivers that car with the supremacy it ought to have. The muscular side profile, alloy wheels and subtle design features add to the looks.
On the other hand, Volkswagen Tiguan maintains the classy appeal it is known for. The new Volkswagen badging and enhanced chrome grille add to the looks of the car. Installed with a modified headlamp, Tiguan has an outstanding road presence. A car that is capable of contending anyone including the Grand Vitara 2022.
Maruti Grand Vitara vs Volkswagen Tiguan: Interior
The spacious Grand Vitara offers you a comfortable journey to any distance. Designed with the perspective of providing a pleasurable experience, the roomy interior provides enough legroom and headroom even for a tall person.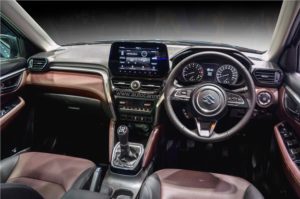 The dual-tone interior of the mild hybrid variant states a classy identity. At the same time, the strong hybrid variant has a distinctive appeal with the dashboard provided with a wood finish. We cannot state which one you might like more. As likes and dislikes depend on a person's views.
In comparison with Grand Vitara's interior, Tiguan might appear a bit dull. The designers might not have put much time into choosing the colour combination it seems. The all-black cabin may feel premium to some, but we believe it is an obsolete choice.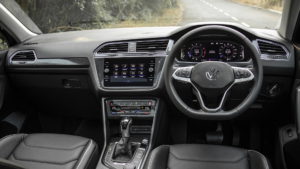 Volkswagen decided to do away with the old generation steering. They have chosen a newly designed steering wheel for this car. Although the car is a spacious one, Grand Vitara outperforms in this aspect as well.
Maruti Grand Vitara vs Volkswagen Tiguan: Engine
The 1.5-litre strong hybrid engine delivers a superb power of 114 bhp and a peak torque of 122 Nm. A super smooth engine offers driving modes as per your needs. Available in 6-speed automatic and 5-speed manual transmissions, Maruti Grand Vitara is a high performer in this segment.
On the other hand, Volkswagen Tiguan has a 2-litre engine under its hood. The 1984 cc, the 4-cylinder engine generates a power of 187 bhp. Obviously, the power would be higher than Grand Vitara owing to the higher capacity engine. The max torque offered is 320 Nm.
Maruti Grand Vitara vs Volkswagen Tiguan: Safety Features
Maruti Suzuki Grand Vitara has advanced safety features on board. These include hill hold assist, Electronic Stability Program (ESP), Tire Pressure Monitoring System (TPMS), six airbags, ABS with EBD, head-up display (HUD), ISOFIX child anchors and vehicle stability control. The features are enough to boost the confidence of the driver, as well as, to ensure the safety of the passengers.
Volkswagen Tiguan is also a strongly built car with advanced safety elements installed. The car has almost all the innovative safety features like ABS, Electronic Stability Control (ESC), hill hold assist, Tire Pressure Monitoring System (TPMS), hill descent control, ISOFIX child seats, driver alert system, and six airbags.
Maruti Grand Vitara vs Volkswagen Tiguan: Price
Price is another area where both the cars have a bigger disparity than you think. Maruti Suzuki Grand Vitara ex-showroom price in Kerala starts from 9.5 lakhs. Whereas, the Volkswagen Tiguan ex-showroom price in Kerala is around 33 lakhs.
Of course, the cars have phenomenal differences in the power, performance, and design sectors. Nonetheless, the huge difference in pricing is going to attract more buyers to Maruti Grand Vitara 2022. In reality, thousands of car buyers have been waiting for the launch of the 2022 Grand Vitara. The pre-booking of the car has already reached phenomenal figures.
The Verdict
Maruti Suzuki Grand Vitara and Volkswagen Tiguan are great cars offering you a wonderful driving experience. People who think of German quality can definitely go for Tiguan. However, our first and last choice would be Maruti Grand Vitara.
Like or dislike would purely depend on personal choices. Therefore, we are not commenting on which car is better in appearance. Having a powerful styling presence on road, Grand Vitara is going to capture attention quickly.
We suggest you have a detailed look at both the cars and pick the right one for you. You may share your opinions with us in the comment box below.
DISCLAIMER: The author is solely responsible for the views expressed in this article. The author carries the responsibility for citing and/or licensing of images utilized within the text.