Mr Owaisi comparing Hijab with Sikh Turban is like comparing Brahmastra with Endgame.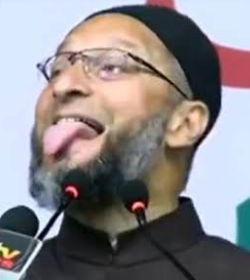 Currently the Hijab controversy which landed or was manufactured by Islamists in January to be precise is currently kept at the table of Apex Court. And again Islamists have come forward to draw false equivalence between Hijab and Sikh Turban in order to successfully propagate their propaganda.
The hijab controversy gained momentum in the first week of January after eight Muslim girls were denied entry to classes in a Udupi college because they were wearing a veil. Muslims girls came up in the streets demanding for hijab to be allowed in school and college campuses. They filed a petition in Karnataka High Court for this.On 15th of March, Karnataka High Court came up with a verdict to uphold ban on hijab in educational institutions.The bench concluded, "We are of the opinion that Government has power to issue GO, we are of the the opinion no case is made out to initiate disciplinary enquiry against college authorities. All writ petitions are dismissed."
A special bench of Karnataka High Court pronounced it's judgement and upholded the rights of educational institutions to decide on the school uniform. The special bench had heard the case for a total of 11 days while Justice Krishna S Dixit as a single judge heard it for two days. On 10th February 2022, Justice Krishna Dixit had placed the case before a larger bench for hearing the hijab controversy case.
The special bench while dismissing the petitions of the girls demanding for hijab in educational institutions made an important observation. It said "Hijab is not essential religious practice of Islam. The bench primarily framed four questions, (a) Whether Hijab is an essential religious practice protected under Article 25, (b) Whether school uniform is not legally permissible, (c) Whether the government order of February 5 was issued without application of mind and was arbitrary, and (d) Is any case made out to initiate disciplinary inquiry against college.
Islamist-Leftists are making stupid statements like " If Turbans are being allowed at the school premises why not hijabs" and "Barrister" AIMIM chief Asaduddin Owaisi has joined the same queue. On Twitter he wrote "There is no grounds to allow Sikhs to wear the turban & prohibit Muslim girls from wearing hijab. Just like the 5 Ks of Sikhism, obeying Quranic injunctions is part of Tauheed, which is one of the 5 pillars of Islam. The duality of the position reflects discrimination". But the argument made by him does not make sense and does not hold a single mole of water. Turban is considered as an integral part of a body of a Sikh. Unlike Hijab or Burqa. While wearing hijab is not necessary for the Muslim community, Turban is a compulsory attire for Sikh community . Sikhs have a constitutional right to wear it in many Indian states and even countries. Indian Armed Forces and Indian Motor Vehicle Act also specially approve it.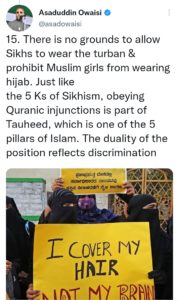 The religious book of Sikhs, Sri Guru Granth Sahib, Ang 1084 says "Let living in his presence, with mind rid of impurities be your discipline. Keep the God Given body intact and with a Turban donned on your head". Therefore comparing and drawing false equivalences between Turbans which is compulsory attire and hijab which is optional will be like comparing "Apples with Oranges" or as per the current scenario "comparing Hijab with Turban is like comparing Brahmastra with Endgame."
DISCLAIMER: The author is solely responsible for the views expressed in this article. The author carries the responsibility for citing and/or licensing of images utilized within the text.