aah-o-fugaan-e-Chinar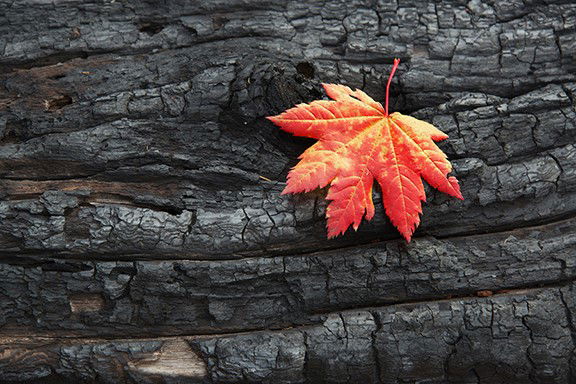 Much has been said and written about Kashmir, and how this firdaus was turned into a dozakh for its very own people, and how its aboriginals were mercilessly persecuted and forced into exile. But there seems to be a dearth of literature about the gunahgaars of Kashmir and holding them accountable for their crimes. This is my attempt to fill this void and tell the tale of the person who, I feel, is the real mujrim in the undoing of Kashmir.
Having had the privilege of being born into the family of Sher-e-Kashmir Sheikh Mohammad Abdullah, Farooq Abdullah received an abundance of affection from the Kashmiri people besides, of course, his father's unconditional love. But, as history reminds us, it is often that such people end up squandering their privilege and destroying the legacy of their forefathers. And that has been the story of Farooq, the man who, contrary to the meaning of his name, could not tell right from wrong and frittered it all away, impacting the lives of millions devastatingly and bringing them to the present days of peril.
Farooq did his schooling from the Biscoe School in Srinagar and being the son of the then Prime Minister of Jammu and Kashmir, he could afford to be boisterous and mischievous. When in 1953 his father was dismissed from the position of the Prime Minister and jailed (in the Kashmir conspiracy case), Farooq received the patronage of the Prime Minister of India – Jawahar Lal Nehru. After finishing his school, he was put in the SMS Medical College, Jaipur. Although there he was "conferred" with an MBBS degree, his prowess as a practicing doctor is unknown. However, the degree did entitle him to write "Dr" along with his name. In 1964 Sheikh Abdullah was released from jail and received a hero's welcome on his return to Srinagar. But he was only midway through what he referred to as "Siyasi Awaragardi", which was to end with him becoming the Chief Minister of the state of Jammu and Kashmir in 1975. This had just followed the signing of the Kashmir Accord (1974 Indira-Sheikh Accord), which to many was a sign of a change in Sheikh's position from demanding plebiscite to settling with 'greater autonomy' (perhaps a consequence of the drubbing Pakistan received from India in the 1971 war).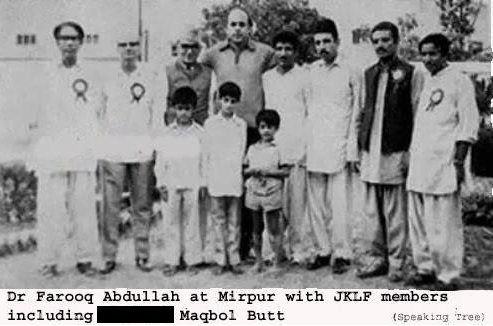 Farooq, meanwhile, had started getting involved in the politics of the state. He visited POK in 1974 (prior to signing of the Kashmir Accord), where he shared the stage with Maqbool Bhat and Amanullah Khan (founders of JKLF) in Mirpur and heard them call for the independence of Kashmir. He had himself stated in a gathering in Islamabad that the only solution to the Kashmir issue would be through plebiscite and that no settlement had been reached between his father and the government of India. Such irresponsible attitude made him go places, join delegations, and make anti-national statements in those assemblies where to he had gone as a delegate. One wonders if he had his father's approval for such activities.
Post a re-election in 1977, the dynastical nature of Sheikh Abdullah's National Conference party started fully coming to the fore which culminated in 1981 when, out of his blind paternal love for his irresponsible son, Sheikh handed over his baton (Asa Mubarak) as party president to Farooq, overlooking his most trusted compatriot Mirza Afzal Beg as well as his very capable son-in-law Ghulam Mohammad Shah – both of whom had risen to become his cabinet colleagues by virtue of their hard work and political acumen, unlike his son.Upon the demise of Sheikh Abdullah in 1982, the Prime Minister of India – Indira Gandhi, personally ensured that the mantle of the Chief Minister of Jammu and Kashmir was also placed on the head of this irresponsible son, Farooq. Right from this day starts the tale of misfortune of Kashmiri people who, over the course of the next three and a half decades, would undergo harsh tortures, both physical and mental, severe massacres and the country's largest migration post-independence enforced on communal lines. The responsibility for all of this lies squarely with Farooq. Yet very few would dare tell this to his face.
At the time of his father's death and his installation as the Chief Minister of the state, the amount of public affection Farooq and his family commanded was unparalleled and dwarfed all other players active on the political canvas of the state. This must have gone to his head and accentuated his irresponsible and reckless attitude. His cabinet colleagues, far senior to him both in age and political stature, became helpless tools in the hands of the state administration and lost their political ground. He himself seemed to be more interested in motorcycle rides with his actress friend, or foreign jaunts where he would drive cycle rickshaws and send pictures home. He had effectively handed over his duties to a couple of bureaucrats who would treat the public as sheep fit only for being driven to different pastures every now and then and shown some gimmicks. Eventually because of his own political and administrative failures, Farooq lost his ground, and his government was dismissed in 1984, in a dramatic turn of events. This was a consequence of the fallout between Farooq and Ghulam Mohammad Shah, who had been a senior member of the National Conference and was also Farooq's brother-in-law. Shah had helped Farooq win the 1983 election but was in turn expelled from the party later that year by Farooq.
The revolt and the dismissal of his government did not go well with Farooq and drove him mad. He rode at the head of a political rally wherein his followers bad-mouthed his own elder sister and he was seen clapping, only because she was on the other side of the political fence because of her matrimonial alliance. On another occasion he encouraged his hoodlums to let down their pajamas at a political rally addressed by the then Prime Minister of India – Indira Gandhi, the same one who had piloted him to the seat of power on the demise of his father. Earlier in his brazenness and high on too much of public support, he had dreamt of becoming a taller leader than his father and even and hobnobbed with all opposition party leaders in India for no benefit to his people or to the state. And when he was thrown out of power, his flight of imagination landed back.
Farooq cajoled the new Prime Minister of India (who incidentally had become Prime Minister a la Farooq style upon the demise of his mother) to help him becoming the Chief Minister of the state again. In November 1986, he was re-appointed the Chief Minister in the NC-Congress coalition government which was to continue until the elections in 1987. By now Farooq had lost the goodwill of the people of Kashmir who now viewed him as a traitor for joining up with Congress. This led to the coming to prominence of various religious political parties who contested the 1987 elections as Muslim United Front (MUF). Farooq knew he had lost the public support, so he resorted to other means to stay in power. The NC-Congress alliance won the elections amongst claims of widespread rigging. Farooq had hijacked the people's mandate to the disappointment of all Kashmiris. This turned out to be the tipping point which changed the course of Kashmir's politics and turned the beautiful valley into a hotbed of terrorism.
The political hara-kiri committed by Farooq brought his size down so much that he became a political pygmy and the people who were dwarfs on the political map of the state became so oversized as to become tall leaders at the Government of India level. The manipulations done with the peoples' mandate made him so unpopular that a certain section of the people whom his father, late Sheikh Mohammad Abdullah, had kept under control now rose against Farooq Abdullah and his administration. People were disillusioned with the whole electoral process and felt alienated from India. This created the ground for various terrorist organizations to emerge on the scene (prepped up by support from POK and Pakistan) and call for azadi. By 1990 these terrorist groups had fully taken control and the genocide of Kashmiri Hindus had begun. Farooq showed his true class by running away from the bloody mayhem of his own creation. He left the state and the country and went to London to his wife. The chain of events that Farooq had set in motion resulted in a vertical divide on the communal lines and ensured the killing of thousands and the forced exodus of lakhs from their ancestral homes into wilderness.
When this worst communal fallout was being forced upon the people of Kashmir, Farooq remained in his second home looking after his business enterprise. Sheikh Mohammad Abdullah must have been weeping in his grave over the fate of the people whom he loved the most. He must have understood his own fault in ensuing a dynastic rule in the state, that too through an undeserving and irresponsible son. But Farooq was not quite done yet. When the central rule in Jammu and Kashmir was withdrawn and elections were held in 1996, Farooq returned to the scene & captured power once again. Staying true to his character, Farooq was more interested in theatrics rather than attending to his responsibilities. He was often seen singing and dancing at various events including one with a certain Asa Ram.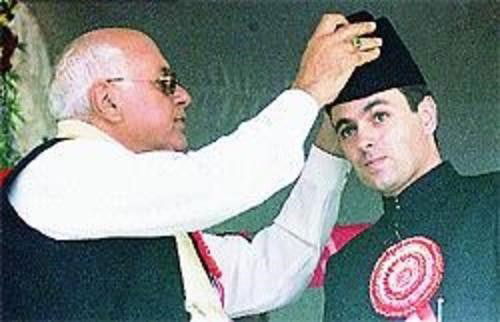 Before the subsequent election in 2002, Farooq played the worst card of his political career. Out of his fatherly love for his son, he brought Omar from a career job to the political stage and put his own Karakul cap on Omar's head.He repeated the mistake Sheikh Abdullah had made and to a far greater disadvantage to the people of the state. The young lad could not speak Kashmiri, having been born to an English mother, could never connect with the local ethos or understand the ground realities. For Kashmir and its people, it was history playing on repeat mode.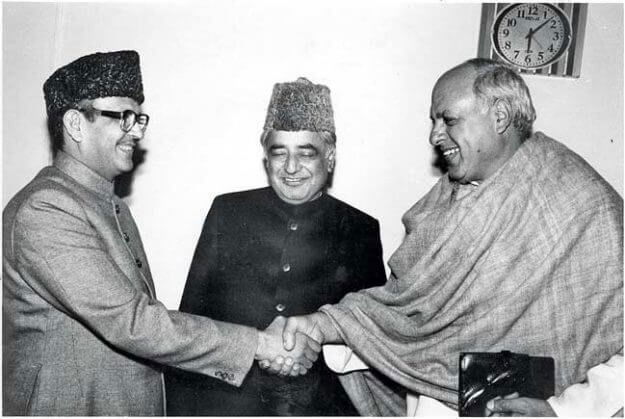 Farooq Abdullah – what you have done to Kashmir and its people cannot be forgiven. For your selfish desires you have let Kashmir be burnt. Had you sincerely done your duties (administrative) there would never have been a revolt in your cabinet / party. Had you sincerely delivered on the political compass, you would have never lost the people's support and would not have needed to manipulate the peoples' mandate.And had you not stoked the fire of communalism; the genocide of Kashmiri Hindus would not have occurred. For this genocide, Farooq Abdullah – you are squarely responsible. Whenever you were out of power, you advocated for Pakistan's role in the political affairs of the state. And now when Pakistan does not seem capable enough to help you grab the seat of power, you have the gall for asking for Chinese help? How much deep in the mud must you fall? Farooq Abdullah – for God's sake leave us alone. Go and enjoy a comfortable family life in your London home; and please take your son along.
DISCLAIMER: The author is solely responsible for the views expressed in this article. The author carries the responsibility for citing and/or licensing of images utilized within the text.