NDTV's Ravish Kumar Habitual Liar Caught Obfuscating the Truth About Paddy Procurement
NDTV thy name is a scheming lying agitpropist propaganda channel which masquerades as news channel. Though in leftist-Nehruvian eco chambers it is considered as a news channel, it is now perhaps only watched by its own echo chamber members from the leftist-Jihadi-Nehruvian fraternity.
Just as we could recover from the fraud by NDTV and its ex-employee Nidhi Razdan about her being an Associate Professor of Journalism at an non-existent School of Journalism in Harvard University, today we have learnt that another employee of NDTV, Ravish Kumar, who is a perennial liar was caught obfuscating the truth about paddy procurement by Government of India.
Ravish Kumar in his shoddy report had as usual misled the viewers by claiming that central government's paddy procurement is lower than last year.
Generally, the Government of India led by BJP has been very generous giving NDTV a long rope to play mischief and fish in troubled waters in the past which has resulted in major security compromises for our armed forces. Its mischievous reports, famously by its ex-employees Barkha Dutt and Rajdeep Sardesai had resulted in inciting riots in peaceful areas of Gujarat during the aftermath of the burning of the Sabarmati Express containing Hindu pilgrims from Ayodhya by Islamist jihadis at Godhra.
Yesterday, with alacrity, Alpana Pant Sharma, the Additional Director General of Press Information Bureau, wrote a letter, dated 15.01.2021, to Ms Soniya Singh of NDTV, the Editorial Director and President of NDTV's ethics Committee, about the poor quality of journalism practiced and sheer disregard of actual facts by Ravish Kumar. Well facts and NDTV is like comparing chalk and cheese!
The aforementioned letter expressed that Ravish Kumar's report on less paddy procurement than previous year by Government of India of India was misleading. The letter stated that it is all the more mischievous and generates negative feeling in the society especially when farmers are protesting on the borders of the national capital.
The letter gave details that, " Till 10th January 2020 of the Kharif Marketing Season (KMS) 2019-2020, 423 lakh MT of paddy was procured. Compared to the same period, 534 lakh MT of paddy was procured till 10th January, 2021 by the Central Government during the current KMS. This shows that the increase till 10th January is indeed 26%." So, the paddy procurement by the central government has increased by 26% from the previous year in contrast to the lies spread by Ravish Kumar.
The letter points out that Ravish had compared unfairly the full year procurement of 2019-2020 with the ongoing procurement for 2020-2021.
Also, the info graphics mentioned in the news clipping from cabinet Minister Piyush Goyal's twitter handle was cropped by Ravish in his news report, which indicates that the act was malafide.
The letter further states that the news report has confused paddy figures with rice figures, wherein both are different. Rice is produced from paddy , therefore the figures in lakh MT of rice will always be lower than paddy.
Ravish who calls himself a farmer's son from Bihar, where paddy is cultivated in large quantities does not have any idea that rice is a product of paddy! Perhaps like his political master, Rahul Gandhi, he thinks that ready to cook rice grows in the fields like apples on apple tree!
The letter further urged NDTV to retract the erroneous news report, whose only purpose was spreading misinformation. It urged NDTV to correct the information and prominently broadcast it in their news bulletin so that viewers get correct information.
Since the advent of social media NDTV keeps getting exposed as people keep pointing out their spin doctoring to spread lies, sometimes blatantly or sometimes tell half truths which completely belies the facts.
Despite being called out regularly Ravish and Co go around calling themselves independent credible media. Incidentally, Ravish Kumar's brother is a senior Congress leader in Bihar and was embroiled in a sex scam. This news was completely hushed up by the media and the "independent and brave journalist" Ravish Kumar never reported about it, while he keeps inventing fake scams to somehow fix Amit Shah and Narendra Modi so that their political bosses Sonia Gandhi can somehow clamber back to power.
Ravish &Co in NDTV have realised that their bosses are absolutely unsalable to Indian citizens in free and fair elections, so they are perhaps trying to adopt from the Maoist and Naxal copy book of trying to create mayhem, unrest, violence and mass murders so that their bosses can forcibly usurp power with the help of forces inimical to our country's security and integrity.
In a lighter vein, Ravish Kumar who likes to see caste every where with his first question to anyone being 'Kaun Jaat Hai" perhaps was busy looking for the Jaat of rice and paddy also! But jokes apart Ravish & Co want to create caste wars among Hindus to cause mayhem among Hindu society, who are now consolidating by burying their differences for facing external trouble from jihadis-leftists-Christian converters whose sole aim is to annihilate Hindus and Hinduism.
Incidentally, Ravish Kumar was forced to admit his guilt by the proverbial licking one's own spit, and issue an apology for misrepresenting facts. His tweet mentioning regret for misrepresenting facts is produced below:
To call Ravish Kumar a journalist is like calling Christian missionaries who print pamphlets, on Christ being the only God who reaps the souls of believers and delivers them to heaven with the rest burning in hell forever, as journalists! By no stretch of imagination can such Hindu-hating pamphleteers be called journalists.
The copy of the aforementioned letter of Alpana Pant Sharma, the Additional Director General of Press Information Bureau, is given below for the reader's benefit.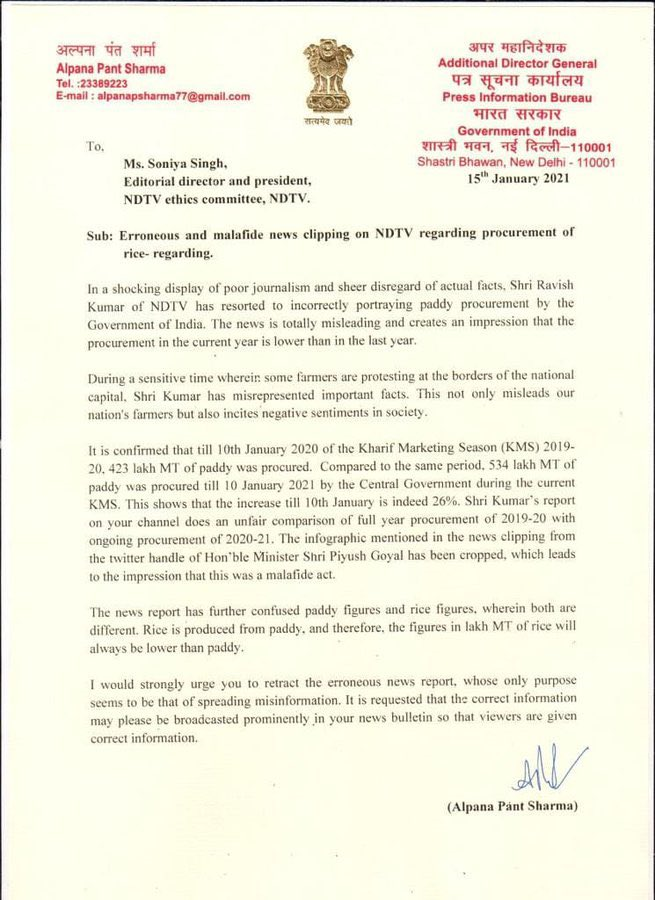 DISCLAIMER: The author is solely responsible for the views expressed in this article. The author carries the responsibility for citing and/or licensing of images utilized within the text.