Nehru's blood brother who deceived!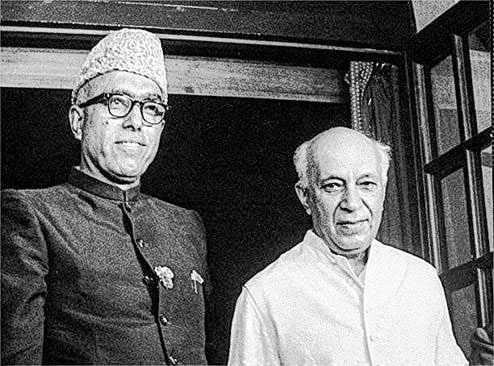 Following the "1952 Delhi Agreement" between Nehru and the then-J&K Premier Sheikh Abdullah, Article 35A was secretly added to the Indian Constitution in 1954 through a Presidential Order (in the exercise of the powers granted by Article 370) on the advice of the Union Government led by Nehru. This provision gave the J&K state the authority to define "Permanent Residents" (PR) of the state and grant them racial equality.
Permanent Residents of J&K are given "Permanent Resident Certificates" (PRC) in accordance with the aforementioned provisions. One of the crippling and discriminatory rules for Indian residents without PRCs is that they are not allowed to own real estate in J&K, apply for jobs with the J&K government, enrol in colleges administered by the J&K government, or receive any scholarships. Also, if a woman with a PRC marries a man without a PRC, neither her children nor her husband will be eligible for a PRC or be able to inherit her immovable property in J&K.
This Article 35A and Article 370 are to blame for J&K's incomplete integration with India, and they also impede the region's growth by making it difficult for outsiders to make investments there.
Since then, the Article has been contested before the Supreme Court on a number of compelling grounds, some of which are included here. It is unlawful since it was inserted into the Constitution outside of the prescribed (under Article 368) parliamentary process. Article 14: Equality Before the Law is violated. (a) It went against women's rights to choose their spouses.
Ironically, Article 35A, which is supposed to be an expansion of Article 35, which deals with "Fundamental Rights," instead infringes on the fundamental rights of the vast majority of people. Interestingly, 35A is contained in the Appendix but is not listed after Article 35 in the Constitution.
The plight of roughly 200 Valmiki families who were sent to J&K as "Safai Karamcharis" (Sanitary labourers) in the 1950s on the promise of a grant from PRC is a poignant illustration of the negative effects of the unjust Article 35A. They and their children have not received PRCs, despite the passage of several years. Many people who have since obtained the necessary educational credentials are unable to apply for government positions since PRC is not present. They are eligible to vote in the Lok Sabha elections but not in the local or J&K legislative elections. Their colony hasn't been given official status.
Another heartbreaking example is the approximately 2 lakh Hindu-Sikh refugees who came to J&K from West Pakistan in 1947 following Partition—none have acquired PRC, and thus are unable to own real estate, use the state's amenities, or obtain government employment! Although they are of Indian descent, they are not J&K state residents. For years, no one has listened to their cries for justice.
The Article's worst feature was that, although being passed on May 14, 1954, it was made applicable retroactively to May 14, 1944, which was much before independence! This Article, which made it difficult for Hindus from Pakistan to enter Jammu after partition and cause them to suffer as a result, shows how indifferent Nehru was to their predicament. Nehru's stance would have been different and more accommodative if they had been Muslims, as it was in the case of the Muslims from East Bengal.
Sheikh Mohammed Abdullah, who was born in 1905 in the town of Soura on the outskirts of Srinagar, was a pivotal figure in the J&K drama. As Sher-e-Kashmir, the Lion of Kashmir, he rose to fame. Sheikh Mohammed Ibrahim, a middle-class shawl manufacturer and businessman, was Sheikh Abdullah's father. Ragho Ram Koul, a Hindu Kashmiri Pandit, who converted to Islam in 1890 and adopted the name Sheikh Mohammed Abdullah for himself and his grandson, was Sheikh Abdullah's grandfather.
Kashmir's first political party, the Muslim Conference, was founded by Sheikh Abdullah in 1932. In 1938, Sheikh Abdullah changed the name of the party to National Conference. Sheikh Abdullah is credited with founding the Muslim Conference, which others claim he later renamed the National Conference. Sheikh Abdullah was a leading proponent of Kashmiri nationalism associated with Islam, and Dr. Muhammad Iqbal, a descendant of a different Kashmiri Pundit who had converted to Islam—like himself—promoted Pakistani ideology back in 1930, served as his inspiration.
Even though Gandhi had believed it best to stay out of the Princely States' problems, Nehru had established "The All-India States' Peoples' Conference" for the States in 1939. In that position, Nehru had allied himself with Sheikh Abdullah. 
He encouraged his agitations. In May 1946, Sheikh Abdullah instigated the "Quit Kashmir" agitation against the Maharajah, which resulted in his detention. Most Congress leaders believed that the movement was opportunistic, malicious, and motivated by self-promotion because the Maharaja was not an alien like the British. Sheikh Abdullah engaged in such behaviour with the knowledge that he would have Nehru's tacit approval. Although Sheikh Abdullah attempted to portray his conflict with the Maharaja as one against the feudal order and one for the people of J&K—as the credulous socialist Nehru believed—his true motivation was sectarian, to win over Muslims and seize power.
On June 4, 1947, the Kashmiri Pandits telegraphed Sardar Patel in response to their alarm at Sheikh Abdullah's actions and Nehru's backing of them: "The statements of Pandit Jawaharlal Nehru concerning Kashmir affairs being entirely unverified and tendentious are universally condemned and resented by Hindus of Kashmir. By encouraging Sheikh Abdullah's Fascist and Communal Programme he is doing great disservice to the people of Kashmir. His [Abdullah] unwarranted and wrong statements about facts and demolishing mosques inflame Muslims against Hindus…"
Sheikh Abdullah gained the favour of Nehru, who referred to him as "my blood-brother," as well as other people by portraying himself as anti-feudal, democratic, leftist, pro-India, pro-Congress, and above all, secular. This may have been done in order to displace Maharaja Hari Singh, but his subsequent actions belie that image, disappointing and shocking Nehru. Nehru considered Abdullah as "an old friend and colleague and blood-brother," according to his biographer S. Gopal. Abdullah enjoyed Nehru's complete trust and respect. Abdullah was Kashmir to Nehru, and Kashmir was Abdullah.
It spoke poorly of the expected leadership qualities from Nehru to have placed such blind faith in Sheikh Abdullah and his ability to deliver, grossly overestimating his popularity, and remaining innocently unsuspicious of his intentions—even to the point of being unfair, unjust, and insulting to the Maharaja and non-Muslim Kashmiris.
Source: Nehru's 97 blunders by Rajnikanth Puranik
DISCLAIMER: The author is solely responsible for the views expressed in this article. The author carries the responsibility for citing and/or licensing of images utilized within the text.