NG Chandavarkar – The Congress President the Party Would Wish to Avoid Speaking About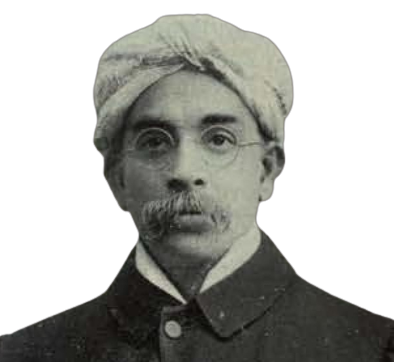 A famous couplet by Muhammad Iqbal goes thus.
Jaffar az Bengal, o Sadiq az Deccan
Nang–e–Adam, Nang–e–Deen, Nange–Watan
Mir Jaffar of Bengal and Mir Sadiq of Deccan
Disgrace to Mankind, Disgrace to Religion, Disgrace to Country
The couplet is an evocative testimony to the fact that India lost much because of traitors and turncoats than in a fair fight. Consider the regular harangue of VD Savarkar's Maafinama or Note of Apology. In an note sent to TW Holderness, the Under Secretary of State to India on 9th January 1918, Home Department notes,
With reference to the correspondence ending with the Home Department letter No 89 dated the 9th February 1911, I am directed to forward for the information of the Secretary of State a copy of a petition addressed to the Government of India by Vinayak Damodar Savarkar now a prisoner in the Andaman Islands in which he prays that a general amnesty may be granted to all persons convicted of political offences.
By now, we all would have known that it's a note of apology written not just for him but for all the prisoners in the Cellular Jail and even if it is for him, an apology and starting the public interaction is far better than grinding a mill wasting all life. In fact, the inhuman conditions in Andamans are all too known. Maulana Fazl-ul-Haq Khairabadi, one of the prominent prisoners in the Cellular Jail relating to the 1857 War of Independence, besides a grovelling apology writes,
I am expecting release from my torture under God's mercy through earnest prayers. I am a prisoner in terrible fright and distress in the hands of a frowning tyrant who has striped me of all that I had of comeliness, style and garments and has inflicted on me all kinds of atrocities and untold miseries which are like thick layers of mischief. I have been a prisoner in a desperate condition, have lost all hope of release and am terrorised by a jailer who is rude and stone-hearted – From Bahadur Shah II And The War Of 1857 In Delhi With Its Unforgettable Scenes by Mahdi Husain
Amidst all the debating involving Savarkar and his mercy petitions, did we ever look at who was the judge who sent him to Andamans? There were three judges on the bench – B Scott, Kt., N Chandavarkar, JJ Heaton. In fact, we would see the same name in another case in which his brother Ganesh Damodar Savarkar was also deported for life. There is another curious thing to note – Chandavarkar was knighted between his first judgement and second judgement!
Originally from a devout Brahmin family in Honavar in 1855, Narayan Ganesh Chandavarkar was removed from his school when his uncle noticed writings relating to Jesus Christ in Narayan's notebook. The family then shifted to Karwar. In spite of this, he was placed in another missionary school by another uncle of his who took him to Bombay for education in 1869 which again, influenced him. Because of this, he was shifted to Elphinstone College in just a year and a half. In spite of that, we would see Chandavarkar becoming a patron of the school – that deep the influence was!! In fact, even late in his life, Chandavarkar's daily schedule looked thus.
4- 6 am Meditation and Prayer — Hymns from the Prarthnna San git
6- 7.30 am Bible Browning
8-11.30 am Work at the books on Law
1- 2 pm Correspondence.
2- 3 pm Newspaper notes.
3- 5 pm Writing for papers, etc.
5- 7 pm Walk
7- 8 pm Meditation and Prayer The Upanishads.
8- 10 pm Cardinal Newman, — Any new book.
His notes would contain frequent references to Bible.
He received his law degree from Elphinstone College in 1881 and by the next year, the Government assigned cases to him. When Indian National Congress was formed, he was in England on a political delegation. AO Hume who founded Indian National Congress disapproved the London visit when Chandavarkar met him but later supported the delegation. Immediately on returning, Chandavarkar joined Congress and rose to the position of it's President in 1900 possibly through the personal intervention of Hume himself. Just when he was about to leave for Lahore for the Congress Annual Session, he was made a judge in Bombay High Court and he would continue in that position till 1913. Parallel to this, he was the Vice Chancellor of University of Bombay from 1911 to 1912. He was the Head of Royal Asiatic Society from 1907 to 1911. In 1913, he became the Diwan of Indore before returning back to active politics after an year and half due to a rift with the king.
In one of his earliest pro-government stands, he noted in an editorial of Indu Prakash explaining a stand of KT Telang in 1886,
In the case of political reform we have a Government which is ready to grant our wishes if we show ourselves worthy of its trust.
On the other hand, he became the head of Prarthana Samaj in 1901 which he attended from his earliest days in Bombay. Prarthana Samaj was a Hindu reformist organization inspired by Brahmo Samaj but dealt heavily with Christian Metaphysics. His biography notes, Prarthana Samaj had a very important role in shaping his anti-orthodoxical views. It is pertinent to note that, as the head of Prarthana Samaj, Chandavarkar believed in the British connection. Another point to note is that Prarthana Samaj is anti-Brahminical in nature. Notes S Natarajan,
Chandavarkar escaped the attention of his caste for ten years after his return from England…When the caste and it's religious heads turned their minds to him, he had already established an all-India name for himself.
A curious thing indeed – a President of Congress and the head of a Hindu reformist society cherishing his closeness to the British!! In 1886, he forcefully argued that Congress should consider social reform above political reform and Indian National Social Conference was created though the aegis of MG Ranade. However, the orthodoxy is against – not because they weren't left to fade with time but were asked to reinterpret the Shastras.
We shastris know the tide is against us and it is no use opposing. You people should not consult us but go your own way and do the thing you think right and we shall not come in your way. But if you ask us and want us to twist the shastras to your purpose and go with you, we must speak plainly and we will oppose. – Mahamahopadhyaya Bhimacharya Zalkikar to Chandavarkar in 1886
In 1906, he helped Vitthal Ramji Shinde setup Depressed Classes Mission of India and in 1917, Chandavarkar led a Congress conference demanded the Government to give separate electorates for the depressed classes.
In 1910, he was knighted. His citation from Dod's Peerage reads thus.
Creat. 1910. — Sir Narayan Ganesh Chandavarkar, son of the late Ganesh N. Chandavarkar, of Kanara, Bombay Presidency, pleader. Born at Honavar, Kanara, 2 December, 1855; married 1875, Lakshmibai Chandavarkar, dau. of Annappa Serur ; educ. at St. Mary's Instn., Elphinstone School, J Coll., and Univ. of Bombay (B.A., B.L.) ; Judge of the High Court, Bombay, since Jan. 1901 (acting as Chief Justice during June and part of July, 1909) ; was a pleader of the High Court before appointment as Judge ; pres. of the Indian National Congress of 1900 ; vice-chanc. of the Univ. of Bombay since Jan. 1909 ; vice-pres. Bombay branch of Countess of Dufferin's fund ; pres. of the Prarthana Soc. (Theistic Church), Bombay; sec National Social Conference. Residence — Bombay, India.
Clearly, a high flying Hindu reformer close to the circles of power and a staunch loyalist. But then, we see him to be knighted just after the deportation of Ganesh Savarkar and just before the trial of VD Savarkar. Was this due to his role in the first trial and the anticipation of him being a part of the second trial, we may never know.
But then, his pro-British activities don't end even then. Though Congress stayed firmly loyal to the British under the overbearing influence of Pherozshah Mehta till his death in 1915, Chandavarkar tried to stem the opposition failing which he played a key role in splitting the Congress, taking away the Moderates Faction in 1918 as All India Moderates Conference. While the Extremists opposed Montagu-Chelmsford Reforms, the Moderates supported it. In 1920, Chandavarkar led a Congress meeting to criticize the Hunter Committee Report published in the aftermath of Jallianwala Bagh massacre. His address was again, though drawing parallels with 1857 was not critical enough –
Therefore, having these precedents before us, we think it our duty to represent to Parliament and the British Public that the situation created by the Martial Lav, excesses m the Punjab in 1919 should be dealt with m a more determined manner than that formulated in the Secretary of State's despatch.
Gandhi, however, initiated the Civil Disobedience Movement but then, Chandavarkar coaxed him to call off the Movement at a movement of inconvenience. It is well known that he was opposed to the Movement from the start and tried hard to get it called off many a time.
I will only say this that assuming that non-cooperation succeeds in bringing the British Government to its knees and overthrowing it, there is warning of history so eloquently emphasized by Prof Jadunath Sarcar The aftermath of the success will be that the social grades, as of old, will turn against each other. That is the peril of the situation which Mr Gandhi and all the rest of us have to face unless we are prepared to say "After us, the deluge".
And soon after, he was appointed as the first non-official President of the Bombay Legislative Council. One would also notice that Gandhi, though one of the biggest leaders of Congress by the time Chandavarkar died in 1923 was never able to cement his position till Chandavarkar was alive though a Gandhi factionist Pattabhi Sitaramayya called Chandavarkar a spent force as early as 1915. Soon after his death, Gandhi took control of Congress with the help of the Moderate Wing which Chandavarkar led and in a matter of time, it became the representation of Indian aspirations as against the second fiddle to the British which Chandavarkar and others made it to be.
This begs one to question what was the role of Chandavarkar in suppressing dissent in India. We see him knighted and then soon after, we see him sending a prominent Indian leader to lifetime deportation. We see him breaking Congress to lead a British supporting wing, and then, supporting the Montagu-Chelmsford Reforms and coaxing the Civil Disobedience Movement to be called off when it turned out to be an inconvenience to the British, again being made the first President of the Bombay Legislative Council. And Congress's attitude towards the British took a 180 degree turn immediately on his death. Was this a chain of coincidences or was he a wilful player in all the schemes to pin the masses through an evangelically inspired reform movement, creating a caste rift by promoting the depressed classes at the expense of the upper castes(it is interesting to note that he is considered one of the foremost contemporary expert on Hindu law!) and ensuring that Congress doesn't turn against the British is but a matter of conjecture. But the speed with which Congress changed sides clearly hints at his overbearing influence that he is a wilful player. This makes one wonder if Congress should disown him. In fact, a detailed study would note a similar situation with most of it's earlier leaders. A scholar of note and a man of real standing he is, had Chandavarkar used his expertise in the real benefit of India, may be, India would have cherished his memory and not remembered him for all wrong reasons.
References
Emperor vs Vinayak Damodar Savarkar on 6 October, 1910
Emperor vs Ganesh Damodar Savarkar on 8 November, 1909
A Century of Social Reform in India – S Natarajan
A Wrestling Soul – Ganesh L Chandavarkar
DISCLAIMER: The author is solely responsible for the views expressed in this article. The author carries the responsibility for citing and/or licensing of images utilized within the text.