PIL ACCEPTED IN CASE OF PALGHAR SADHUS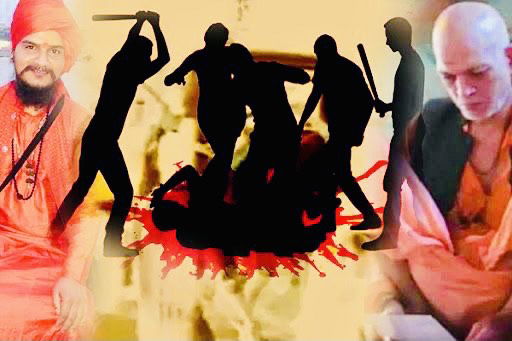 Public Interest Litigation clubbed with other 6 PIL's
Advocate Ashutosh J. Dubey was appointed as Advocate in this petition by the Rashtriya Vidwat Parishad Along with Advocate Gaurav Pandey, Pooja Pandey & Malavi Katkar have been working hard on this petition for justice to Palghar Sadhus from three consecutive months.
Honorable Bombay High Court has objected the PIL by Rashtriya Vidwat Parishad many times but they did not give up, they fulfilled every demand that whatever documents demanded by the Honorable Mumbai High Court. The Rashtriya Vidwat Parishad (Roopak Sharma) also showed great courage in this case and didn't give up until the PIL accepted by HC of Mumbai.
Advocate Ashutosh Dubey, Gaurav Pandey and Pooja Pandey appeared in the PIL of Palghar Sadhu on behalf of Rashtriya Vidwat Parishad.
After Arguments Judges have told that since there is stay from Supreme court so this matter will come up on board once the stay will revoke by the Supreme Court and clubbed this PIL along with other 6 PIL pending before the court Judges- Hon. Chief Justice Dipankar Datta & Hon. Justice G.S Kulkarni.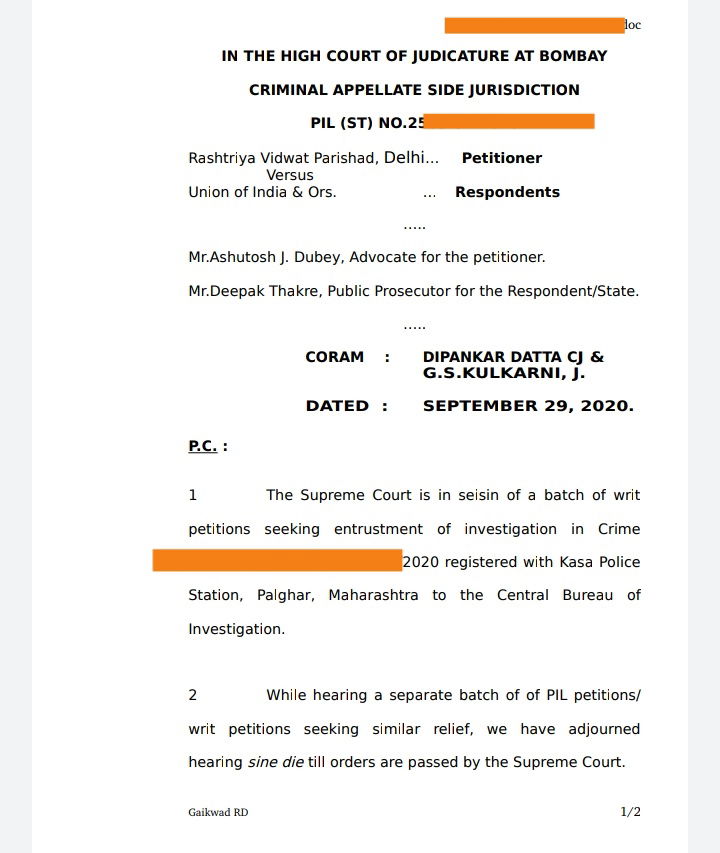 Incident Of Palghar Sadhus
On 16.04.2020 between 23:10 two Sadhus namely Kalpavrishka Giri Maharaj, age 70 years and Sunil Giri Maharaj, age 35 years along with their driver Nilesh Telgade, age 30 years associated with Juna Akhara were travelling from Mumbai to Guajrat in 'Eco car' [white colour] 'car no. MH 02 DW 6729' to give Samadhi to another Sadhu. At Gadchinchle, chaukipada, forest check post, Palghar despite the lockdown about 200 people were already present.
The wild and frenzied crowd of more than 200 people attacked on sadhu's car as the villagers deemed the Sadhus as thieves and the crowd started throwing stones on sadhus' car and overturned their car. Meanwhile, a Forest Department employee informed the Kasa Police Station about the incident. The Police took the Sadhus and driver in their custody. But in the presence of the Police, the miscreants brutally beat the Sadhus and their driver with sticks, rods, knives and the Police remain mute spectators.
These miscreants looted Rs. 50,000 from Sadhus as well as Gold ornaments. The extremely pertinent to note that purported incident is alleged to taken place on 16th day of April,2020.
However, the First Information Report [F.I.R.] has been lodged with Kasa Police Station, Palghar, Maharashtra on 17th day of April,2020 for offences punishable under Section 120-B, 147, 148, 149, 302 of Indian Penal Code, 1860, against Jayram Dhak Bhavar, Mahesh Sitaram Ravte, Ganesh Devjirao, Ramdas Rupji Asare, Sunil Somji Ravte and other 400 to 500 people vide C.R.No. 77 of 2020.
On this day in Kasa Police Station, Palghar, Maharashtra FIR was lodged against 110 villagers. out of 110 villager's 101 people were arrested by the police and send them to the judicial custody till 30th April 2020. The people who sent to judicial custody includes 9 juveniles, so the juvenile was sent to juvenile shelter home.
On15th July 2020 Crime Investigation Department [CID], Maharashtra filed two chargesheets against 126 people under Section 120-B, 147, 148, 149, 302 of Indian Penal Code, 1860.
The CID filed third chargesheet against the 47 peoples under Section 120-B, 147, 148, 149, 302 of Indian Penal Code, 1860.
The Court of Judicial Magistrate First Class [JMFC] at Dahanu, Palghar grant Bail to 28 people on two grounds, first ground is that these 28 people to whom Bail was granted was not included in any of the chargesheet filed by the CID within 90 days from the date of incident. Judicial Magistrate MV Jawale granted Bail u/s 167(2) of Criminal Procedure Code, 1973 with personal surety bond of Rs. 30,000 each.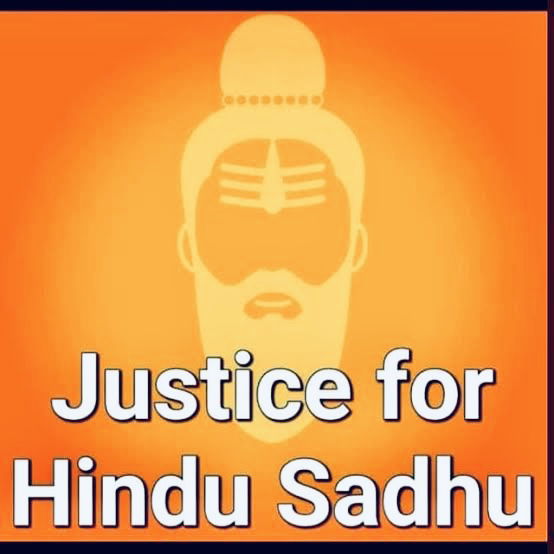 DISCLAIMER: The author is solely responsible for the views expressed in this article. The author carries the responsibility for citing and/or licensing of images utilized within the text.