Pro-Khalistan Supporters Goes Active In Punjab Under AAP Led Mr. Mann's Regime.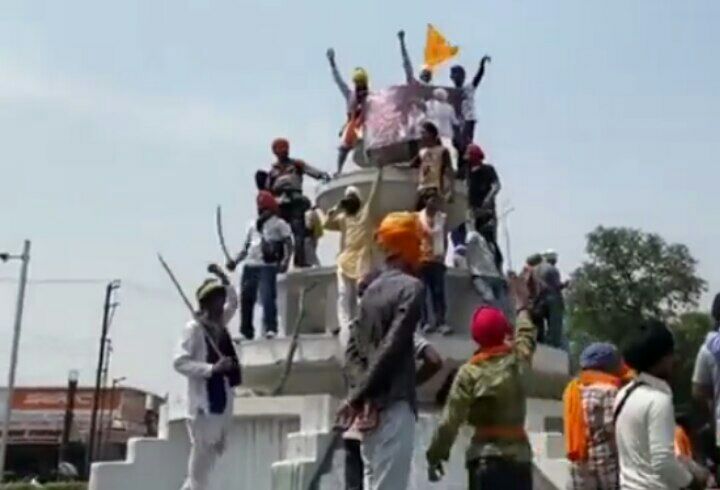 After (Aam Aadmi Party ) AAP's landslide victory in the general election in Indian state of Punjab by selling the election manifesto full of "Freebies", Pro-Khalistan supporters have become highly active in the state. Reportedly on April 29,2022 one day before the so called "Khalistan Day" which the separatist group planned to celebrate in Australia the Pro-Khalistan supporters in Punjab chanted "Khalistan Zindabaad" and "Raj Karega Khalsa" when Shiv Sena (Bal Thackeray) was marching against the Khalistan in Patiala.
Here the Khalistan supporters also destroyed the Kali Temple but failed to hoist the Khalistan Flag in DC's office which they had previously planned. They also attacked the Sena supporters but till now there is no information about anyone getting harmed by the separatist group.  But here the critical question that arises are :
1. Was This The "Nawa Punjab" That Mr. Delhi CM and party chief Arvind Kejriwal and His Mr. Dummy CM Bhagwant Mann promised for to the people of Punjab ?
2. How come a separatist organization becomes active in an Indian state when a political party from India won in the state of Punjab ?
3. Is Aam Aadmi Party indirectly involved with Pro-Khalistan supporters to groom the Khalistan Movement in India ?
4. If there is no relationship between AAP and SFJ then why Mr. Party Chief of AAP Arvind Kejriwal is quiet on video message issued by separatist Guru Patwant Singh Pannu regarding usage of Pro-Khalistan funds for funding election campaigns in Punjab and other states ?
For proper running of democratic government of AAP in Punjab the law and order should be given more important by state government. Followed by this we hope the government authority answer the above questions soon !!
DISCLAIMER: The author is solely responsible for the views expressed in this article. The author carries the responsibility for citing and/or licensing of images utilized within the text.