Rajiv Gandhi, the DMK's spokesperson, has called for the extermination of Tamil Brahmins and wants to follow Periyar's slaughter model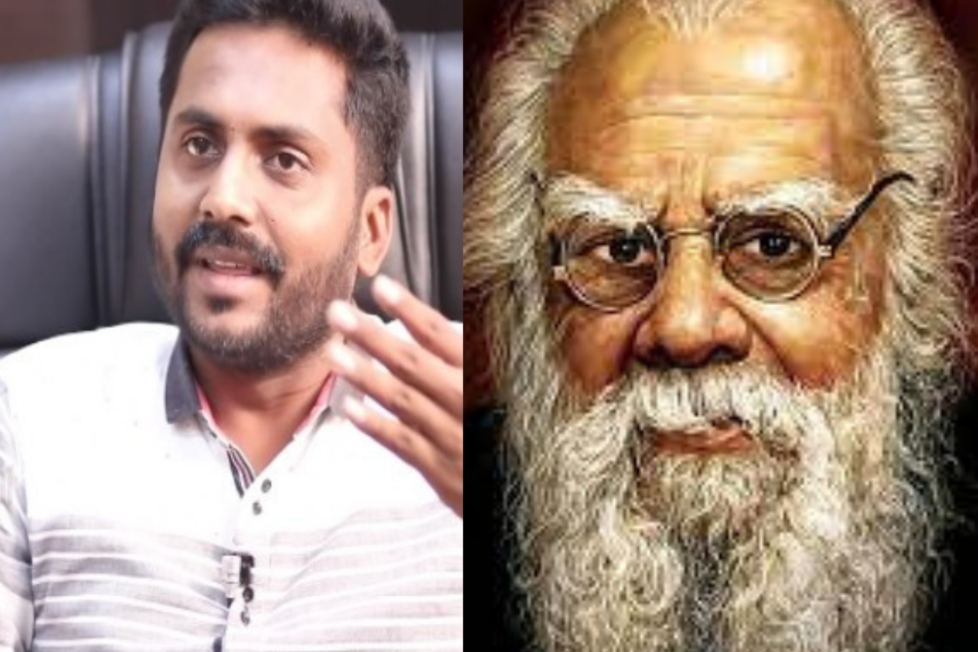 The ruling Dravida Munnetra Kazhagam (DMK) party in Tamil Nadu sparked outrage recently when its official spokesperson R. Rajiv Gandhi stated that Tamil Brahmins should have been slaughtered on Dravidian leader Periyar's orders.
In a controversial post, the DMK spokesperson mentioned, "We Shudras would not have had to fight Brahmins for justice, rights, education, and equality if we had followed Periyar's advice back then. Some areas are still dominated by 3% of you (Brahmins)."
தந்தை பெரியார் பேசியதை சூத்திர மக்கள் அன்று செய்து இருந்தால் இன்று உங்களை போன்றவர்களிடம் நீதி,உரிமை,படிப்பு,வேலைவாய்ப்பு ,சமத்துவத்திற்கு கையேந்த வேண்டிய நிலை வந்து இருக்காது! 3% விழுக்காடு உள்ள நீங்கள் இன்னும் முழுவதும் சில இடங்களின் ஆக்கிரமித்து கொண்டு தான் இருக்கீர்கள்!

— R.Rajiv Gandhi (@rajiv_dmk) June 3, 2022
The tweet came as a reply to a political commentator Sumanth Raman. In a tweet, he mentioned the level of hatred spread and genocide calls spread by the Dravidian leader Periyar which couldn't be successful due to the efforts of Indira Gandhi, MGR and Jayalalithaa.
Those from the rest of India may want to listen to this speech. Especially wokes who have no idea of the hatred spread and the calls for genocide made then. That a genocide did not happen is thanks in large measure to Indira Gandhi,MGR &Jayalalithaa. @netshrink https://t.co/aAUspzrFkG

— Sumanth Raman (@sumanthraman) June 3, 2022
Periyar called for the genocide of Brahmins
Periyar was overheard in the speech asking for the elimination of Tamil Brahmins mentioning the assassination of demon king 'Soora Padman' by a Brahmin named 'Lord Murugan,' who had allegedly stated that there was no God.
He had announced, "He was assassinated by Tamil Brahmins. So now we can get rid of those jerks. That will not be incorrect. It's possible that it'll be illegal. That legal infraction and everything else is nonsense. We are unconcerned about the fact that it is illegal. This is the conclusion we must reach."
Periyar further added "Wherever we see a temple, we must enter and destroy all of the idols within. We must kill and destroy any Paapaan (a slur for Tamil Brahmins) we come across. This has been done to us by Brahmins. It's up to us to avenge it.".
Periyar had stated, "Only three of us will die out of a hundred if one non-Brahmin Tamil dies while attempting to kill one Tamil Brahmin. Although 94% of us will survive, Tamil Brahmins will be exterminated. We will undoubtedly progress to this level. One step at a time is possible."
Periyar coordinated agitations in 1953 to protest the desecration of Ganesha idols. He had gone into great detail on the reasons for the idols' destruction. On the selected day of the agitation, which also happened to be Gautama Buddha's birthday, thousands of idols were broken. A case was filed against him, but the courts later dismissed it.
He was preparing to take his followers to the Marina in August 1956, burning portraits of Shri Rama. The Ramayana, in his opinion, was a story about a war between Aryans and Dravidians, in which the less honourable Aryans triumphed over the righteous Dravidians. Periyar's account of events was plainly not based on reality.
Periyar was arrested by the police on the day of the protest, but his supporters continued the mayhem at the Marina. After the cops brandished their lathis, most people went home.
DISCLAIMER: The author is solely responsible for the views expressed in this article. The author carries the responsibility for citing and/or licensing of images utilized within the text.